 Do we take LeBron James for granted?
On a Thursday night matchup against the rolling Chicago Bulls, who had won seven games in a row coming into the Quicken Loans Arena, James led his Cleveland Cavaliers to a necessary bounce back victory following their heartbreaking loss to the Milwaukee Bucks just nights prior.
James steadily paced the Cavaliers towards their 115-112 victory with a quiet 34 points, nine assists, and six rebounds. These numbers for James are "quiet" because it's just another night at the office for the four-time league MVP. But what James did against the Bulls, and what he has been doing all season, only furthers the argument that 15 years into his career, with no signs of slowing down, this should be the season that James regains his reign as the league's Most Valuable Player.
While the esteemed honor has gone to players like Stephen Curry and Russell Westbrook in previous seasons, most would have agreed that James has been the best player in the league for the better part of the past decade. The fact that a player of his size and stature scores, passes, moves, and defends with such skill has never been seen in the game of basketball.
Greatness over the years
James was last awarded MVP in 2013 while he was still playing with the Miami Heat. Since then, in one season with the Heat and four with the Cavaliers (including this season), James has averaged about 26 points per game, eight assists per game, and seven rebounds per game. It is unheard of that a player consistently plays at such a high level in so many facets of the game for so long, especially when you consider that James's career average in minutes per game is just under 40.
Not to mention the fact that in these five seasons, and the two before, he has led his team to the Finals, and has won three of those seven, including the drought ending championship he brought to Cleveland in 2016.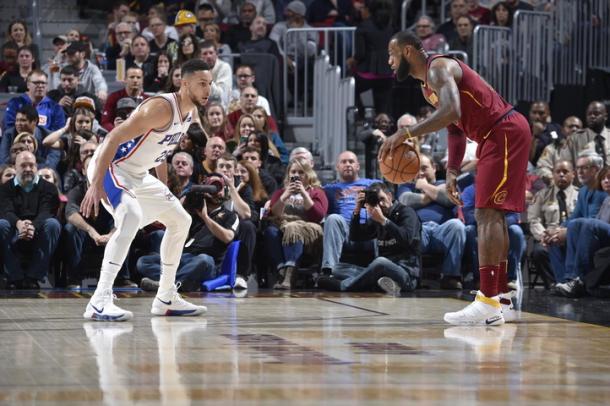 But this is not to discredit what players like Curry and Westbrook have done, and in no way takes away from their deservingness of the honors they have earned. This simply goes to say that while many stars are making their mark on this league in their own unique way, the recently overlooked James is always knocking at the door.
And now, at nearly 33 years of age, James is arguably having the best season of his career, and he deserves to be the first player to ever win the MVP award 15 seasons in.
Improvement, growth, and career-bests
It is astounding that a player of James's caliber continually ups himself each and every season.
Not only is his stellar play showcased in the 28 points per game that he averages, but James is also having his second-best rebounding season at eight per game, and a career-best nine assists per game, as well as a league-leading 305 overall assists in 33 games played.
The scoring numbers alone touch the upper echelon of his career bests, and with the outstanding passing and rebounding seasons that he is having, James's growth as a marvelously complete basketball player is proof alone that he should be leading the discussion for MVP.
If those impressive stats are not proof enough, take into consideration that James is also shooting a career-best 57 percent from the field. He has always been amongst the best at attacking and finishing near the basket, but this outstanding shooting clip is only bolstered by the reliable jumper that James has worked tirelessly to add to his ever-growing arsenal. Take for example the baseline turnaround jump shot that James used to gain momentum late against Chicago Thursday, a shot that has now progressed into a dangerous offensive weapon for The King.
The two-point jump shot is not the only added threat for Cleveland's opposition, but James has also upped his three-point shooting marks to 41 percent, another career best for the small forward. James's three-point shooting has often been mocked as the one facet of his game that would keep him from being a feared jump shooter, but now, at a rate that is only second to Kyle Korver on his team, James has advanced into a dependable scorer on all parts of the court.
Each of these stats, along with another career-best 79 percent free-throw shooting furthers the argument that this many, who many consider to be the best basketball player on the planet, is still getting better on a near-daily basis.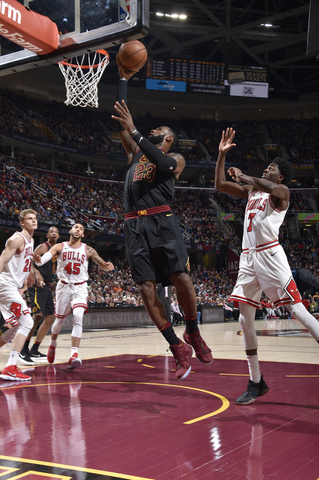 More than one weapon
As if the improved scoring numbers were not intimidating enough for teams facing Cleveland, this added offensive ammunition makes this already incredible passer all the more lethal. As noted, James is putting up the best numbers of his career in terms of assists, and that stems from his improved scoring abilities.
James is able to draw off defenses because of his upped shooting percentages, allowing him to better set up Cleveland's offense and his teammates for the best offensive opportunities. This too is proven by the numbers, as the Cavaliers are the number four overall team in scoring, at just over 111 points per game.
Keep in mind too that while Isaiah Thomas is out with a hip injury, likely giving James more time with the ball in his hand, when the All-Star point guard does return, James simply has another offensive option to go to when he is getting double and triple teamed.
James once again has the Cavalier battling for the top spot in the Eastern Conference with teams like the Boston Celtics and the Toronto Raptors, and following a rocky 5-7 start to the season, the Cavaliers have turned it into high gear, greatly thanks to James's play, and have won 19 of their last 21 games.
James also has notched 22 double-doubles and six triple-doubles this season, which have aided his awarding of two Eastern Conference Player of the Week awards, as well as the sole distributed Eastern Conference Player of the Month awards.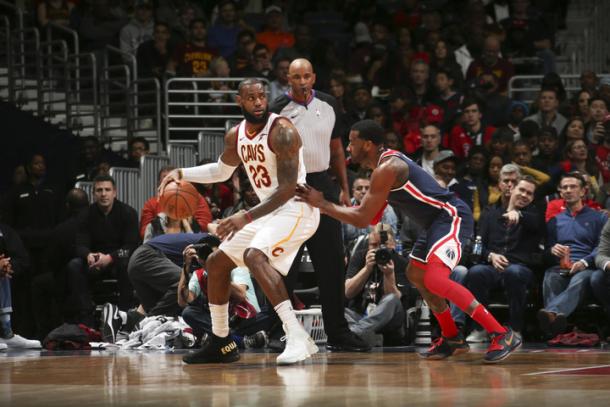 James's competition
Some have argued that James Harden, who won the Western Conference Player of the Month and has led his Houston Rockets to a league-best 25-6 record, is the leading candidate for MVP. What many fail to recognize however is that Houston's play has improved since Chris Paul's return, a player who won the Western Conference Player of the Week honors last week in conjunction with James. James is doing much of this on his own, and while he has a strong supporting cast in Kevin Love, Dwyane Wade, and others, the load that he is carrying and the numbers that he is posting are far more staggering that any of his competition in the MVP race.
I would argue that we do take LeBron James for granted. With four MVPs on his mantle, and many championships to add to that list, it seems that most simply expect this kind of play from James. But to say a player who has led his team to the Finals for the past seven seasons, and whose numbers have improved since those days when he won his MVPs, has not been awarded the individual honor since 2013 is shocking.
His offensive and defensive presence are constantly felt, and when he goes out of the game, it has a greater impact on his team than any other player in this league. To have the longevity of success that James has had is one thing, but to come back a stronger and smarter player after each offseason is another. We should not take LeBron James for granted. We should recognize his success. And while it may still be early in the season, James should be the frontrunner for the 2018 NBA MVP.