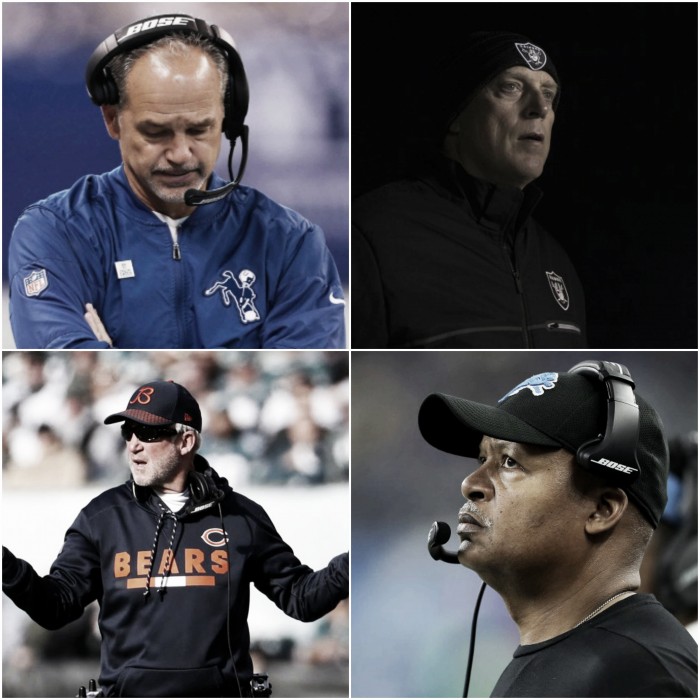 lcome to VAVEL's live coverage of the 2018 NFL head coaching carousel! We will keep this page up-to-date with all of the upcoming head coaching, and front office moves.
It all began with Former New York Giants head coach Ben McAdoo and former GM Jerry Reese who were fired as a part of the Giants house cleaning after their week 13 loss to the Oakland Raiders making their season record 2-10.
After week 17 had ended, more dominos fell even before the infamous "Black Monday," Jack Del Rio of the Raiders was informed by owner Mark Davis that he was fired immediately following the Raiders loss to the Los Angeles Chargers, and then Del Rio had to go face the media at the podium after learning of that news. Then came Chuck Pagano of the Indianapolis Colts firing on New Year's Eve as well.
Bruce Arians retired from the Arizona Cardinals head coaching job, the Chicago Bears parted ways with John Fox after three years, and Jim Caldwell was let go from the Detriot Lions.
I'll keep this article updated with all of the firings and hirings that happen over the next few weeks and months as well as who is talking to who. So let's jump in with the firings!
The firings
Ben McAdoo and Jerry Reese:
This tandem was fired after week 13 when the Giants fell to 2-10. The beginning of the end for McAdoo was when he benched Eli Manning in favor of just signed Geno Smith in an attempt to save his job. Worked out really well!
McAdoo finished his two-year career as head coach with a 13-16 career record including playoffs.
Jack Del Rio:
After a week of rumors that the Raiders were pursuing Jon Gruden as hard as humanly possible, Del Rio was fired immediately following their week 17 loss to the Chargers in the locker room. Del Rio then had to go face the media, before the players knew, and say that he was fired.
Del Rio finished a very disappointing year with a 6-10 record and 25-23 career record with Oakland. He was given a four-year contract extension shortly before the start of the 2017/18 season.
Chuck Pagano: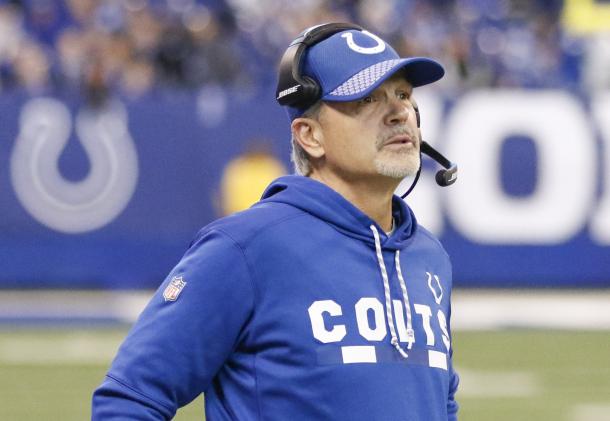 One of the least surprising firings so far this offseason, Pagano was also fired immediately following the Colts last game of the season. It was an expected firing after the Colts finished the season 4-12, and were completely terrible for two years in a row.
Pagano had one of the greatest sports stories in his first year when he battled Leukemia and overcame it leading to his foundation contributing millions of dollars to cancer research. In six seasons with Indy, he had a 56-46 record including the playoffs, and after starting 11-5 in three straight seasons with Andrew Luck, he was never able to make it work without Luck as his QB.
John Fox:
One of the rare firings that seemed mutual, Fox was fired on "Black Monday" following a 5-11 season with the Chicago Bears. It seemed like Fox just could not make it work with Mitchell Trubisky at QB, and that was deemed a problem by the Bears organization since they traded up to draft him.
Even though GM Ryan Pace's contract was extended for another two years, Fox was let go. He finished his career with the Bears with a 14-34 record which is the second lowest winning percentage in team history.
Jim Caldwell: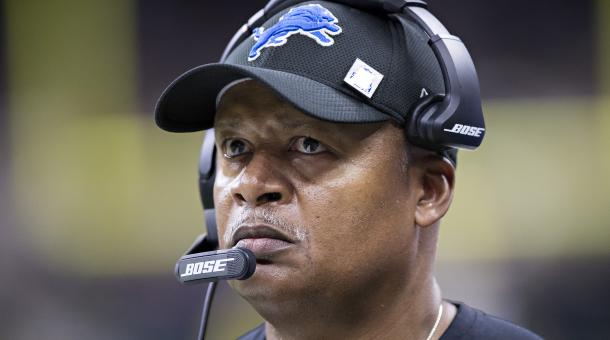 What the Detriot Lions giveth they also take away. Jim Caldwell was fired less than one year after he was given an extension. Caldwell had great success with Detriot but was never able to replicate his previous success' in his coaching career. After he made the playoffs in his first year as head coach, they missed the next three times and remained stagnant, never able to overcome being the "little brother" to the Green Bay Packers in the NFC North Divison.
Caldwell leaves the Lions with a 36-28 record, the highest winning percentage (.563) for any coach in franchise history, having back-to-back winning seasons for the first time since 1993-95, and having swept the Packers in a season series for the first time since 1991.
Dom Capers:
In an expected move, the Green Bay Packers fired Dom Capers who had been the team's defensive coordinator since 2009. The Packers greatly struggled on the defense the past few seasons with this past season being the final straw as Green Bay missed the playoffs for the first time since 2008.
Mike Shula and Ken Dorsey:
After Sunday's loss to the New Orleans Saints, the Carolina Panthers are overhauling their offense. After Panthers head coach Ron Rivera said that no one would be fired after Sunday's loss, OC Mike Shula and quarterbacks coach Ken Dorsey have been let go.
Shula was with Carolina for the past five seasons and mentored and molded QB Cam Newton into the quarterback he is today. Dorsey was the QB coach for the past four seasons. It looks as if Rivera will be completely overhauling his staff with the predicted loss of DC Steve Wilks.
Darrell Bevell and Tom Cable:
After a subpar season, the Seattle Seahawks have let go OC Darrell Bevell and offensive line coach Tom Cable. Bevell and Cable spent seven seasons with the team, and Cable also held the title of assistant head coach. Seattle had one of their worst seasons since 2011 where they went 9-7 and missed the playoffs.
Rick Dennison:
In a move that was not surprising to many, Buffalo Bills OC Rick Dennison has been let go. Dennison spent one year with the Bills as their OC.
The Bills had one of their worst years offensively under Dennison in the past five years. They were near the bottom of the league in points and played extremely poorly under Dennison.
Mike Mularkey:
The day following the Tennesse Titans blow out loss to the New England Patriots, the Titans elected to let their head coach Mike Mularkey go.The move didn't surprise many after rumors were circulating that he'd be let go even though the Titans owner stood behind Mularkey, and it was rumored that he would sign an extension.
Mularkey was the head coach of the Titans for two seasons after he took over for Ken Whisenhunt during the 2015/16 season. He went 20-21 with only one playoff appearenace.
Retirings and reshuffling:
Bruce Arians: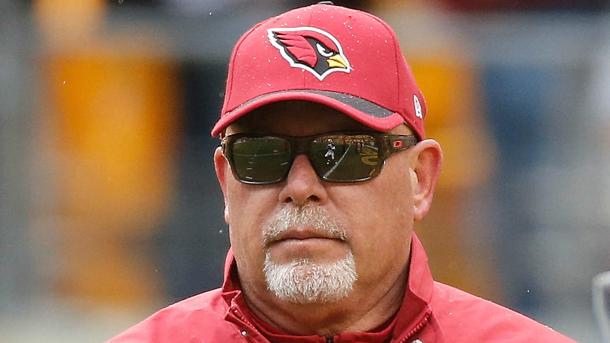 Bruce Arians got to leave the game on his own terms on Monday after he announced his retirement from the game of football and coaching. He just led the Arizona Cardinals to an 8-8 season without star QB Carson Palmer in what many thought would end up being a lost season for the Cardinals after Palmer went down with an injury early in the year.
Arians leaves the NFL as the winningest head coach in Cardinals franchise history with a 50-32-1 record, and the only coach to win the AP Coach of the Year Award as an interim head coach when he took over for Pagano in Indy during the 2012 season. He was in the fifth and final season of his contract with Arizona.
Ted Thompson:
In a shock to many around the NFL, the Green Bay Packers announced their first front office shakeup in more than a decade. It was reported that Ted Thompson would be stepping away from his role as General Manager to transition to another within the front office of the Packers. That role is undetermined at this time.
Coaching and Front Office rumors
Arizona Cardinals:
Per Ian Rapport and Adam Schefter, Arizona has requested interviews with Minnesota Vikings Offensive Coordinator (OC) Pat Shurmur, Carolina Panthers Defensive Coordinator (DC) Steve Wilks, Philadelphia Eagles QB coach John DeFilippo and Philly's DC Jim Schwartz, and the New England Patriots DC Matt Patrica and their Linebacker's coach Brian Flores.
It's rumored that Shurmur is the front-runner for the job.
Detriot Lions:
Per Adam Schefter, Tom Pelissero, and Ian Rapport, the Lions have requested interviews with Patrica, Shurmur, Wilks, and Houston Texans DC Mike Vrabel. Per Josina Anderson, the Lions have also interviewed their DC, Teryl Austin.
Per Pro Football Talk, the Patriots are bracing for a Patrica exit and he is expected to take the Lions head coaching job.
Indianapolis Colts:
The Colts have requested interviews with Wilks and Vrabel so far per Mike Garafolo and Albert Breer.
New York Giants:
Per Schefter and Garafolo, the Giants have requested interviews with Schwartz, Wilks, Patrica, and New England Patriots OC Josh McDaniels.
With the power struggle happening in New England, it's rumored that head coach Bill Belichick will follow in his mentor's footsteps and take the Giants head coaching job.
According to just retired Arians, University of Alabama HC Nick Saban is rumored to covet the Giants job and he may leave Alabama to take it.
Hirings and retainees:
The Bears extended GM Ryan Pace through 2021.
The Browns are sticking with Hue Jackson as Head Coach.
The Denver Broncos will be retaining Vance Joseph as his job was already in jeopardy after one season.
The Cincinnati Bengals gave HC Marvin Lewis a two-year contract extension immediately indicating that he is on the hot seat.
The New York Jets gave HC Todd Bowles and GM Mike Maccagnan contract extensions.
The Tampa Bay Buccaneers will retain their HC, Dirk Koetter, and the Washington Redskins will retain their HC, Jay Gruden, as well.
The Oakland Raiders have officially hired Jon Gruden as their head coach. The contract for 10 years $100 million making Gruden the highest paid head coach in NFL history.
The Green Bay Packers have decided to hire from within giving Vice President of Player Personnel Brian Gutekunst the GM job. After being a favorite for the Houston Texans GM job, Green Bay snatches him up and gives him a five year deal.
The head coaching dominos begin to fall. The Chicago Bears have found their man in Kansas City Chiefs OC Matt Nagy. The details of the deal are unknown at this time, and I will get them to you as soon as possible.
The Cincinnati Bengals have already found their man to replace Guenther in Lions DC Teryl Austin. With this hiring by the Bengals, it seems more and more liking that the Lions have found their man for head coach but he's still in the playoffs. It's becoming clearer that it is Patriots DC Matt Patricia.
With the firing of Bevell and Cable, there is one possible replacement for OC Bevell in Atlanta Falcons OC Steve Sarkisian. When it asked about it Falcons HC Dan Quinn said that there was "zero chance" that "Sark" left for Seattle.
With Dan Smith taking a leave of absence from the Texans GM job, they have tapped Buffalo Bills VP of Player Personnel Brian Gaine. He previously worked with Houston from 2014 until 2016.
With the upcoming hiring of Gaine, the Texans and HC Bill O'Brien are negotiating a contract extension.
The Panthers believe that they have found their man to break Cam Newton out of his slump in former Minnesota Vikings head coach Norv Turner. Turner replaces Mike Shula.
The Buffalo Bills have replaced Dennison with Brian Daboll as OC. It took Buffalo just two days to find their replacement for Dennison.
With the firing of Mike Mularkey, the Tennesse Titans are hiring Vrabel as their new head coach. Vrabel is moving on as his job as DC for the Texans.