FC Kansas City acquired five players on Thursday during the 2017 NWSL College Draft. All top college players, the Blues will be looking to them to help rebuild after the two-time former champions finished in sixth place, trailing at the bottom of the table for a sizable part of the season.
Christina Gibbons - Duke
Christina Gibbons, a midfielder, and defender from Duke was Kansas City's first pick and fifth overall. She started in all but one of her matches at Duke and was a co-captain for her junior and senior seasons. Gibbons has extensive experience with the USWNT youth teams, playing with the U-20s and U-23s since 2014. She also was named to All-ACC first team three times and was a Mac Hermann trophy semifinalist in 2016.
Toni Payne - Duke
Toni Payne, a forward from Duke, was the Blues' second pick. A member of USWNT youth teams since age 15, Payne has helped her teams to tournament championships and the 2012 U-17 Women's World Cup. Scoring 23 goals and tallying 21 assists during her time as a Blue Devil, Payne was a huge part of the team's offense, and hopefully, that will translate in her time with Kansas City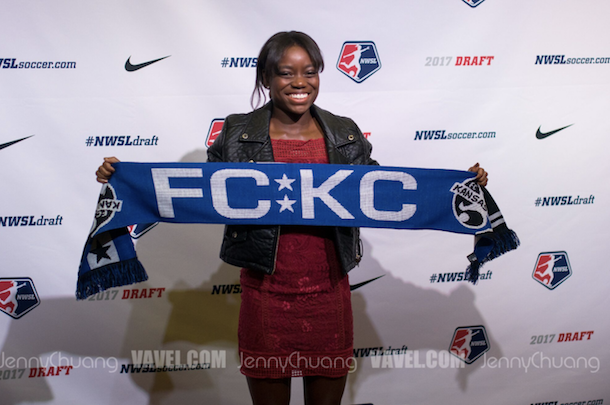 Stephanie Ribeiro - University of Connecticut
Stephanie Ribeiro, a midfielder and forward from the University of Connecticut, was the 17th overall pick and third for Kansas City. She scored 21 goals and had 14 assists in the team's 23 game season. Ribeiro was also named to the NSCAA All-America third team after her junior season, despite missing all of the previous seasons due to injury. Eyes will watch Ribeiro to see if she can produce goals and chances for her teammates nearly as prolifically at the next level.
Alexis Shaffer - University of Virginia
Alexis Shaffer, another midfielder and forward coming from the University of Virginia, was the team's fourth pick and 25th overall. Scoring 37 goals and producing 29 assists in her career at Virginia, she appeared in every game her team player during her time there. A Mac Hermann trophy semifinalist and named to the NSCAA All-America first team her senior year, Shaffer also has experience with the USWNT at the U-18 and U-23 levels.
Rashida Beal - University of Minnesota
Rashida Beal, a defender out of the University of Minnesota, was Kansas City's fifth pick and 35th overall. She made 81 appearances for the Gophers over her four seasons there and started in every game for both her junior and senior seasons. Beal was named BIG Defender of the Year and named to the NSCAA All-America Second Team as a senior. Beal will add depth to the team's defense.
Head Coach Vlatko Andonovski has high hopes that this year's draftees will help his team regain their former glory, saying "I'm extremely happy with how the draft went and I think the players we got are all good players but can be great players in this league and make an impact in Kansas City."