Most long-time fans of the U.S. Women's National Team (USWNT) have been able to recently see the tactics of head coach Jill Ellis are slightly different than the usual. A few weeks ago, suspended 17-year starting goalkeeper Hope Solo told 60 Minutes Sports that Ellis was "a bad leader and poor tactician". Some were taken aback by such a statement, especially considering Solo's current status with the national team. Fans have been saying Ellis' decisions have been a little off since winning the 2015 World Cup, but someone with such notoriety and time put into the national team like Solo, there has to be a truth to that statement. Let's have a look to see if Solo was right once again.
What happened in 2016
2016 was a trying year for everyone, especially for the USWNT. The pressure of being the first team to potentially get back-to-back World Cup and Olympic gold medals was looming over everyone's heads. However, the troubles in 2016 started way before the year even started; they go back to the 2015 World Cup. The inevitable downfall started when Abby Wambach was chosen over Crystal Dunn. No one can be sure, but scraping by on Carli Lloyd penalties may not have been a thing if Dunn had been around. Although that was a big sign of what was to come, it was sort of pushed aside since they did win the World Cup and Dunn ended up having 19 goals for the Washington Spirit in addition to being NWSL MVP.
Back to early 2016 and the Olympic Qualifying tournament and the SheBelieves Cup. The USWNT are usually ones to steamroll through Olympic Qualifying without a peep from any team, except maybe Canada. However, that year Mexico came ready to not let us steamroll them again. Props to Mexico for the tremendous effort they put up against us to only fall 1-0 to a Carli Lloyd goal from a rebound on her saved penalty. Mexico played a game tactically similar to one Sweden did in the Rio Olympic quarterfinal, so there are two instances where Ellis wasn't quite sure how to navigate a heavy defense. There most definitely wasn't a lack of effort on the USWNT to score; they had 16 shots. It just wasn't their day, which is totally fine and normal. As a coach, once it's realized the starting eleven is having a rough time figuring it out, it's time for substitutions. Ellis made two substitutions after the 70th minute (75th and 84th) that gave no time for a rhythm to form.
The SheBelieves Cup was another round of late subs and weak scorelines. The best example of this was the France game where Ellis decided to let her starting eleven figure it out until after the 80th minute. One of the three late subs was Whitney Engen for Mallory Pugh in stoppage time after the game's only goal from Alex Morgan in the 91st minute. There were only 10 shots, and four on goal, so the effort was kind of there. That game was painful for the players and anyone watching them struggle until the very last second. Ellis doesn't really have a knack for realizing when her current squad can't figure it out and resorts to late game substitutions hoping for some late game heroics.
Late game heroics was a tactic Ellis wanted in that fateful Olympic quarterfinal game against Sweden. Using two substitutes for 30 minutes of Megan Rapinoe who wasn't fully healed from her December 2015 ACL tear. Rapinoe is an excellent player when healthy, and Ellis was running with that idea, but hope isn't really a good tactic for a coach to use in the dying minutes of an Olympic game. Ellis' first Olympic tactical mistake was leaving Heather O'Reilly off yet another roster, but that's a different conversation.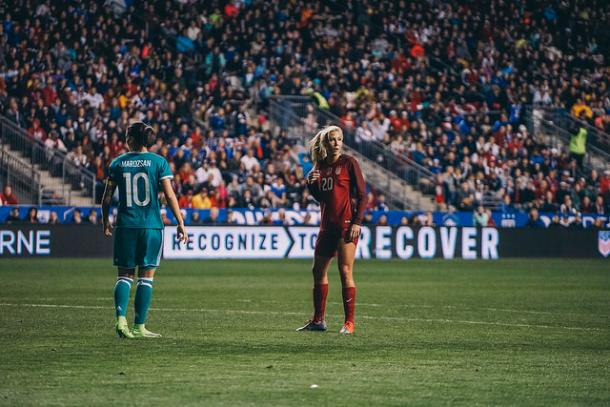 Towards the end of the year, Ellis started trying out playing three defenders in the backline. There's nothing wrong with a 3-back if a team has the players for it, but the USWNT doesn't have the players for it. Challenging players and putting them in uncomfortable positions are two different things that Ellis isn't picking up on. Recent call-up Casey Short from the Chicago Red Stars started the last four games of the year as outside back, and that's completely fine since she plays there for Chicago. The actual problem with the 3-back is with the positioning of the other two players: Allie Long and Becky Sauerbrunn. It's been said time after time that Sauerbrunn is one of the best centerbacks (CB) in the world, yet Ellis sticks her at outside back. Long has the potential to be an excellent center attacking midfielder, yet Ellis sticks her at CB; this leaves Julie Johnston, a perfectly good CB, on the bench. Sauerbrunn can practically handle anything thrown at her, but Long is visibly uncomfortable and hesitant in that position more often than not. Short and Sauerbrunn are left covering Long, for good measure. If not for the talent and pace of Morgan Brian, Long would not look too good back there. While the USWNT have yet to lose with the 3-back, their style of play is exponentially more shaky than with a flat-4. There are plenty good formations that can give Ellis a flat-4 and put Long in an actual defensive midfielder role because that's essentially what she's looking for.
The first 2017 SheBelieves game for the U.S. ended 1-0 against a jet-lagged German side, and Ellis was still on her usual late substitution, 3-back ways. It will be interesting to see how the rest of the SheBelieves Cup plays out against these other amazing teams. Riding on the talent of a team has its limits, the USWNT reached their limit in Rio. While no one but her players can attest to her leadership abilities, anyone can see Hope Solo had a point in calling her a bad tactician.