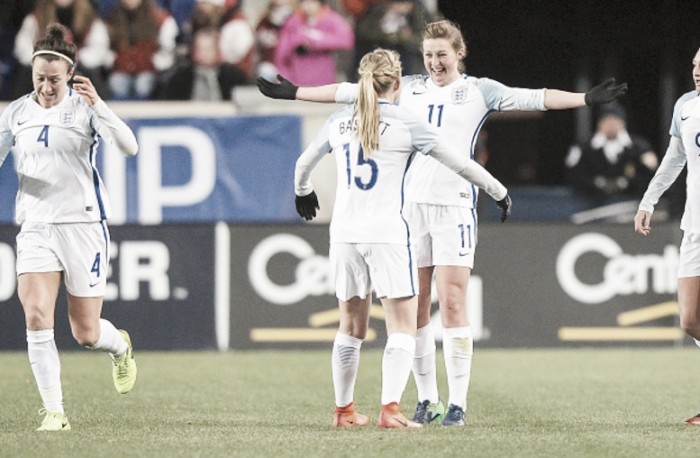 Day two of the 2017 She Believes Cup bring another shocking score line. England defeats the USWNT 1-0 with an end of the game goal. No one thought this would happen but it did, England has received their first win on US soil.
Evenly Matched First Half
The first half of the game seemed to be evenly matched. Both England and the USWNT were pushing the back lines and trying to get the first goal. England was playing quite well, possessing the ball well, even in the final third. Although England was possessing the ball, they were having troubles handling the fast breakaways from the USWNT. Even with the fast breakaways, the England back line held their ground and helped Siobhan Chamberlain, England's goalkeeper, keep the USWNT at bay.
As the first half ended, both teams went to the locker rooms still in a dead heat, locked at 0-0. Ashlyn Harris, goalkeeper for USWNT, and Chamberlain had to come up with some amazing saves to keep both teams with clean sheets. Many hoped the second half would be more than the back and forth of the first half.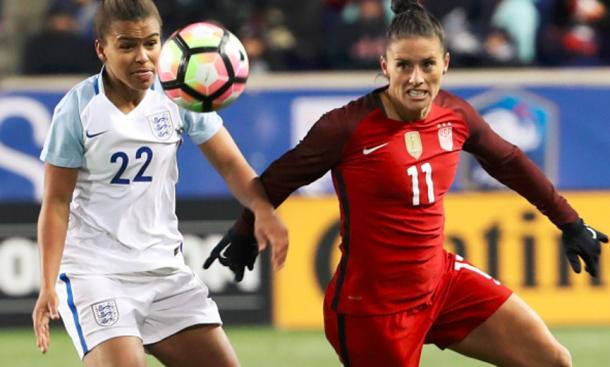 The second half seemed to start off much like the first. Many great crosses with no one able to connect to make anything happen. With Harris and Chamberlain on guard, making the back of the net reachable seems impossible at the least. Karen Carney, a player for England, became the first to get replaced on the field by Jill Scott at minute 63. Carney went down twice, once at minute 23 and another time at minute 58, with an injury. The USWNT also decided to make a couple of substitutions at minute 63 with Christen Press and Lynn Williams coming on for Alex Morgan and Crystal Dunn. USWNT player Carli Lloyd wins the first yellow card at minute 68 for a high boot that catches Jordan Nobbs in the face. Nobbs has to receive medical attention to address her bloody face. Nobbs would continue a few minutes later.
Minute 88 brings England their first corner of the game, and the opportunity to take the lead. Minute 89 lets England take their corner that lands perfect for Lucy Bronze to blast the crossbar. Ellen White, who won the corner for England, picks up the rebound and drills it into the back of the net. The USWNT only had a few minutes of stoppage time to try and get a draw, but it would not be. The whistle blows and England gets all the points with a 1-0 win over the USWNT.