The United States Women's National Team is set to take on Russia on Thursday in their first match since the SheBelieves Cup. Following the team's rather lackluster performance at their own tournament, the team will continue to search for a roster and formation that works against increasingly difficult opponents. As more and more countries invest money and resources in their women's programs, the competition becomes more competitive, and the game becomes more exciting. Ranked 25th in the world by FIFA, the Russian team is one developing and while not as reputable a program as those invited to the SheBelieves Tournament, they will still provide enough of a test for the USWNT that they will have an idea of what works and what doesn't.
New faces called into camp
Head coach Jill Ellis made news by calling two new high schoolers into camp. Sixteen-year-old Sophia Smith, a forward for ECNL Club Real Colorado and a Stanford commit, has received her first call-up to the senior team due to multiple withdrawals from injury. She has extensive experience on youth national teams and traveled with the U-17s to the World Cup this past year. Fellow high schooler Jaelin Howell is also on her first call-up. A midfielder who also plays for Real Colorado, she is committed to play at Florida State upon graduation in 2018. As Ellis's call-ups trend towards younger players in the youth pools, friendlies like these will provide an opportunity for those young players to prove if they have the strength to stand up to opponents ten years their senior. In addition to those young players, the Washington Spirit's Megan Oyster is making an appearance in camp for the first time since she played with the U-20 team. An integral part of the Spirit's Backline since she was selected in the 2015 College Draft, Oyster has a chance to break into a backline that is nowhere near set in stone.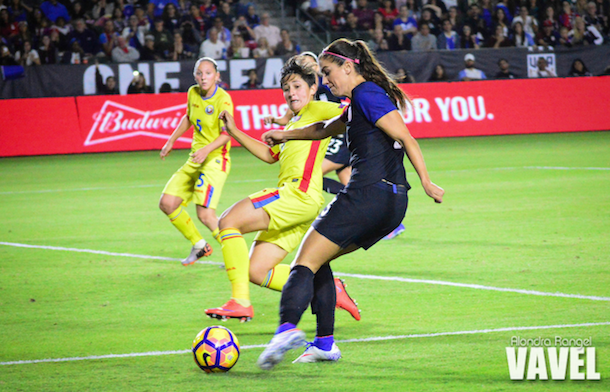 Russia looking to build program
The Russian national team is looking to create opportunities for themselves in the coming years. Having not qualified for a World Cup since the early 2000s but coming close in 2015, the USWNT will prove to be a formidable opponent to test their progress. The last time these two teams met was for two friendlies in 2014, in which the U.S. won by margins of seven and eight goals. The faces on the USWNT roster have very much changed in those three short years, and the Russian team has likely flowed with the global trend of teams developing more skilled and strong players, meaning that this game has the potential to be a very different situation than three years ago.
Game Details
The game will be played at Toyota Stadium in Frisco, Texas. The match will kick off at 8:30 pm EST, with a pregame show beginning at 8 pm. The match will be broadcasted on FS1.