At 7pm EST on Friday, the Boston Breakers hosted the Portland Thorns in a clash between two current top four teams, opening up Week 6 of NWSL play. The Breakers had been playing very well to start out the season, looking at worst like a spoiler for more established teams, and as a genuine playoff contender at best (See their 3-0 win against the Seattle Reign in week three for their best, their week two dismantling at the hands of FC Kansas City for an example of the less good). Last week, they played a talented Chicago Red Stars team to a 1-1 draw, almost squeezing out the away win until a defensive lapse very late in the game lost them full points. They're a young squad, and they wanted to try to put a full performance together against a Portland team that's struggled to meet expectations for the 2016 shield winners.
In Portland's defense, they've dealt with injuries to some of their major playmakers, such as USWNT midfielder Tobin Heath and Icelandic forward Dagny Brynjarsdottir. This bad luck for them continued into this weekend, when Allie Long, the de facto engine to the Portland midfield, wasn't in the starting lineup against Boston. The burden of leading the team in the midfield then fell to Lindsey Horan and Amandine Henry, in order to find Christine Sinclair (who has had a quiet start to the season) and Nadia Nadim. It would remain to be seen if Portland could turn their fluid midfield play into goals, and if Boston could consistently make good on their promising play.
Play in the match began very physically, with Portland goalkeeper Adrianna Franch colliding with Boston's Adrianna Leon in the box early on, briefly shaking up both players. Boston was able to create a few chances in front of goal by way of striker Natasha Dowie, but the real star of the first part of the match was Boston goalkeeper and University of Texas alum Abby Smith, who made a number of fantastic saves to deny Portland chances in front of goal. Smith returned to Boston this year after an ACL tear took her out of most of the 2016 season, and she's been playing very consistently since the beginning of the season. She kept her team in the game long enough for them to sneak a goal past Portland in the 38th minute. Coming off of a set piece (a throw-in by Allysha Chapman), Dowie beat her defender and sent the ball past Franch for a Boston lead. After a few chances from both sides, the half would end in a 1-0 scoreline in the hosts favor.
Boston started the second half looking for more, and quickly found separation from their opposition, when Dowie, who had a very productive game overall, sent a cross in to Rosie White, who was able to control the ball into the back of the net. This opened up a number of Boston chances as the half went on, with the home team seeming to have figured the Portland defense out.
Part of this touchy defensive play from Portland came from the curious case of Meghan Klingenberg, who ended up having a tough defensive game on the day overall. She was very aggressive offensively, looking to push forward and send crosses into Boston's box, but would lose her marks defensively and occasionally get purely out-played by the attackers coming at her. While there's no question she brings a competitive spark sometimes missing from the gut of this Portland squad, one has to wonder if she needs a little bit more coverage than her team is able to provide for her to move so freely up the field.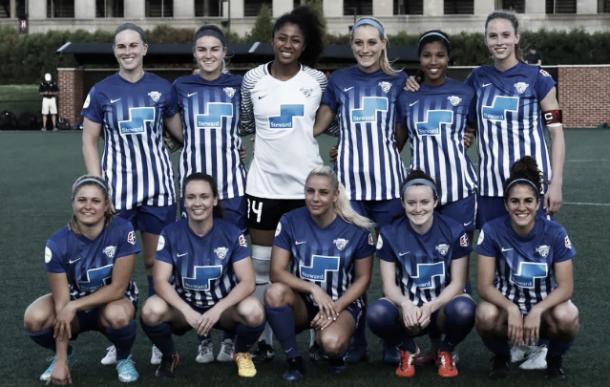 Regardless of their lapses in formation, Portland was able to claw their way back into the game after a 56th minute handball in the Boston, drawn by Horan. Nadia Nadim was able to calmly put away the subsequent penalty kick, and the score-line closed by half, 2-1 in Boston's favor. After this boost, Portland continued to grow into the game, opening up the young Boston back-line more and more, and finding more space, particularly through the play of Horan, who had a solid game in the midfield. Smith continued to excel to try to keep Boston in the winning column, but the Portland attack proved too powerful, and Nadim completed her brace in the 82nd minute off an assist from the forward-pushing Klingenberg. After some end to end play, the game ended in a 2-2 draw, a definite victory for the visiting squad.
This would prove to be another week where Boston had to walk away from a draw that they had to feel they could've won. A handball in the box is a tough way to let your opponent back into the game, and they couldn't quite keep everything together against a talented Portland squad that has had a tendency to grow into games all season. One would imagine that discipline from Boston could come with time, and they have to take some solace in their ability to take games to larger teams. On their end, the Thorns still have some issues to figure out, with their play not matching some of the dominant performances they were able to put together in their 2016 campaign. They'll be very happy to get some of their major playmakers back, but with almost a quarter of the 2017 season gone, they don't want to be looking at those player changes for all of their answers.