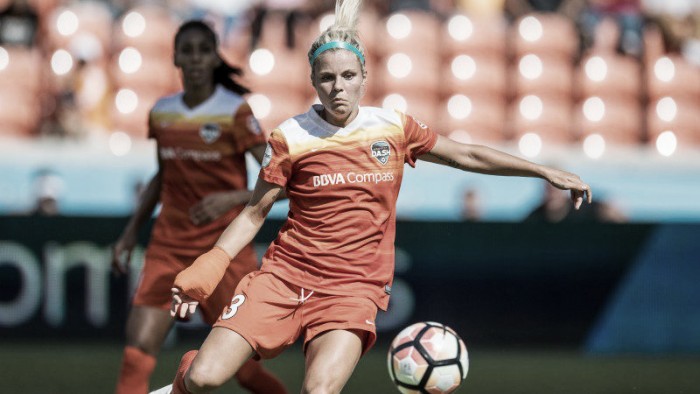 On Saturday afternoon, the Houston Dash hosted the Seattle Reign for Lifetime's Game of the Week. The game kicked off at 3pm Central Time, which is the hottest time of day. The temperature was upwards of 90 degrees with 70% humidity. The game consisted of two mandatory "player hydration breaks": one around the 30 minute mark and one near the 60 minute mark. However, as the game went on, every time someone was down for an injury, both teams would go to the bench for a quick, unofficial water break.
In the last minutes of stoppage time of the second half, Dash forward - who was playing outside back at the time - Rachel Daly, collapsed on the field. Her teammates immediately went over to her and called the trainers. They brought a stretcher out and lifted her on, strapping her in before taking her into the tunnel.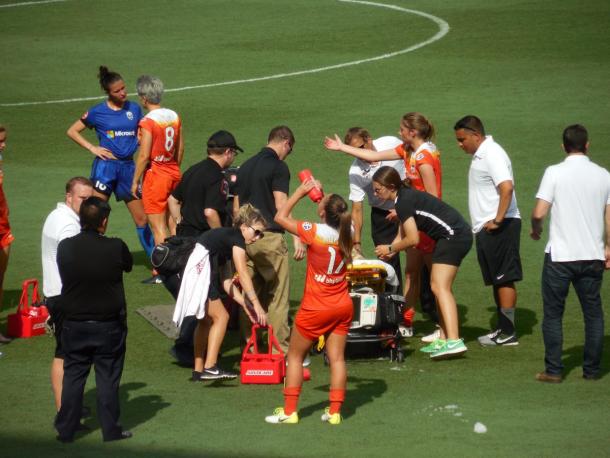 A little after an hour after the game, the Houston Dash released a statement updating the public on Daly's condition: "Rachel Daly was treated for heat illness following today's Houston Dash home game against Seattle Reign FC. Her condition is improving and she has been taken to a local hospital where she will continue to be monitored. We will provide additional updates at the appropriate time."
Not too long after, the National Women's Soccer League released a statement via twitter: "First and foremost, we want to wish Rachel Daly a quick recovery, as well as other players who may have been impacted by heat during today's match between the Houston Dash and Seattle Reign. The safety of our players is always our top priority and due to the high temperature of today in Houston, we implemented water breaks to provide additional opportunties to help the players stay hydrated. Prior to the season, we also worked with the Dash on scheduling any nationally televised afternoon games earlier in the year in an attempt to avoid the summer heat that unfortunately we experienced today. We will immediately review these measures to prevent this situation from occuring in the future."