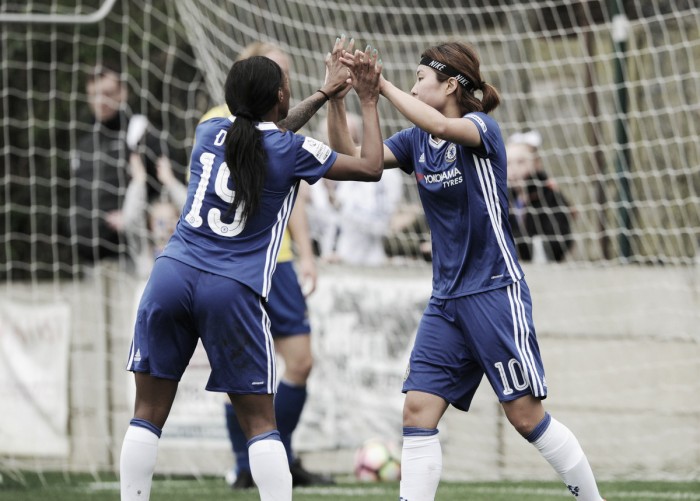 At the end of 2017, it seemed clear that Crystal Dunn was going to leave the Washington Spirit. Rumours from various sources had been circulating about her departure, and as early as November she confirmed her desire to leave the shores in an article with FourFourTwo. The piece talked about a few of her options, most notably Olympique Lyonnais and the French league.
But after much deliberation, Dunn chose the path less travelled and on January 3rd this year her new club was revealed - Chelsea Ladies.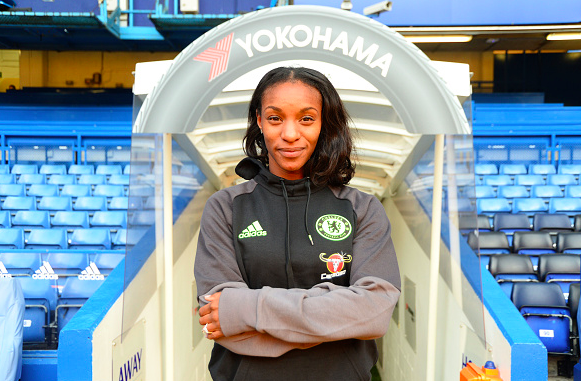 All eyes on Crystal
This was a signing that sent shockwaves through the FA Women's Super League, and worldwide. For a long time, the FAWSL had been regarded as a league in the development stage, but when Dunn became the first-ever USWNT star to join the league, plenty of heads turned. Although Carli Lloyd and Heather O'Reilly followed her (to Manchester City and Arsenal respectively) not long after, the capture of Dunn's signature was perhaps the most significant, as she is arguably the one of the three still on the upwards trajectory in her career.
Chelsea manager Emma Hayes has long been known for her ability to win over players with her personable style, and no doubt she used her years of experience coaching the Long Island Lady Riders in United Women's Soccer at the turn of the century to win over the loyal Long Island native.
But Dunn wasn't the only marquee signing that Hayes was able to bring to Chelsea last winter, as experienced internationals Ramona Bachmann, Erin Cuthbert, and Maren Mjelde all joined what was already a strong squad.
Finding her feet
Playing in the Spring Series (a 'mini-league' designed to fill the gap before the season begins in September, caused by the changing from a summer league to a winter league), games came thick and fast, and inevitably the lineup changes did too.
When Dunn first joined the Spirit in 2014, it took the team a while to figure out her best position, but her 2015 MVP and Golden Boot awards seemed to show everyone that she was, undoubtedly, a forward. Right?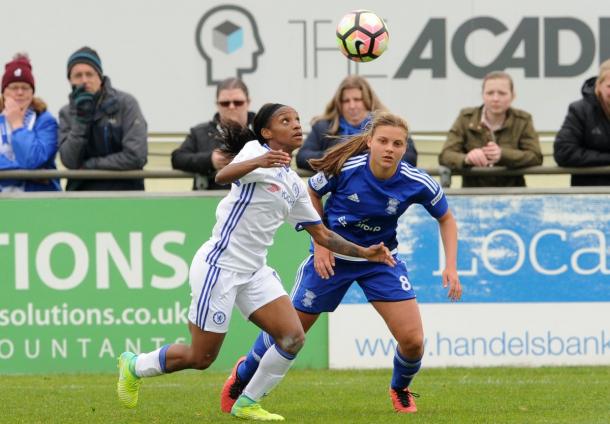 But when Chelsea kicked off in March, Dunn started playing across the frontline of Chelsea's 3-4-3. However, despite impressive showings she managed just two goals in her first seven appearances. The Blues scored 32 goals in this run so her lack of contribution wasn't exposed, but there were so many good options up front, including Bachmann, England international Fran Kirby, and club veteran Drew Spence.
After a disappointing 1-0 loss away at rivals Manchester City that saw Chelsea exposed down the wings with the lack of width, Hayes put Dunn in as wingback in the next match against Liverpool. The team won 7-0, and Dunn put in a faultless performance.
Wing-back to winning ways
The American played the final two matches of the Spring Series in the wingback position and helped lead Chelsea to the title - their first piece of silverware since the end of 2015, and the first winners' medal for Dunn since the 2012 NCAA Championship.
Looking forward, it seems like wingback may be where Dunn finds a place in this Chelsea team. In true American fashion, her athleticism is one of her best attributes, and it exceeds anything that's been seen in the FAWSL before. Her ability to get up and down the wing and contributing on both sides of the ball is exceptional.
Dunn played in defence both in college for the University of North Carolina, and in her early days for the national team, and this experience puts her in a great place to put her name on a position that Chelsea don't have many options for.
It might be hard for Dunn - and her fans - to see her take a step back on the field after such prominent goalscoring form in recent years - but as the saying goes, a step back into the wing-back role may well mean two steps forward into greater success with Chelsea come September.