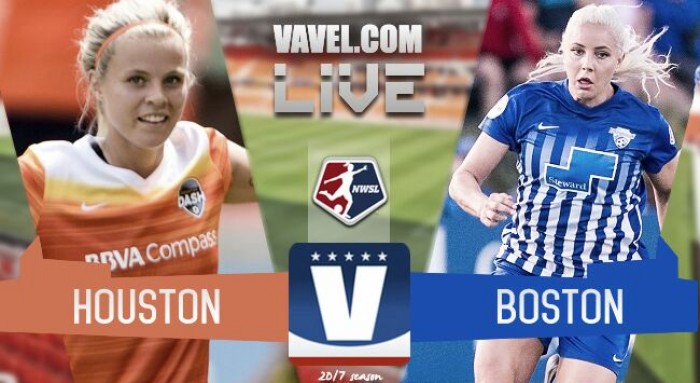 This has been Bianca Verar. Thank you for tuning in!
FULLTIME: Houston Dash 0-0 Boston Breakers
90+3' Lloyd's header is wide of the net
90+3' - HOUSTON SUBSTITUTION: Cami Privett checks in for Andressa
90' - Ref announces three minutes of stoppage
90' - HOUSTON SUBSTITUTION: Denise O'Sullivan checks in for Morgan Brian
90' - Campbell makes a stellar save and Boston earns a corner
87' - Poliana dribbles towards the box, but Frisbie deflects it off of her for a goal kick
85' - Dowie finds her shot, but it goes out
84' - Boston scores but ref calls it offside
83' - Dash building up, but Daly is called offside
79' - Lloyd tries from outside of the box but Prudhomme is on it once again
76' - Dash earn a free kick. Andressa once again finds Poliana's head but Prudhomme is quick to save it
75' - HOUSTON SUBSTITUTION: Caity Heap checks in for Prince
75' - BOSTON SUBTITUTION: Amanda Frisbie enters for Chapman
73' - Campbell comes WAY out of her box to clear the ball
72' - Andressa is called for a handball outside of the Breakers' box
70' - Dash with an exciting build up but Daly's header goes wide
69' - Westphal tries a shot from way out, but Campbell is quick to adjust and receive it
66' - Beckie serves it in, but Brooks' header goes over
66' - Houston earns a corner
65' - BOSTON SUBSTITUTION: Adriana Leon enters the match for Purce
65' - The Dash are quick on the counter, but Lloyd's shot goeswide
64' - Andrews finds space in the box and tries to slot one past Campbell, but Campbell dives to her right and makes the save
63' - White fouls Andressa for a Dash free kick
60' - Poliana gets a ball to her face and play is stopped momentarily. Drop ball occurs and play continues
59' - Andressa sends the ball in and finds Poliana's head, but the ball goes just over the crossbar
58' - Chapman earns a yellow for a hard foul on Poliana
58' - Boston earns a free kick
57' - Lloyd charges down the field and finds Beckie. Beckie's shot is blocked by Prudhomme. Prince goes for the rebound but collides with Salem in the middle of the box
57' - Boston earns another corner
50' - Breakers earn their first corner of the match
46' - Dash attack early, but Beckie's low shot from the corner of the box finds Prudhomme
46' - BOSTON SUBSTITUTION: Emilie Haavi enters for Brooke Elby
HALFTIME: Houston Dash 0-0 Boston Breakers
45' - Beckie tackles Dowie from behind and they earn a free kick
44' - Boston initially clears the free kick but Beckie collects. Her cross is too much for Brooks and goes out for a goal kick
43' - Daly dances around with the ball, but is fouled by Christen Westphal and earns a free kick
41' - Dash earn another corner
40' - Andressa switches the ball to Poliana on the right, but Poliana's big cross is caught by Prudhomme
37' - A great build up from the Dash but Boston's defense is able to scramble and clear it out for a throw in
35' - Brooks collides with Natasha Dowie and the Breakers earn a free kick
34' - Andressa tries a shot from distance but it goes over
32' - Andressa plays it in at the top of the box, but Daly's flick is saved by Prudhomme
31' - Dash earn a corner
30' - Elby fouls Levin; Dash earn a free kick between the 18 and halfway line
29' - Boston takes a shot but Campbell jumps up and catches it
27' - Daly charging towards goal, aims for Beckie on the outside but Beckie gives up on the play. Prince goes for it but is called offside
26' - Camille Levin comes up big for Houston! Margaret Purce with a chance of a breakaway, but Levin keeps pace and tackles it away to Brooks
25' - Daly is able to get on the end of it, but Prudhomme pounces on it on the line
25' - Morgan Andrews earns a yellow for a hard tackle. Dash earn corner by the center circle
24' - Boston with a chance but Campbell catches it easily
22' - The Dash quickly counter with Janine Beckie streaking down the right flank. She sends the ball across to Lloyd, but her shot is off
21' - a hard tackle by the halfway line earns Boston a free kick
20' - Andressa sends it in and Lloyd gets a head on it, but it's just past the goal
19' - Dash earn a free kick a few yards out from the box
18' - The Dash earn the first corner of the match
16' - Daly called offside
12' - Daly cuts across the box and comes back to take her shot, but it goes wide
11' - Dash build up an attack in the final third, but Prince's shot finds Prudhomme
10' - Lloyd is called for a foul on Salem by the halfway line
9' - Daly is up and walking and play continues
8' - Collision between Breakers defender Megan Oyster and Dash forward Rachel Daly. Play stops as Oyster gets back up, but trainer tends to Daly
4' - Carli Lloyd runs towards a ball played through for her, but Boston's defense is quick to shield her off. Prudhomme collects.
1' - Kickoff here at BBVA Compass Stadium!
Lineups have been announced and anthem has been sung. Teams are getting ready for kickoff!
Lineup Notes: Jane Campbell earns her second consecutive start (third overall) for the Dash. Defender Allysha Chapman is given the nod to start after injury for Boston.
Boston Breakers Starting XI: Prudhomme; King, Westphal, Oyster, Elby; Salem, Andrews, White; Chapman, Purce, Dowie.
Houston Dash Starting XI: Campbell; Poliana, Brooks, Van Wyk, Levin; Brian; Andressinha, Beckie; Daly, Lloyd, Prince.
Keys to the game for Boston: Counter attacks. The Houston defense is still trying to figure out its bearings - as it has been for awhile now - and Boston can fully use that to their advantage. Sneaking balls to Natasha Dowie will be crucial, seeing as Dowie is one of their biggest offensive threats. Being able to be quick once the ball is turned over or starting quickly after throw ins will aid the Breakers in many ways.
Keys to the game for Houston: Poliana - the outside back has been on fire for the Houston Dash as of late. She leads the Dash with three goals and ties the assist lead with two. Her ability to make runs out of the back and join in on the attack has been a large part of the Dash coming alive. Carli Lloyd has helped the Dash offense find its footing once again, leading the attack and earning results for her club. Having these two on the field, in addition to players such as Andressinha and Morgan Brian back to being healthy, are doing wonders for the club.
Houston Dash vs Boston Breakers Live Stream
Despite upsetting the Seattle Reign back in May, the Breakers can't seem to find their spark again. Since, then they've had five losses and two ties. If they don't turn things around soon this could mean yet another year of missing playoffs. Although the Courage did earn the three points last weekend, there was promise in the Boston attack as they picked up momentum in the second half in hopes of a goal. This bottom place team was able to put some serious pressure to the top of the table, and they will without a doubt try to do so again with the Dash this week.
On the visitors side, Boston is still without rookie and USWNT midfielder Rose Lavelle after suffering a left hamstring injury during the USWNT's friendlies in Norway. They are also without goalkeeper Abby Smith as well as Canadian Allysha Chapman. Fortunately, New Zealand international Rosie White should be back in the mix after having to sit out last game after collecting five yellow cards on the season. Although they're missing quite a few pieces still, it will benefit the Breakers to at least have White back in the mix.
After earning their first win since May, the Dash are beginning to turn the tides. There was plenty of upside in last week's match against the Pride, including rookie goalkeeper Jane Campbell earning only her second start of her professional career and her first career shutout. They look to build on their performance going forward, and that starts on Wednesday at home against the Breakers. They will look to continue scoring goals, and interim head coach Omar Morales will keep putting his pieces together nicely.
For Houston, it was just announced that forward and captain Kealia Ohai will be out for the remainder of the 2017 season due to a left knee injury. Ohai, who was just out of reach for last season's NWSL Golden Boot, has been a key part of the Dash's attack since the organization's start as the NWSL's first expansion team in 2014. It will be interesting to see how the Dash adjust without her.
In a quick turnaround for the league, the two teams will be facing off midweek in Week 11. Houston is coming off their first win after six consecutive losses while Boston is in the midst of a seven game winless streak. The Dash came out and claimed a 2-0 victory against the Orlando Pride while the Breakers fell 1-0 to the number one North Carolina Courage. However, going into this week both teams will be missing key players.
Houston Dash vs Boston Breakers Live Score and Result
Welcome to VAVEL USA's LIVE coverage of the 2017 National Women's Soccer League match between the Houston Dash and the Boston Breakers. My name is Bianca Verar and I'll be your host for this game. We will provide you with pre-game analysis, roster updates, and news as it happens here on VAVEL. This game will be broadcasted with the go90 app and NWSL website.