The North Carolina Courage can clinch the NWSL Shield, the award for the best regular season record, with a win tonight against the Houston Dash in Edinburg, Texas at H-E-B Park. Besides capturing the Shield, the Courage, with a win, can also tie the 2014 Seattle Reign for most wins in a regular season. The record stands at 16 wins.
The matchup is scheduled for an 8 p.m. ET kickoff with a live stream available via go90.com and the go90 app.
North Carolina already had an opportunity to clinch the Shield against Sky Blue FC on Sunday evening, but Sky Blue, even after giving up a goal in the 27th minute as Ashley Hatch scored her sixth goal of the season, kept the top team in the NWSL from winning the Shield. In the 75th minute, Raquel Rodriguez would score for the New Jersey-based club, and the game in Piscataway would finish as a 1-1 draw. The Courage were held to a draw for the first time in 21 games, and their first this season.
What to Expect
This is the second meeting between the clubs this season with North Carolina winning the last meeting 1-0. The Courage may just be the best team in the NWSL with a 14-1-1 record and a 6-4-1 record on the road, and they will likely give the Dash a challenge. However, the Dash showed last week against Chicago that they are a team that cannot be counted out. As the Chicago Red Stars led 2-0, Houston almost pulled a comeback. Amber Brooks and Rachel Daly both scored for the Dash with Daly's goal coming in the 86th minute, and the Dash pressed until the final whistle. The goals by Brooks and Daly broke a three-game scoreless streak.

Previously, for both teams, they look to snap a winless streak of a sort. North Carolina is winless in its previous two road games, and Houston is on a four-game losing streak.
The Struggling Dash
As mentioned above, the Dash have yet to win a game in four games. After a summer that saw them on a six-game unbeaten streak, the Dash began to slip and lose the chance in the playoffs for another year. Houston has given up two or more goals in ten games that have led to defeats. They are 0-10 when that happens, and in the last six games, Houston has conceded the first goal.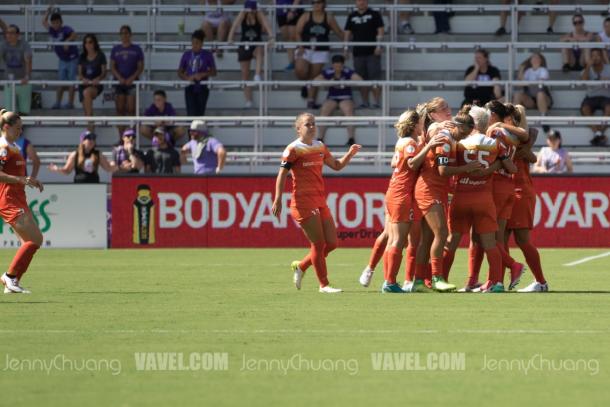 Beyond the on-field stats, the Dash has had a rough season. With coaching changes, injuries, trades, and their city battered by a hurricane, Houston could not fully overcome the challenges, even though we saw a glimpse of their best during that six-game winning streak this past summer.
Injury Report
North Carolina
OUT: Liz Eddy (left hamstring strain), Darian Jenkins (D45 – left ankle dislocation/fracture), Yuri Kawamura (SEI – right knee ACL and meniscus tear)
QUESTIONABLE: Jessica McDonald (right hamstring strain)
Houston
OUT: Carli Lloyd (left ankle sprain), Kealia Ohai (SEI – left knee ACL tear)