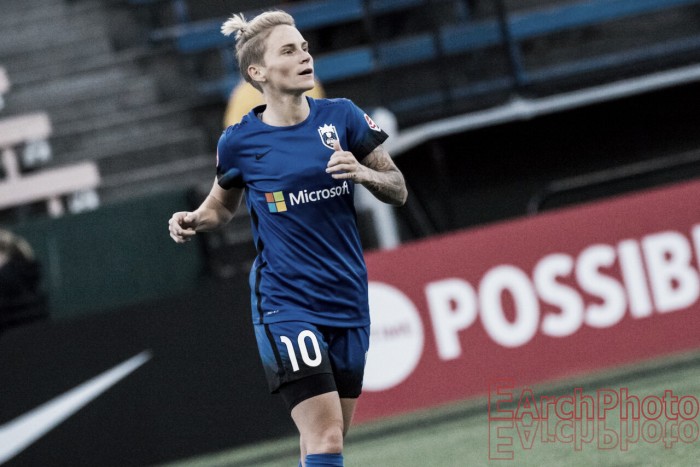 As the Seattle Reign trailed 2-0 against the Washington Spirit on Saturday, the Reign pulled the comeback to win 3-2 to finish their season on a winning note. Behind each one of those three goals, midfielder Jess Fishlock had a part, including scoring two of her own in the 71st and 90th minutes. The 90th-minute goal completed the comeback. With the goal, Fishlock wrapped up the season with seven goals and two assists. In the 83rd minute, Fishlock assisted on the tying goal scored by Larissa Crummer.
On the final game of the season, Fishlock was instrumental in the Reign's comeback that took 19 minutes. Fishlock's first goal was the one that began the scoring drive for the Reign. Fishlock scored on a lob she took as a shot on goal, getting above goalkeeper Didi Haracic's reach. Her game-winning goal in the 90th minute came after a couple of touches by her teammates failed to result in a shot, but as the ball deflected in her direction, Fishlock sent it in to finish the comeback.


For her performance, the NWSL Media Association awarded Fishlock the Player of the Week honors. The Seattle Reign also named her as the Player of the Match after the game. It is the second time the Seattle midfielder is voted as the best player of the week. Her first honor for the 2017 season came in Week 2 after her one goal and one assist contribution to the 5-1 victory over the Houston Dash. Fishlock has now won the award four times during her NWSL career, joining five other players on that list, including teammates Megan Rapinoe and Naho Kawasumi.
Previous Winners
The NWSL Player of the Week is selected each week of the regular season by the NWSL Media Association, a collection of writers that cover the league on a consistent basis.