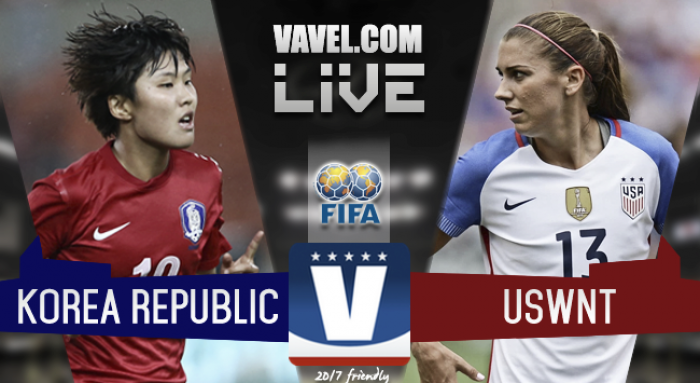 USA 3 - 1 Korea Republic
Thanks for joining us here at VAVEL USA tonight. This is Kudzi Musarurwa once again, signing off.
Full time: That will do it for the US as they come up the victors in tonight's match against Korea Republic.
There will be four minutes of stoppage time here as the game winds down.
90' The US try to get a shot off but can't quite get the telling touch. The attack stops when Lloyd fouls Kang in the box.
84' Son makes a great near post run and gets her head to the ball but it goes just wide of the goal.
83' SUBSTITUTION: Lee Eunmi comes in for Park.
82' Korea attack immediately but as they get into the US penalty area, play is called back for an offside.
82' Dahlkemper finds Lloyd off a set piece but Kang gather sthe ball at the second attempt.
79' Korea Republic win a free kick which Naeher has to come out and punch. The visitors regain possession and look to attack again.
77' SUBSTITUTION: Carli Lloyd comes in for Mewis.
77' The ball bounces around in the box before falling to Press. The Red Stars forward has no problem taking it on the half volley but it goes into the side netting.
74' Dahlkemper finds Horan who gets the ball on target. Kang has to make a great save on the stretch to tip it over the cross bar. The corner kick is dealt with by Korea Republic.
74' YELLOW CARD: Park gets the second card of the night after clipping Huerta.
72' Mewis plays a ball through for Press to run on to but Kang is quick off her line to get to the ball first.
68' Park Chorong is down now after a challenge with Huerta. Play has stopped while she receives treatment.
66' Dunn blocks the pass in the attacking third and uses her pace to get to the rebound but her shot is easy for Kang to catch.
64' The US attack immediately as Horan breaks into the box. She cuts the ball back and finds Williams but her shot goes right into the hands of Kang.
62' SUBSTITUTION: Sofia Huerta, Crystal Dunn and Christen Press come in for Short, Rapinoe and Morgan respectively.
62' SUBSTITUTION: Son Hwayeon comes in for Yoo.
61' YELLOW CARD: Han picks up the first card of the game.
60' Williams moves down the right hand side and tries to pick out Morgan but only gets a corner kick out of it.
59' CHANCE! Jin finds a pocket of space in midfield and decides to go for goal. It pings off the post and the US breathe a sigh of relief as it bounces out for a goal kick.
57' O'Hara brings the ball out of the air well before swinging the cross in with her left foot towards Morgan. Morgan gets her head on to the ball but it comes off the defender and straight into the arms of the goalkeeper.
USA 3 - 1 Korea Republic
After a long delay, Rapinoe sends the ball right down the middle of the goal and scores the US' third goal.
52' GOAL! Rapinoe has no problem putting away the penalty!
52' SUBSTITUTION: Jang Chang comes in for Kim Hyeyoung.
49' PENALTY! The US breaks again and this time Williams tries to find a teammate. The ball doesn't get to Rapinoe but in her attempt to clear the ball, Kim Hyeri brings down Rapinoe and gives up a penalty.
48' Morgan finds space in the box and hesitates to take a shot which allows Korea Republic to recover and clear the ball.
47' Williams steals the ball in midfield and bursts forward in a three-on-one situation for the US. She decides to go for goal and pull her shot well wide.
46' The second half has started off.
46' SUBSTITUTION: Jeon Gaeul comes in for Choe and Lee Sodam comes in for Lee.
46' SUBSTITUTION: Lindsey Horan comes on for Sullivan
USA 2 - 1 Korea Republic
Half-time: That ends up being the last action of the half as Han picks up her first international goal in spectacular fashion to pull the visitors within one goal of the US. Pugh's injury will be something to keep an eye on as well. The US bench has already confirmed that it's a hamstring injury.
USA 2 - 1 Korea Republic
The midfielder is found out wide as Korea Republic breaks on the counter. She sizes Dahlkemper up before deciding to go for goal from a long way out and gives Naeher absolutely no chance as it goes right into the top corner.
45+4' GOAL! Han Chaerin scores an absolute screamer for Korea Republic!
45+2' SUBSTITUTION: ?Jin Sunmi comes in for Shin.
45+1' SUBSTITUTION: Lynn Williams will be coming in for Pugh.
There will be three minutes added on to the end of this half.
44' Pugh comes back to try and win the ball off of Han Chaerin but commits the foul. Both Pugh and Han go down and it looks like Pugh's night is done.
USA 2 - 0 Korea Republic
O'Hara does most of the hard work after the ball comes out to her. Pugh plays her in on the overlap and the Sky Blue player finds the byline before finding Morgan. Morgan holds off her defender and slams the ball home for the second US goal of the night.
40' GOAL! Morgan makes it two!
38' Rapinoe finds Morgan inside the penalty area but her shot is blocked.
35' Yoo and Sauberbrunn fight for the ball in a one-on-one situation and the US veteran comes off the victor in that particular duel.
34' Choe fouls Rapinoe who plays the free kick quickly but the away side is ready for it and defends the attack well.
29' Short finds Morgan with a great cross into the box but the Orlando Pride striker sends her header over the goal.
26' Korea Republic almost find a way to goal but their final pass is just too strong and Abby Dahlkemper lays the ball off for Naeher to kick out.
USA 1 - 0 Korea Republic
Rapinoe finds Ertz making her usual near post run and the Chicago Red Stars player gets low to head the ball home.
24' GOAL! Ertz is on the scoresheet!
23' CHANCE! Now Rapinoe and Short combine and Short cuts the ball back towards the penalty spot. Kang gets a hand on it and it's panic station as the ball falls into harms way. Eventually, Jang Sel-gi kicks the ball out for a corner kick.
22' Shin puts in a big tackle to stop Morgan from breaking and it allows Korea Republic to come right back in attack. The attack dies when Yoo Younga sends her cross high above everyone.
21' CHANCE! Choe has the speed to get by Casey Short and it takes a big interception by O'Hara to stop Korea from taking the lead.
18' Choe Yuri heads the ball on from a long ball but it's easy for Naeher to collect.
18' O'Hara gets down the right hand side and finds Pugh in the box. The Washington Spirit's forward tries to turn in the box but is cut off. The clearance finds Samantha Mewis who goes for goal from a long way out and Kang gets behind the ball well.
17' Korea Republic almost get behind the US backline but the ball takes an odd bounce on the turf which allows Becky Sauerbrunn to get to the ball and win the free kick.
15' The US keep possession and get the ball out to Mallory Pugh who decided to go for goal but it's nowhere near on target.
12' CHANCE! The corner falls to Kelley O'Hara who cuts inside before sending in a stinging effort towards Kang. The goalkeeper parries the ball back into the area but a defender is there to clear the ball before any US player can get tot he rebound.
11' Morgan wins a free kick out wide which Rapinoe will look to bend in. It's a great delivery that Korea has to head over for a corner kick.
10' The US are exploiting the channels well but the Korean backline is cutting down the spaces near their area well.
7' CHANCE! Julie Ertz shows off her strength in midfield and starts a US attack by finding Rapinoe out wide. She plays Morgan in and Kang Gaee makes a good save to stop Morgan from opening the scoring.
5' Alyssa Naeher's kick out goes right to Korea Republic and Lee Mina keeps possession by spinning around a few US midfielders. The ball eventually goes out for a US goal kick.
4' Alex Morgan goes down but the free kick is called against her as she's adjudged to have taken down Shin Damyeong.
3' The initial service is defended well but it comes back to Rapinoe who finds Sullivan at the top of the box. The young midfielder takes a shot on goal but it curls well wide.
2' Andi Sullivan skips by a few challenges and wins the first free kick of the game. Megan Rapinoe is set to take it.
1' And we're off!
The teams are all on the field as the national anthems are being performed. We're just a few minutes away from kick-off now.
Korea Republic: Yoon Dukyeo has decided to experiment with his line up and brought in many newer faces to the starting line up tonight. It will be interesting to see how these younger players
USWNT notes: Andi Sullivan comes in for another cap after suffering an injury last year and is set to start in midfield. The rest of the team is fairly straight forward with many of the named starters coming off good seasons for their club teams.
Korea Republic Starting XI (4-5-1): Kang; Park, Shin, Kim, Jang; Han, Jin, Cho, Lee, Choe; Yoo.
USWNT Starting XI (4-3-3): Naeher; O'Hara, Dahlkemper, Sauerbrunn, Short; Ertz, Sullivan, Mewis; Pugh, Morgan, Rapinoe.
Good evening everyone and welcome to our live coverage of tonight's game in New Orleans. The USWNT face Korea Republic in the first of two matches and will be looking to put in a good performance for their fans tonight.
USWNT 3 - 1 Korea Republic
Prediction: The USWNT have the better record against their opponents and even though they have suffered a few shocks, by their standards, this year, there should be enough quality in the team to get the win on Thursday night.
The USWNT will be led by head coach Jill Ellis while Korea Republic will be led by head coach Yoon Dukyeo.
Projected Lineup for Korea Republic (4-5-1): Kim. J; Lee. E, Kim. D, Shim, Lim; Jeon, Cho, Kwon, Park, Lee. S; Ji.
Projected Lineup for USWNT (4-3-3): Naeher; O'Hara, Dahlkemper, Sauerbrunn, Smith; Horan, Johnston, Mewis; Pugh, Morgan, Rapinoe.
The match will be played at the Mercedes-Benz Superdome on October 19, 2017. The game will kick off at 8:00 PM EST and will be broadcast on FS1.
Up top for Korea Republic is Chelsea L.F.C. striker Ji Soyun. Ji has picked up 38 goals in her 74 appearances for her country and if anyone can take advantage of any defensive lapses, it would be her. She may spend a lot of the game as an isolated figure but if she manages to get into a good position in front of goal, she can make life difficult for the USWNT and quite possibly help her team to an upset victory.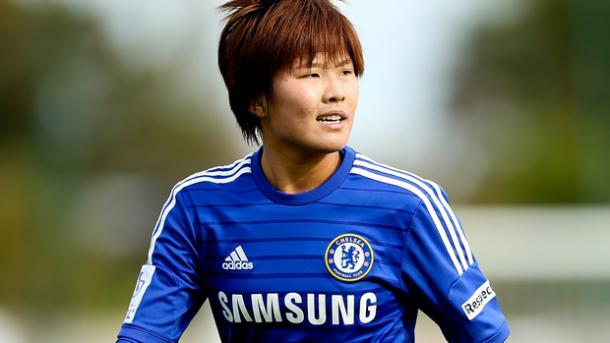 For Korea Republic, their best hope of coming away from this series with a positive result is to stay resolute and organized. The USWNT had had trouble dealing with teams like that and if they can do so and frustrate the hosts, they can then take the chances that present themselves for the visitors to take on a sometimes shaky US backline. The away side has veteran prescence in their roster who can make a difference in their defense and midfield organization. Captain Cho So-hyun has been a stalwart in midfield, while Kim Jung-mi and Lee Eun-mi have 149 caps between them. These three players can help those around them keep the US attack at bay for as long as they possibly can.
At their very best, the USWNT have shown that their strength lies in attack. Alex Morgan and Megan Rapinoe may have not finished their league season the way they would have wanted but they had outstanding club seasons and that has carried over to their national team form. Behind them, Lindsey Horan will be fresh of a NWSL Championship win with her National Women's Soccer League team while Julie Johnston, who reprised her midfield prowess this season, has been in outstanding form. If those players get the ball and get the ball often, it could be a great night for the home side.What has now become an apparent weakness for the USWNT, and something that Korea Republic will look to exploit, is their backline. Gone are the days where the US defense was nigh on invincible and even though Becky Sauerbrunn still plays at a very high level, the backline, from goalkeeper to the defenders, has struggled regularly this year.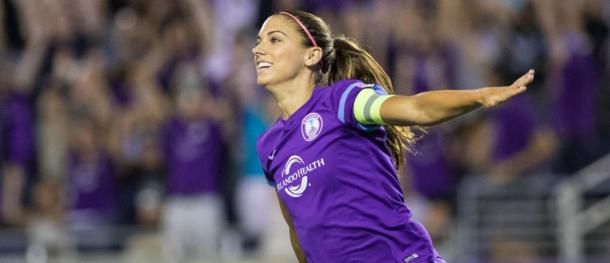 The USWNT and Korea Republic have met nine times in their history, with the USWNT having not lost a single one of those matches. The current record stands at seven wins and two draws for the US. As both teams gear towards qualifying next year for the 2019 FIFA Women's World Cup. expect to see some experimentation by both head coaches as they look to see out the calendar year with some positive results.
Hello once again to VAVEL USA's coverage on all things soccer. This live update will be featuring the United States Women's National Team as they look to end the year with two victories over Korea Republic. The first of those two matches will be played on Thursday night and I, Kudzi Musarurwa, will be your host.