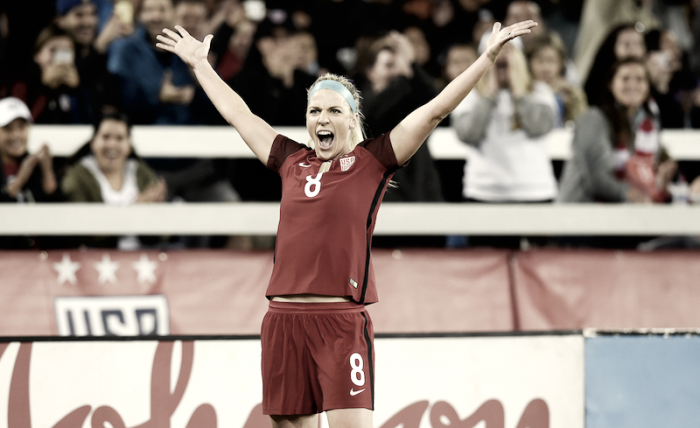 Julie Ertz has been named U.S. Soccer Female Player of the Year. Ertz was essentially for her club, the Chicago Red Stars, and for her country's U.S. Women's National Team in 2017. Ertz had a position switch in 2017, she went from a center back to a defensive midfielder for both club and country. Ertz became a major threat on set pieces for defenses and a key player in winning possession of the ball.
Ertz scored six goals this year, five coming since the Tournament of Nations in July. She finished second in team scoring this year, and now has 14 career goals with the USWNT. Ertz's presence became known in the USWNT's 4-3 comeback win over Brazil at the Tournament of Nations. Ertz scored the game-winner in the 89th minutes of that match. The defensive midfielder also had a brace against New Zealand in September. Teams simply could not mark Ertz in the box on set pieces. She was able to create space and get a head or foot on the ball in spectacular fashion.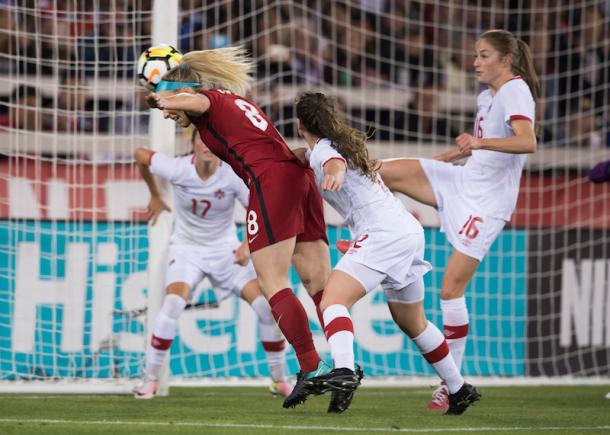 For club, Ertz tallied four goals and three assists. Across 22 of Chicago's 24 regular season games, Ertz played all but 48 minutes. She was named to the NWSL Second XI.
"I want to give a big thanks to everyone who voted," said Ertz. "This was a really unique year for me with a lot of different challenges, but it means so much to have the support of my husband, my family, my coaches and my teammates. I'm honored and thankful from the bottom of my heart and I'm really looking forward to next year and as we have some big goals to accomplish."
Ertz is only the third player in U.S. Soccer history to win both U.S. Female Player of the Year and Young Female Player of the Year. Ertz, who was Johnston then, won the Young Female Player of the Year in 2012. That year Ertz captained the U.S. U-20 team that won the U-20 World Cup. Ertz earned the awards five years apart which is the shortest time for any player, Lauren Holiday and Tobin Heath had seven years in between awards.