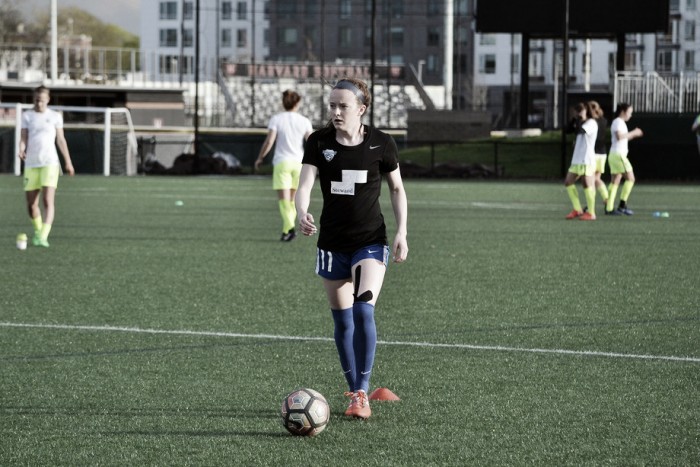 The Boston Breakers will continue to build through the draft and add some new talent to their 2017 rookie class- a class that featured the number one, three, eight and nine picks. Head coach Matt Beard will have four picks in this years' draft highlighted by the likes of Andi Sullivan and Savannah McCaskill.
Season Recap
The Breakers roster for the upcoming season retains the mostly-consistent back line of Julie King, Megan Oyster and Allysha Chapman. The midfield should see the return of Rose Lavelle, who was injured for the second half of the season after an impressive start, as well as New Zealand international Rosie White. The Breakers recently re-signed Katie Stengel who they acquired off of waivers from the Washington Spirit.
Boston has yet to make the playoffs in the NWSL. Roster turnover and the lack of notable names may have contributed to the bottom-table finishes. But, if the 2016 Western New York Flash has proven anything, it's that building through the draft can pay dividends. Having a healthy Abby Smith back and their front of Midge Purce, Adriana Leon and Natasha Dowie to help with the attack should also provide a boost.
Players to look out for
Sullivan is the presumptive number one pick, but there are a plethora of players that will be available at the number two pick. Along with pick numbe two, the Breakers also posses picks 17, 22 and 32 to draft some impressive talent from the college game.
1. Rebecca Quinn- Midfielder, Duke University. The Canadian international would fit in with teammates Leon and Chapman as well as add some much-needed midfield composure. Quinn was a semifinalist for the Mac Hermann Trophy Award In 2017 and helped her team make their fourth College Cup appearance and their second in three years.
2. Indigo Gibson- Defender, California University. The California native was a rock on the backline for the Cal defense this past season. She was named TopDrawerSoccer's First Team Best XI. She was also recently called into the U-23 USWNT January camp and could help bolster a defense that had a -11-goal differential for the season.
3. Rachel Bloznalis- defender, Boston University. The Breakers are a team that enjoys having homegrown talent such as Kristie Mewis, Steph McCaffrey and Purce. Bloznalis was named to the MAC Hermann Trophy watch list in the preseason and was the Patriot League defender of the year in 2016 and 2017.
Other players to consider:
Savannah McCaskill - Forward, midfielder, University of South Carolina
Morgan Reid- Defender, Duke University
Joanna Boyles- midfielder, University of North Carolina