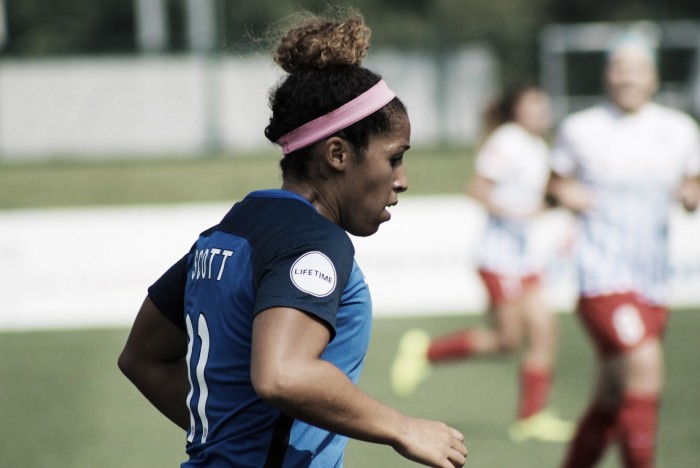 With about two months until the start of the 2018 NWSL season, the Utah Royals continue to build their roster. Today, the club announced that Desiree Scott, known as "The Destroyer" for her physical presence in the midfield, had committed to joining the team.
Scott follows Becky Sauerbrunn as the latest commit from the defunct FC Kansas City roster. Last month, Sauerbrunn was the first player to announce her commitment to playing for Utah. Though the Royals inherited the entire roster from the former FC Kansas City team including U.S. National Team players Amy Rodriguez and Sydney Leroux, there has not been an official announcement as to which players would continue their careers with the Utah club. Former FCKC players Christina Gibbons and Shea Groom were traded to acquire defender Kelley O'Hara and midfielder Taylor Lytle.
After joining FCKC for its inaugural season in 2013, Scott then moved overseas to play for Notts County in the FAWSL for two seasons. She returned for the 2016 season and started 14 games after missing the first half of the season due to an ankle injury. Scott returned ready to start and contribute for the 2017 season. She made 21 appearances for FC Kansas City last season, becoming a key player in the Blues' midfield.
Internationally, Scott has 129 caps for Canada, winning two Olympic gold medals (2012 and 2016). Scott is an allocated player in the NWSL.
Harvey praised Scott's talent in the Utah Royals press release, "She is the glue to any team she plays for. Her performances last season and throughout her career to this point were excellent, and I'm so excited she is a part of our team this season."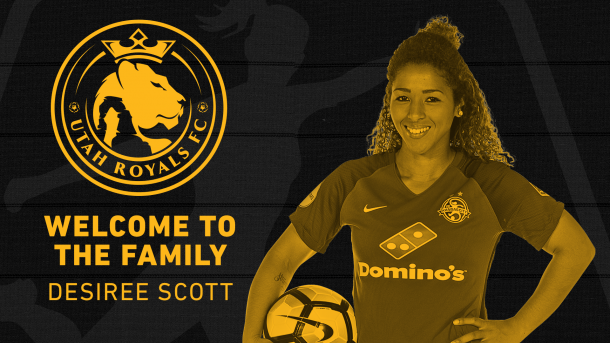 Scott also shared her excitement, "I feel very fortunate to be a part of a club that wants to do amazing things, not only in the NWSL, but for the women's game. I look forward to getting out there to see what Utah and the soccer community is all about — but more importantly, excited to get to work with my teammates for the 2018 season!"