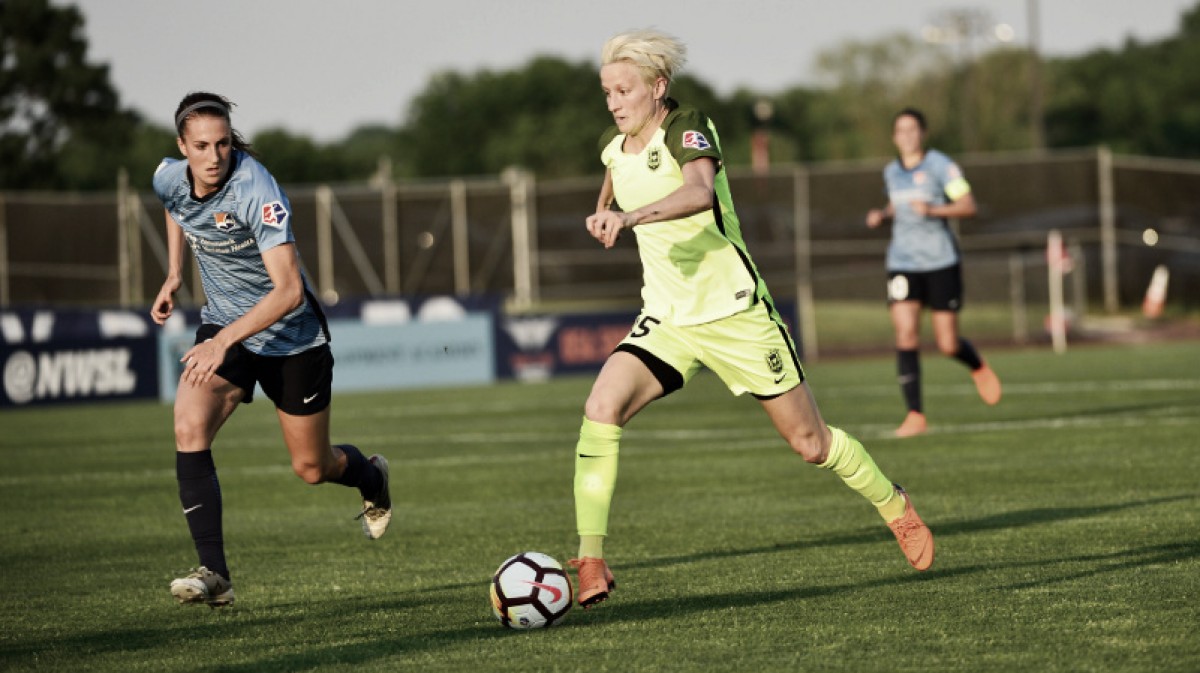 The Seattle Reign FC (5W-2D-2L; 17 points) have jumped back up to second place in the standings after securing another 1-0 victory over Sky Blue FC (0W-1D-7L; 1 point) at Yurcak Field on Saturday night. The lone goal of the match was scored by Seattle striker Megan Rapinoe who continues tearing up the league in 2018. Rapinoe has scored four goals on the season, good for second-most in the league behind Portland Thorns FC forward Christine Sinclair.
Short rest and sloppy play
Sky Blue and Seattle both came into the Saturday match looking to recover from midweek losses. On Wednesday, Seattle fell to the Houston Dash 2-1 while Sky Blue lost 1-0 to the Washington Spirit.
The game was very even from the start to finish, but it was not a particularly high level of soccer. Both teams struggled to push the ball past the midfield and generate consistent possession. The game seemed to be destined to end in a scoreless draw after a sloppy first half with both teams running on tired legs.
The deadlock was broken when Seattle defender Christen Westphal bullied her way through two Sky Blue defenders into the penalty box and sent a low cross to Rapinoe waiting near the penalty spot. The Sky Blue defense was caught napping as Rapinoe deftly redirected the ball on frame and past Sky Bue goalkeeper Kailen Sheridan. Sheridan would come up with a big save later in the match to keep the game within reach, but Reign goalkeeper Lydia Williams played a consistently solid game throughout and was not to be beaten on the night.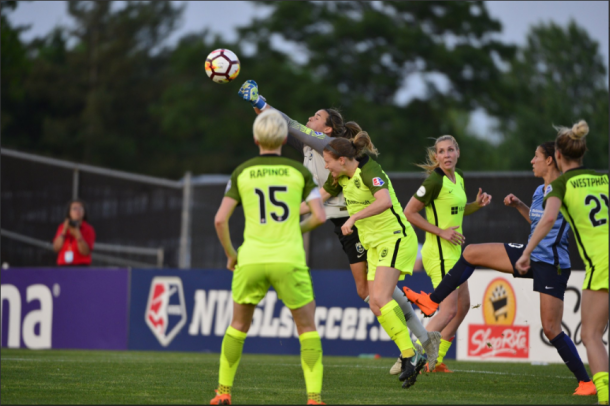 Parity but not equality
The game was very even from a statistical standpoint. Sky Blue won the possession battle 52-48 and had more shots (10-9), but the didn't have the quality opportunities that Seattle created. SBFC now has the second-longest winless streak to open an NWSL season at eight games.
Sky Blue will have a chance to break that winless streak next weekend when they host Utah Royals FC on Saturday, June 2nd. Players on the USWNT are not expected to be available for that match, so the lineup changes might provide Sky Blue with some much-needed variance.
Seattle will face off against the Orlando Pride on Sunday, June 3rd in a match that will be missing a lot of star power. With the Brazilian and United States national team players gone it will be interesting to see how Tom Sermanni (Orlando) and Vlatko Andonovski (Seattle) deal with the absences. Orlando performed poorly at the start of the season when they encountered similar lineup deficiencies.