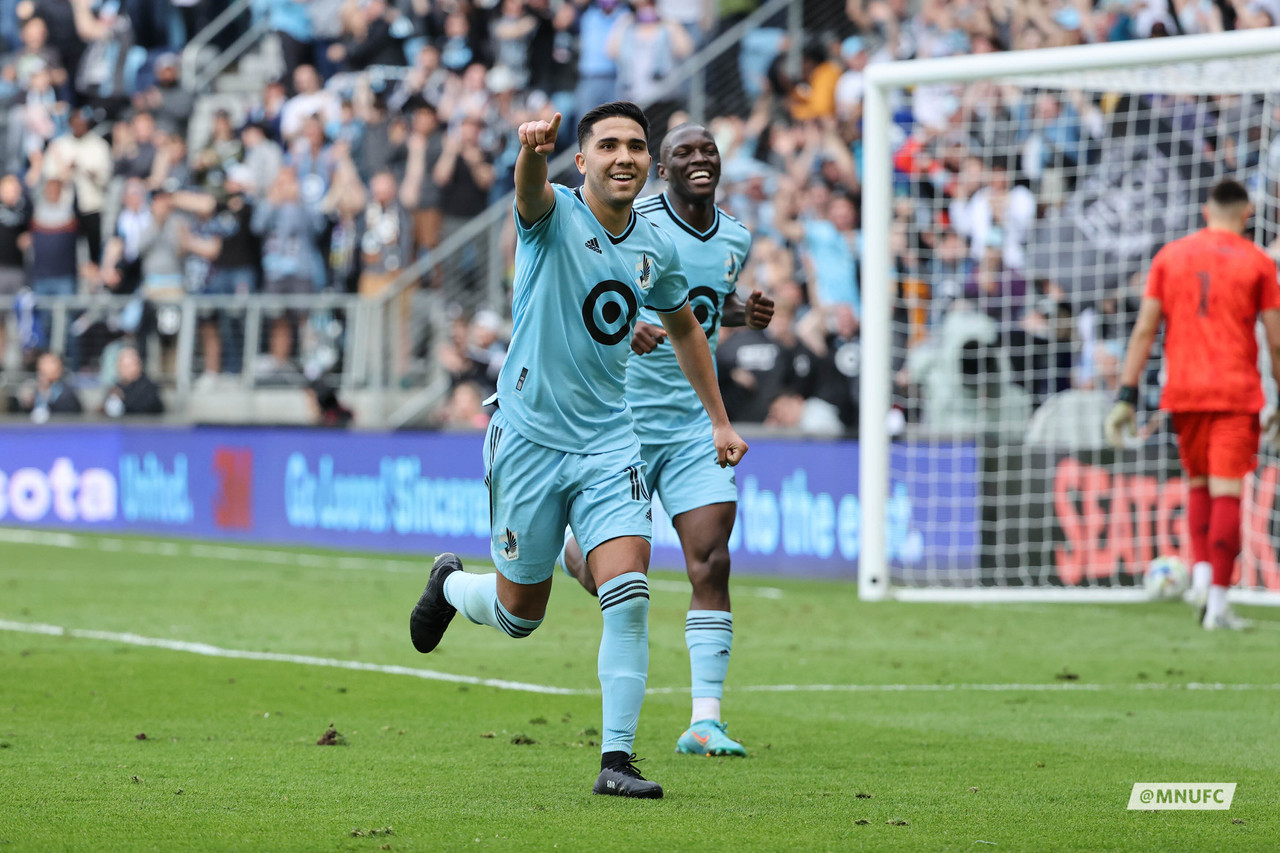 Minnesota United has picked up their third win in the span of a week as they defeated the Chicago Fire 3-0 at Allianz Field on Saturday afternoon.
A close contest early on, things burst into life with about 20 minutes to go. Emanuel Reynoso broke the deadlock with an excellent strike on the counter, and then he turned from scorer to provider just moments later after his corner was headed home by Kervin Arriaga. The three points were clinched at that stage, but one more goal from Robin Lod sealed the result in style.
It was a dream day for Minnesota, and a nightmare one for Chicago.
Story of the match
Minnesota thought they had opened the scoring 10 minutes in when Robin Lod slipped Emanuel Reynoso in behind, and his lovely chip went right over Gabriel Slonina and into the back of the net. However, the sideline official's flag went up to call the goal off, and it was the right decision since the player was clearly offside.
Reynoso was involved once again a little bit later on. He decided to have a go for goal from a free-kick despite it being quite far away, and the call almost paid off. However, his brilliant strike was ultimately denied by the crossbar, and no one could pounce on the rebound.
The hosts kept pushing forward, and they carved out another chance. Some good build up play led to the ball being laid off to the top of the box, but it fell to center back Bakaye Dibassy, who predictably failed to get his shot on target.
Things slowed up to end the first half, but Chicago finally had an opportunity of their own early on in the second half. A lovely ball from Xherdan Shaqiri found Rafael Czichos in the area, but he couldn't make the most of it, heading the ball off frame.
They came even closer moments later, as a low cross just kept rolling until it fell to the feet of Stanislav Ivanov, who made solid contact on a strike. Dayne St. Clair was up for the challenge, though, reacting quickly to make the save.
Dibassy was again involved in the final third for Minnesota, with this effort being a lot more spectacular. He went for a highlight-reel bicycle kick, but he came nowhere close with it, as the ball ended up going out for a throw in.
The pace of play continued, and it was Chicago who had the next chance. Shaqiri managed to get the ball to Kacper Przybyłko, and he did well to cut inside before curling a shot towards the opposite corner. It wasn't enough, though, as his effort was also saved.
In the end, it would be Minnesota who opened the scoring. A bad turnover from Wyatt Omsberg gave the hosts an opportunity to counter, and they capitalized, with Reynoso getting the ball on the edge of the area before rifling it into the bottom corner.
Things went from bad to worse for Chicago as Federico Navarro was sent off moments later. He tried to save his team, lunging into a challenge to stop the bursting run of Lod, but he could only take out the man. It was a clear yellow, and since it was his second, he was shown a red.
Another defensive giveaway, this time from Czichos, put the Fire in a terrible spot. Luckily for them, Omsberg somewhat made up for his earlier mistake by flying in and winning the ball with a slide tackle.
Those efforts would be for naught as Minnesota sealed the result with a second goal. Reynoso's corner was whipped into a wonderful area, and Kervin Arriaga rose highest to win the aerial duel and head home from close range.
The hosts turned on the style, adding a third before the afternoon was done. A give-and-go got Lod into the box with the ball, and he danced past Omsberg before picking out the bottom corner with a clinical finish.
That proved to be the final highlight of a potentially key fixture for both.
Takeaways
It's becoming increasingly clear that Gabriel Slonina isn't great in the air. The 17-year-old is still an absolute phenom at the goalkeeper position, but he's had some struggles when it comes to dealing with crosses and high balls. He's got plenty of time to work on this facet of his game, of course, although it is a bit of a worry at the moment.
Something has to change for Chicago. Sure, they're an elite team defensively, but they're just too useless going forward right now. The return of Xherdan Shaqiri hasn't helped, and this attacking performance was just as ugly as their previous ones. They have to take risks in the future, and that starts by sending more bodies forward.
Minnesota might be starting to heat up. This was their third straight win in all competitions, and it looks like they're clicking going forward and at the back. They're a team with plenty of talent, and if they're firing on all cylinders then they could be a real contender come the end of the season, both in MLS and in the Open Cup.
Man of the match - Emanuel Reynoso
In tight games like this, you need your star players to step up and provide moments of magic.
Fortunately for Minnesota, Reynoso was able to do just that. He was a frustrated figure in the first half, getting man-marked out of the match in the early stages. However, he got better as the contest went on, finding more and more pockets of space.
In the end, he was able to get open when it mattered most, and his eventful finish was the very definition of clinical as he found the bottom corner with a lethal strike. Reynoso's corner a bit later was just as good, as he put the ball in a dangerous area to allow a teammate to head home from just a few yards out.
It wasn't quite a masterclass, but it was more than enough to lead his side to three points.