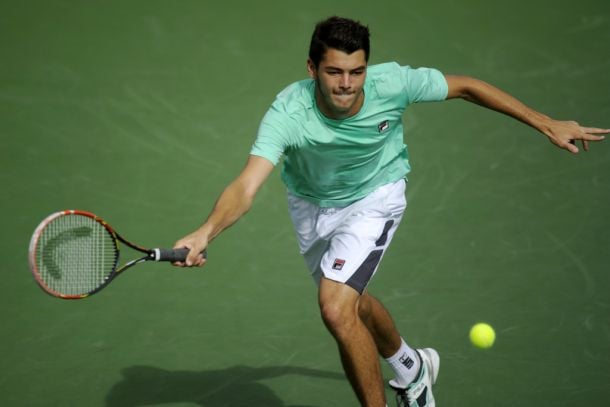 It is safe to say a new American star is on the rise for future greatness. 17 year old Taylor Fritz defeated 3rd seed and world number 110 Dustin Brown 6-3 6-4. Both players faced off in the final of the Fairfield Challenger in Fairfield, California. With the victory, it was the young American's second victory in 2 weeks against the German, as he beat him previously in the Sacramento Challenger.
Fritz's Road To The Final
On his way to the title, Fritz won 4 straight sets victories before he closed it out with another straight sets win. The young teenager showed great consistency and poise throughout the whole tournament. In the 1st round, he defeated qualifier Henri Laaksonen 6-2 6-3. The 2nd round was an impressive display as he knocked out 1st seed and fellow American Tim Smyczek 6-2 6-3. In the quarterfinals, another seed was taken out, as the young gun defeated 6th seed Blaz Kavcic 6-4 6-1. The run to the final was capped off with a great win over 4th seed Blaz Rola 6-3 6-3. Overall, the young American made each match look easy as he faced the pressure points with ease. It has cemented a snap shot of what is to come later on in the young star's career. With the title victory, it gives him the chance to get in to Australian Open qualifying and a check of 50,000 dollars.
Brown's Road To The Final
On the other hand Dustin Brown's week was an eventful one. At 110 in the world, each match moving forward is important as the German is trying to get up to 104 in the rankings (or higher) in order to qualify for the Australian Open main draw. The 30 year old veteran had double duty as he played both singles and doubles, reaching the doubles final as well. During the tournament, Brown played 3 teenagers. His route to the final started out against American Connor Smith, a 6-0 7-5 victory. In the 2nd round he took on young player Tommy Paul, a 6-2 7-6(5) victory. Next, an intriguing quarterfinal matchup against friend and fellow German Daniel Brands took place, a hard fought 7-6(5) 3-6 6-1 victory. The veteran would then face another young American talent in RocNation signee Frances Tiafoe, resulting in a tough 3 set victory; 7-5 3-6 6-2. Overall, it was a good week for Brown, filled with many hot shots from one of the ATP World Tour's most entertaining players.
Fritz Keeps Rolling
To get the match started, Taylor Fritz would end the first game with an ace for a 1-0 hold. A total of 3 more holds would take place to get the match even at 2 a piece. The American would face the match's first real test, as he would go down 0-30 on serve. Brown would hit an amazing slice volley and later on the German would have a break point opportunity at 30-40. It would be saved though, with a service winner to go to deuce. The game would go back and forth until the American would eventually hold for a 3-2 lead. With the positive hold, Brown would feel pressure on his serve in the next game. Up 15-0 off an ace, the 30 year old would hit a double fault. Later on, the world number 339 would show a great display of transition from defense to offense as he would break the serve and volley based Brown at 15 for an important 4-2 lead.
Fritz would follow the break up with a dominant hold of serve for a 5-2 lead. The world number 110 would then hold, but his chance to get back in the 1st set would be short lived, as the 17 year old would close out the 1st set with ease; 6-3.
Fritz Finishes Off In Style
The 2nd set would get underway with a hold, in serve and volley fashion from the German. The world number 339 would then hold at 15 off an ace. In the next game, Brown would be tested to hang on for a hold of serve. The game would go back and forth on deuce with an amazing shot making display from both players, but a volley winner and drop shots would help the 3rd seed to hold on for a 2-1 lead. At 2-3, Fritz would be under pressure as he would face a break point down 30-40, but a Brown error and good play would aid in an important hold for 3-3.
The American's good play would eventually get to the veteran as he would face a 0-40 deficit on serve. A backhand winner by the 17 year old would get the break at 15 for a commanding 4-3 lead. No nerves would be shown as the young American held at 15 with an ace for a 5-3 lead. Brown would make the teenager close out the match, as he would display his net skills with volley winners for a hold at love: 4-5. The match would come to a conclusion as the American star would go up 40-15 for his 1st match point. On match point, Brown would spray a baseline error. It was an important title for Taylor Fritz, and another step in his young career, just one of many titles to come for the American in the future.