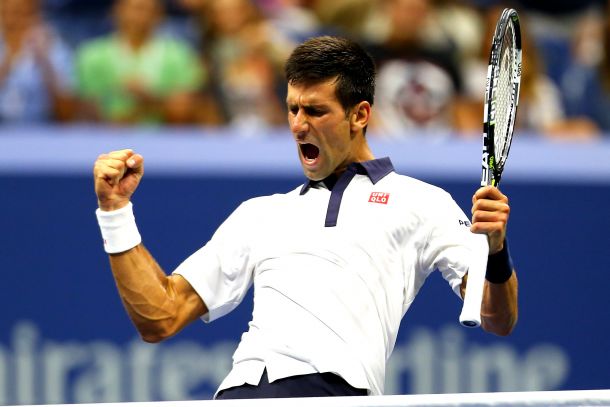 As another season on the ATP World Tour is coming to an end, one thing remains certain. Novak Djokovic is the best player in the world.
Djokovic In Elite Company
As he plays this week at the BNP Paribas Masters in Paris, it is the Serbian's 171st week at the number one spot in the ATP rankings. Since the start of the rankings system on August 23, 1973, many great players have reached the number one spot. Very few have been able to sustain a long time at the top like Djokovic. With 171 weeks, the 28-year-old surpasses American legend John McEnroe for fifth all-time on the list of consecutive weeks ranked number one. He is now only behind the likes of Jimmy Connors (268), Ivan Lendl (270), Pete Sampras (286) and current world number two, Roger Federer. Federer ranks first all-time with a remarkable 302 weeks ranked number one.
At 28-years-old, there is no question that the Serbian has many years of great tennis left in him. He has already clinched the year-end number one ranking for the fourth time in his career. Djokovic has a 7,535 point lead over Federer in the rankings. There is no question that Djokovic possesses one of the most consistent runs in tennis history. Before the Paris Masters, the Serbian had compiled a 73-5 match record which includes a 27-1 mark at Grand Slams and 34-2 at ATP Masters Series events. He will become the first player to win six Masters titles in one season if he comes out victorious in Paris. Besides his dominant win-streak filled 2011 season, the current world number one has had one of the best seasons of his career in 2015. It is a year of firsts for the Serbian as well as he has had to adjust to becoming a father alongside his supportive wife.
Crafting His Game To Achieve Greatness
Coming through the ranks as a young and inexperienced player, many tennis critics wondered if Djokovic would be able to become a good player. Early on, his serve was a huge weakness as well as his net presence. Many considered his game one-sided and predictable, but the 28-year-old has put the work in to improve. There are few weaknesses now for Djokovic with his improved serve and net presence bringing a dynamic game plan to his matches. His flexibility and fitness are incomparable. Djokovic's match preparation includes a gluten-free diet to which the Serb is very attentive to in helping him prepare to be match ready every week. In regards to his work ethic, the world number one stated, "You've got to have the self discipline and the dedication, devotion, but most of all passion for the sport, for what you do and keep on waking up every day knowing what your big victory is and what you are aiming for."
Many other legends admire Djokovic's game and all of his achievements. After being surpassed on the list for weeks at number one, John McEnroe reflected on Djokovic saying, "I have seen a lot of great things from him, but I didn't see this high level and this consistency. It has been one of the most magnificent years I have seen since I've been watching tennis. It's remarkable how consistent he has been; he is like a human backboard right now."
There is no doubt that Djokovic has the capability and resume to be considered one of the best players of all-time. Roger Federer is fully aware of what it takes to be in the top spot and marveled at the Serbian's achievements recently saying, "I think it's incredible what Novak's been able to achieve in the last few years, I mean throughout his career, because everybody takes a different path to get to the very top and he's done that his way."
What Is Next For Novak?
Even with all the success the Serbian has had thus far, he is not done yet. The 28-year-old has his eyes set on a sixth Masters title this season as he plays this week in Paris. He will close out the season as the top ranked player again and will head to the prestigious ATP Tour Finals in London. That Tournament hosts the top eight players in the world each year. Djokovic will then look further to the future as he strives to add to his collection of Grand Slam and Masters titles when the 2016 season begins. The future may be uncertain, but with 171 weeks at number one, it is going to take a lot for anyone to stop him anytime soon.