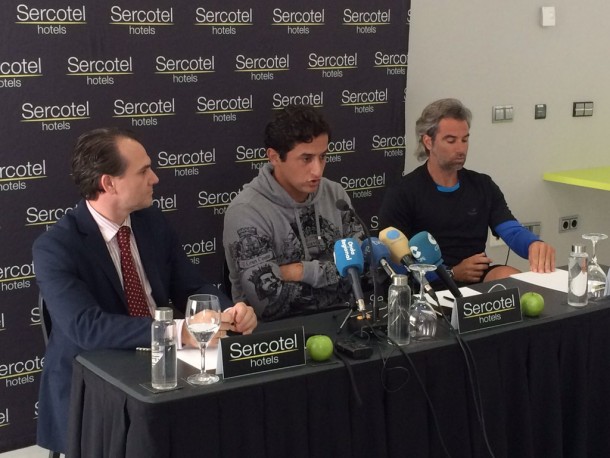 Nicolas Almagro will start 2016 with a new coach. The veteran from Spain is aligning himself with Mariano Monachesi. The Argentine has been in the coaching ranks since 1995.
Almagro Looks To Rebound After Tough Season
The last two seasons have not been kind to Spain's Nicolas Almagro. Almagro played an abbreviated 2014 season due to a nagging shoulder injury and was never able to gain much momentum in 2015. His ranking has plummeted from 13th at the start of the 2014 campaign all the way to his current spot at number 72. After an 18-20 season in 2015, Almagro is looking to a new coach to help him get back on track. That coach will be Argentine Mariano Monachesi. Monachesi had been working mainly at the Monachesi and Hood Tennis Academy recently in Buenos Aires, Argentina.
Monachesi's Resume
Monachesi comes in with an impressive resume during his 20 years as an international coach. One of his highlights has been coaching Tommy Robredo. The pair teamed up starting with the 2004 season and Monachesi coached Robredo until the early Spring of 2006. During that stretch, Robredo was part of the 2004 S pfd the likes of Guillermo Coria, Guillermo Canas, Juan-Ignacio Chela and Italian Gianluigi Quinzi most recently in the early part of 2015.
Almagro's 2015 Season
The need for change can be seen directly from the mediocre results that Almagro collected this past season. At 18-20 in 2015, he only had a couple of really solid tournaments overall. In February, he made the semifinals at the Argentina Open with a quarterfinal win over Tommy Robredo. Then in Kitzbuhel, Austria in August he made another a semifinal run at the Generali Open. Both of his best results came on clay. His lone title in 2015 also came on clay at the Challenger level where he was victorious at the AON Open Challenger Memorial Giorgio Messina in Italy in early September. Almagro defeated Marco Cecchinato in three sets for that title. He has not won an ATP level title since 2012 in Nice. The Spaniard's last ATP final came in Houston in April 2014.
2016 Outlook
The best thing for Almagro was ending the 2015 season healthy. He ended the 2015 ATP Tour schedule with a hard fought loss to Roberto Bautista-Agut 6-7, 6-4, 4-6 at the Valencia Open. He spent the early part of November playing team tennis in Spain. There, he helped Real Club Tenis Barcelona to the Spanish Team Championships by beating Joao Sousa in straight sets. So his 2015 officially closes on a good note and the addition of Mariano Monachesi seems to have Almagro pointed towards a potential rebound year in 2016.
Although he is best on clay, don't be surprised if a healthy Almagro is a name you hear about in Australia to start the season. Prior to his health problems the last two seasons, the Spaniard had made the fourth round or better at the Australian Open from 2010 to 2013 with a quarterfinal birth punctuating that stretch in 2013.