Petra Kvitova remains one of the most inconsistent and potentially dangerous players on the WTA tour. She can slam the ball as hard as, if not harder than anyone on the tour when she takes the court. But her shots do not always land in. That was a problem for the big-serving Czech in 2015. Here is a look-back at Petra Kvitova's 2015.
Win-Loss
Kvitova went 38-17 in 2015, statistically her worst season since 2010. It was her fewest number of wins and lowest winning percentage since before she won her first Slam or entered the top 30. She won three titles this season, including one premier mandatory. She also had one runner-up finish. Despite her poor results, she still finished the year ranked sixth, which was down from her 2014 ranking of number four.
High Points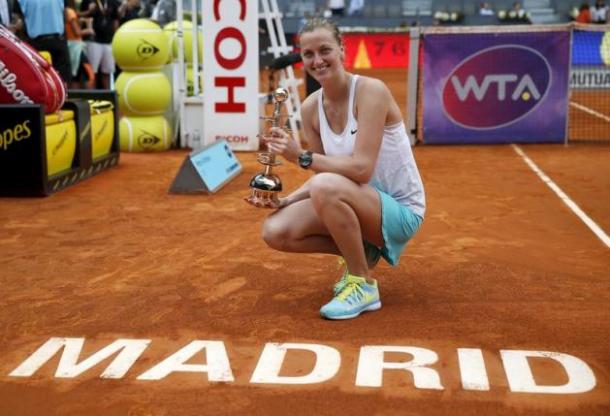 Photo: Reuters
There is no question as to what the highlight of Kvitova's year was. In the semifinals of premier mandatory Mutua Madrid Open on clay, she stunned world number one Serena Williams in straight sets with the loss of only five games. It was her first ever win against Williams. Kvitova became the first person to beat the world number one in an official tour match in 2015 and ended Williams' 27 match win streak. Kvitova went on to win the title, her second career title in Madrid. She also finished the year on a high note, reaching the final at the WTA Finals, losing to Agnieszka Radwanska in three sets. She followed that up by helping the Czech Republic defend their Fed Cup title, although she lost her second tie against Maria Sharapova.
Low Points
The summer was not kind to Kvitova. First off, her second Wimbledon title defence ended even worse than her previous outing. This time around, she was beaten in the third round by Jelena Jankovic. Considering how Kvitova had powered her way through the draw in 2014, it was pretty shocking. After washing out at Wimbledon, Kvitova lost her first matches at both premier 5 events in Toronto and Cincinnati. She went 2-3 in the major summer tournaments before the US Open, although she did bounce back from those losses to win New Haven before the US Open.
Best Results
Kvitova's best result was without question her title run in Madrid. She also kicked off her year with a win in Sydney and added a third title in New Haven. Her three titles matched her output in 2014 which remains tied for her most since her breakout season in 2011. Her best result at a major was at the US Open, where she lost in the quarterfinals to eventual champion Flavia Pennetta. She also closed out her year with her fourth Fed Cup title in five years. She won her opening tie against Anastasia Pavlyuchenkova to give the checks an early lead.
Worst Results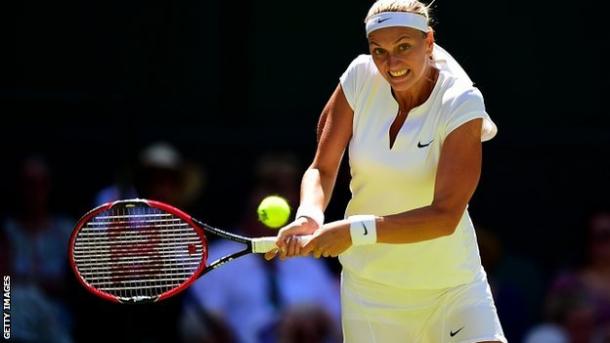 Photo: Getty Images/gosportsnews.com
Her early losses during the summer premier events were among Kvitova's worst results of the season. She also lost in her opening match in Stuttgart to 43rd ranked Madison Brengle. She generally struggled in majors as well, not getting past the quarterfinals of any of the fourth majors. In fact, the US Open was her only major quarterfinal. She won the same number of matches in majors in 2015 as she did in 2014, only this time the wins were more spread out and did not result in a major title.
Grade: C+
It is kind of surprising that Kvitova managed to qualify for the WTA Finals considering how poor a year she had overall. It was her worst season since her breakout in 2011. She only had one big title and struggled against top and lower tier competition alike. With the exception of her run in Madrid, Kvitova did not look like a contender during the better part of the 2015. Inconsistency remains her biggest problem. She will be hoping to find her stride again in 2016.