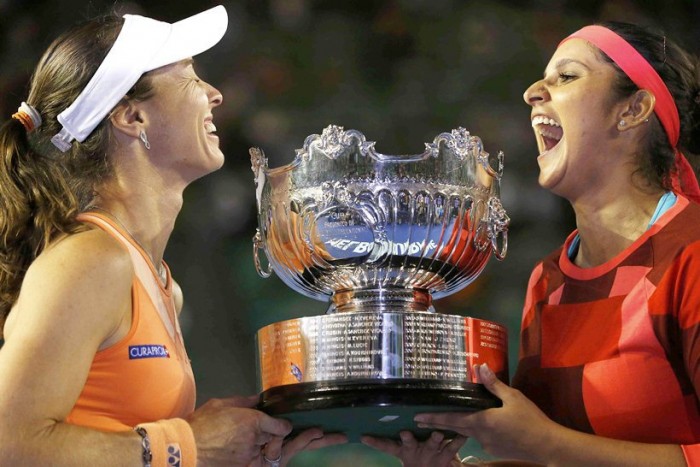 The first month of the season saw one team continue its dominance on the WTA Tour and another establish itself as the team to beat on the ATP World Tour. Martina Hingis and Sania Mirza already have three titles in the bag in 2016 as they roll into February with a 36 match win streak. Jamie Murray and Bruno Soares are fresh off winning the men's doubles title at the Australian Open as they zoom up the rankings to number one.
"SanTina" Dominate WTA Doubles Scene
2016 has begun as it ended for Martina Hingis and Sania Mirza, with more titles and a long unbeaten run. The top ranked WTA duo have won all 14 matches they have played, winning titles in Brisbane, Sydney and the Australian Open. The victory in Melbourne marked their third straight Grand Slam title with a chance for a calendar year slam at Roland Garros in May. The run at the Aussie Open was particularly impressive with five of their six wins coming in straight sets. At times, Hingis-Mirza don't look like world beaters, but they continue to be amongst the best problems solvers on either tennis tour. They always seem to find a way to win.
Who Can Catch Hingis and Mirza?
Sitting behind Hingis-Mirza in the most recent doubles rankings are Czech pairing Lucie Hradecka and Andrea Hlavackova. The Czechs made the final in Melbourne, losing to Hingis-Mirza. They have just one other match to their credit in 2016 and that was a season opening loss to Kirsten Flipkens and Ana Ivanovic in Auckland. The Czechs did have opportunities in that championship match to make things interesting, but they could not capitalize. They still look like probable contenders this season though with wins over the Chan sisters and Yi-Fan Xu and Saisai Zheng in Melbourne. Both those teams are ranked in the top five. The Chans are 5th with Xu-Zheng at fourth. Julia Goerges and Kristina Pliskova are ranked third. Goerges-Pliskova don't seem likely to be a regular pairing, so they may disappear from the top ten soon enough. Goerges is currently sidelined with knee tendonitis.
One of the teams that seems best poised to challenge Hingis and Mirza are Caroline Garcia and Kristina Mladenovic. The French pairing were disappointing third round losers to Goerges-Pliskova in Melbourne. They have already met Hingis-MIrza once this season in Brisbane and took the top ranked team to a super tiebreak, losing 10-5. Garcia-Mladenovic actually led Hingis-Mirza 5-2 in the super breaker. The French should be a regular pairing with an eye on the Olympics. Teams will get their next chance to end the SanTina win streak at the St.Petersburg Ladies Trophy which begins on February 8th.
Murray-Soares Establish Themselves Quickly
There were plenty of questions to open 2016 for Jamie Murray. The elder Murray brother parted ways with longtime partner John Peers at the end of 2015. It was a bold move after the pair had made two Grand Slam finals in 2015. That move has certainly paid off as his new pairing with Bruno Soares has resulted in two titles, including both players first Grand Slam men's doubles title in Melbourne. The top ranked team on the ATP World Tour has won ten straight matches and stands at 12-1 on the season. The season figures to get tougher on them as they will now be the hunted and will face more of the top teams on a consistent basis.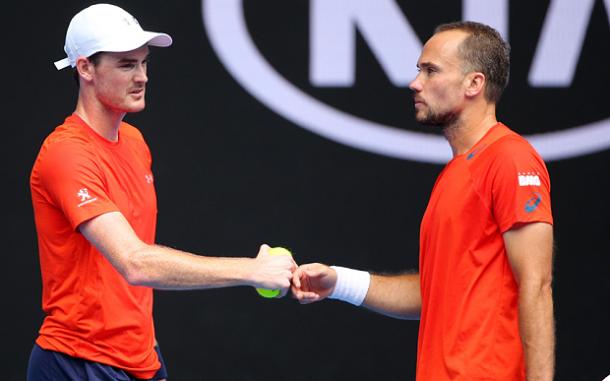 Rankings Shake-up
Former numbers ones Jean-Julien Rojer and Horia Tecau have struggled out of the gate this season and that has seen them drop down to number six in the rankings. Rojer-Tecau are 5-3, but had disappointing results in Sydney and Melbourne. They were the top seeds at the Australian Open and were upended in the quarterfinals by unseeded Frenchmen Lucas Pouille and Adrian Mannarino. There are several other teams who finished inside the top ten last season, but find themselves well back early in 2016. Ivan Dodig and Marcelo Melo are one of those teams. They rank 18th after stumbling out in the third round in Melbourne. This team is too good to stay down for too long.
The other big name team that has fallen off the map are the Bryan Brothers. Bob and Mike rank 20th after losing in the third round at the Aussie Open. The Bryans are also out of the top four in the individual doubles rankings for the first time since June 2005. The brothers are currently ranked fifth. It has been a tough 13 months for the Americans as they dropped out of the top spot in both the team doubles rankings and the individual doubles rankings, breaking lengthy streaks. The Bryans have admitted they may have gotten a little complacent over the past couple of years, but the drop in rankings should motivate them. They also dedicated their offseason to improving their physical fitness as both admitted that years on tour have taken their toll. Now, they need results to come from the hard work put in during the offseason.
These early season rankings shouldn't be too worrisome for many of these teams. There are only a handful of tournaments played and most of the points earned came from the Australian Open. It's unlikely that a team like Lucas Pouille and Adrian Mannarino will be in the top five for long, unless they have discovered a magical connection that will carry over. Over the next month, we're likely to see plenty of rising and falling as teams fall more into their regular season form. That is when we'll know if teams like Muray-Soares will remain at or near the top and if one of the greatest combinations in doubles history, the Bryans, can find their groove again.
Leander Paes' Doubles Ranking Dropping
Indian doubles legend Leander Paes is continuing to see his individual doubles ranking drop. Paes is just 1-2 through three tournaments this season. That has seen his individual doubles ranking drop to number 52. Since the beginning of 2014, that ranking has dropped over 40 spots and sees him outside the top 50 for the first time since 2001. That is amazing run, but perhaps also highlights the diminishing opportunity for the 42-year-old. Something that has hindered Paes the last two seasons could be his continual changing of partners. In June 2015, Paes reached a milestone as he played with his 100th different doubles partner.
It's a testament to his quick thinking and agreeable personality that he has been able to work with some many different partners and rack up 54 career men's doubles titles. Still, a look at his career's work finds that his most successful seasons have come when Paes sticks with a regular partner. 2012 and 2013 were some of his best in recent times and that came with Radek Stepanek as a regular partner. Paes-Stepanek won a pair of Grand Slam titles in that span and four altogether.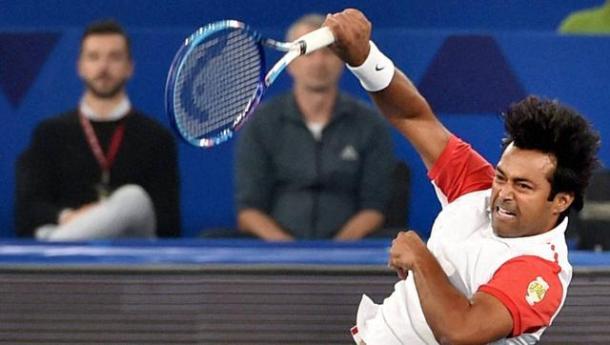 This season, he has teamed up with Jeremy Chardy in two of three tournaments. It has not been revealed if Paes and Chardy will be regular partners for the remainder of the season. Chardy is a decent doubles player, having won a title last year in Bastad with Lukasz Kubot. Even though he may be more focused on singles, a regular pairing with Paes would be beneficial to both and perhaps get Paes moving back up in the rankings. Paes' real goals for 2016 seem to lie beyond the ATP World Tour as he has talked repeatedly about the team make-up for India at the Rio Olympics. He is hoping to team with Rohan Bopanna in men's doubles and Sania Mirza in mixed doubles.