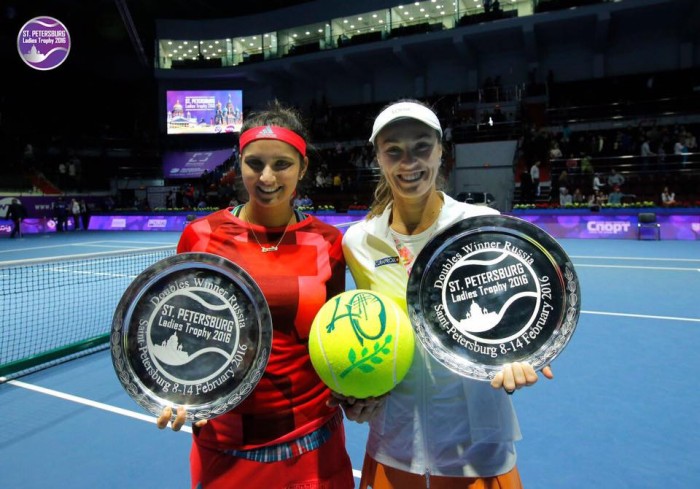 Sania Mirza and Martina Hingis have run their win streak to 40 matches. The top ranked duo on the WTA tour won their 13th title together at the inaugural St.Petersburg Ladies Trophy.
Mirza-Hingis Punish Opponents, Take Fourth Title of 2016
Sania Mirza and Martina Hingis remain unbeaten in 2016. The top seeds in St.Petersburg needed just an hour to dispatch of Vera Dushevina and Barbora Krejcikova 6-3, 6-1 to claim the title at the St.Petersburg Ladies Trophy. It is the 40th straight win for the duo dating back to last year's U.S. Open. They have now won titles in Brisbane, Sydney, Melbourne and St.Petersburg this season. The partners dubbed "SanTina" are off this week as the WTA makes stops in Dubai and Rio de Janeiro.
Chans Roll to Taiwan Open Title
In Kaohsiung, the top seeded Chan sisters staked claim to their first title of the season. Hao-Ching and Yung-Jan Chan defeated Eri Hozumi and Miyu Kato 6-4, 6-3 in the title match. The win capped off a week where the Chans did not drop a set in their four wins en route to the Taiwan title. Since losing their first match of the season in Brisbane, the Chans are now 9-2 in their last three tournaments.
Mahut-Pospisil Form Perfect Partnership in Rotterdam
First time partners Nicolas Mahut and Vasek Pospisil rode superb chemistry to the ABN Amro World Tennis Tournament men's doubles titles. Mahut-Pospisil defeated Alexander Peya and Philipp Petzschner 7-6 (2), 6-4 on Sunday to take the crown. This was just the second time that the duo had played together with the other also coming in Rotterdam in 2015. They lost in the opening round last year. This time, the chemistry was better.
Pospisil said after the match on Sunday that they played a great championship match, "We didn't make any mistakes and we didn't give them too many looks on our service games, which was key. We were serving well and putting a lot of pressure on them. Obviously, it helps to have a great partner so I think I got lucky there as well this week! We're thrilled we got the win today."
Fyrstenberg-Gonzalez Repeat in Memphis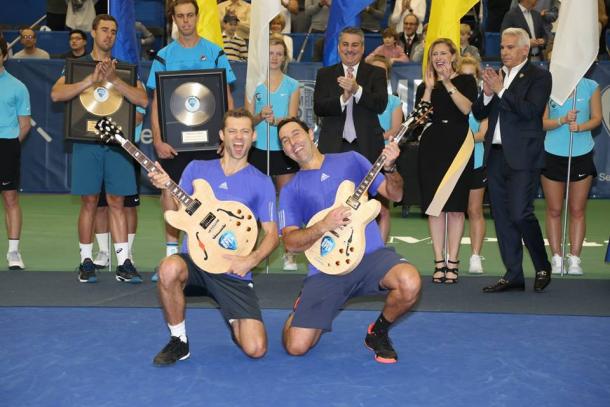 Mariusz Fyrstenberg and Santiago Gonzalez quietly went about their business in Memphis this week. While big names like Bob and Mike Bryan were crashing out in their opening match and other seeds were falling left and right, the defending champions kept their composure and focus. It culminated with a 6-4, 6-4 win over fourth seeds Steve Johnson and Sam Querrey on Sunday for the Memphis Open doubles titles. The Polish-Mexican duo nearly didn't get back to the title match as they had to pull off a Houdini escape in the semifinals against Oliver Marach and Fabrice Martin. They fought off three match points in that one to edge Marach-Martin 15-13 in fantastic super tiebreak finish.
The champions in both singles and doubles are presented with electric guitars as part of their prize haul in one of the great musical cities in the USA. Gonzalez said winning a second title in Memphis will come in handy with his two kids, "It's a tough tournament with great players. We are very happy to have the title again for confidence going into the next one. I have two kids, so one guitar for each kid. Hopefully next year I can come back and win another."
Top Seeds Win Argentina Open Title
Juan-Sebastien Cabal and Robert Farah fought all week and finally found an easy match to cap off their run in Buenos Aires. Cabal-Farah had played two successive super tiebreak finishes in the previous rounds leading up to Sunday's final. The final saw them crush Inigo Cervantes and Paolo Lorenz 6-3, 6-0. The titles are the fifth won together by Cabal and Farah, but first of 2016.
Farah commented after the match that is was likely their best display of the week, "It was a great match, [Juan Sebastian] and I thought that we played at a high level, and the score said it all. After we got the first break, we both returned very well. We were very relaxed in the second set and stayed focused."