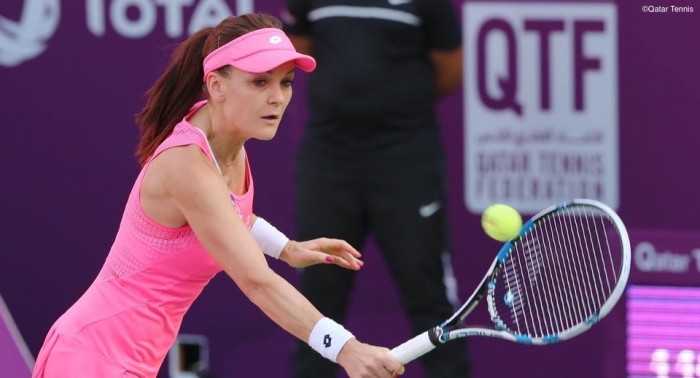 It was a highly anticipated match for most tennis fans, and it did not disappoint in any way. It was a match full of highlights, amazing dropshots, rallies, passing shots and every trick in the book at its finest.
Monica Niculescu is always a tricky player to play against, given her famous slice forehand, a shot no one does on tour, and Agnieszka Radwanska too, who is 'the queen of hot shots'. There's no better combination than these two, who have met twice before. Their last meeting was in the semifinal in Nottingham, where Niculescu got her first win against the Pole, a three set match that was extremely well played by Niculescu.
However, since then, Radwanska has had a great end to the year, being one of the most in form players on the tour. Coming into this match, Radwanska was 11-1, which are some great numbers, and she looked strong and confident to claim a title in Doha, where she has not yet reached a final. After this match, her chances are bigger than ever. She is the highest seeded remaining in the tournament, with both Angelique Kerber and Simona Halep defeated in their opening matches by Zheng Saisai, and respectively, Elena Vesnina.
Tight First Set
Niculescu had a better start, taking a 4-1 lead, impressing yet again with her slice forehand, always trying to go forward to the net and end the point with a passing shot. A style which requires a lot of running and thus, an impeccable physical condition. That was a problem Niculescu had to face in this match, and she was aware of that, especially after her thriller match against Jelena Jankovic, a tough victory which drained the energy out of her.
Radwanska tried as hard as possible to get closer and manage to break for 4-2 with two great lobs. The eighth game of the first set was one of the longest, as Radwanska managed to get herself three break points but then Niculescu, a true fighter, found a way to come back and get the opportunity to hold. Still, the Pole was the strongest and on the sixth chance that she had, she broke serve. It was a highly competitive game which had a great impact on the end of the first set. Radwanska took advantage of her momentum and was more aggressive, having a little bit more initiative and energy to stay concentrated and not make any mistakes.
Quick Second Set For Radwanska
The scoreline of the second set is deceptive given the fight that Niculescu put in to stay toe to toe with the Pole. The first game was revealing on how things would evolve in that second set, as Aga quickly got to 40-0, but Monica did not give up and won three consecutive points. The Romanian impressed with an amazing lob followed by two unforced errors. Then, Radwanska came to the net, and Monica attacked, hitting to her opponent's body. However, yet again, the Pole lifted her level and managed to hold her serve.
A scenario we also predicted during the next games was seen, as Radwanska had some artistic tennis shots, but Niculescu responded in her own unique style. Both were fighting and trying to do their best, but it was Aga at the end of the quarterfinal who enjoyed the glory.
It was a well fought match by both of them, with the Pole playing her very best tennis. After the match in the interview, Radwanska gave her thoughts on the contest: "I think she has the best hands on tour, very tricky player and very uncomfortable to play against. I knew it was going to be tough and a long one. What can I say? She really made me play my best tennis, so I'm very happy to win that match in two sets."
"I think when you play someone like Monica, you know there will be a lot of weird shots all around the court, and every shot is going to be different. She had a lot of highlights herself!"