 Stan Wawrinka is the new Dubai Duty Free Tennis Championships champion after defeating Marcos Baghdatis in a hard fought 6-4, 7-6 (13) battle on Saturday in Dubai. He may not be Roger Federer or Novak Djokovic, but the title remains in the hands of a player from a country starting with "S." The win nets Wawrinka his second title of the season.
Baghdatis Cracks Late to Surrender Opening Set
Despite the massive difference in their rankings and with both 30-year-olds are in very different places in their careers, the match was even from the get go. Both men were attacking with their strong backhands, often leading to long cross court exchanges with one waiting for the other to break the pattern. It was a returner's game in the early stages, as neither man served particularly well and they exchanged breaks in the early on.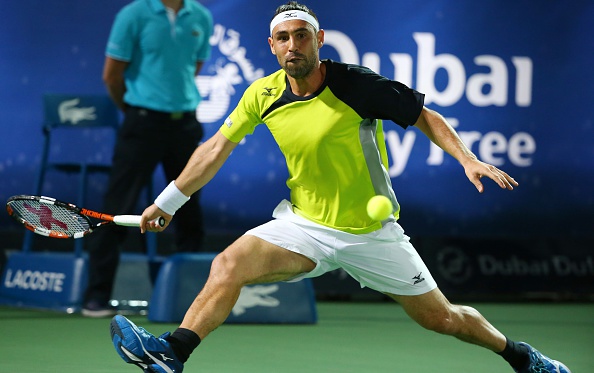 Baghdatis, seeking his first title in six years, seemed to be feeling the pressure late in the set when he served to stay alive at 4-5. From 0-15, the Cypriot missed five consecutive serves. That included two double faults, which gave Wawrinka triple set point. Luckily for Baghdatis, the second seed drove his return long off a second serve. Baghdatis saved the next break point with an ace. Wawrinka would miss another backhand to send the game to deuce, but a big backhand gave him another set point. Again, the Swiss would not convert when a net cord deflected his shot long. Despite escaping four times, Baghdatis was still tense and gave the set away. He put a backhand into the net and then double faulted on set point to give his opponent the lead. The double fault was his sixth of the set.
Wawrinka Claims Title in Epic Tiebreak
Both players seemed to have a bit of a lull in the early stages of the second set, particularly Wawrinka. It was very apparent on return, where neither player was having any success. There were no break points for either player in the entire second set, meaning the set would need a tiebreak. That tiebreak would make up for the lack of excitement through the first 12 games of the set.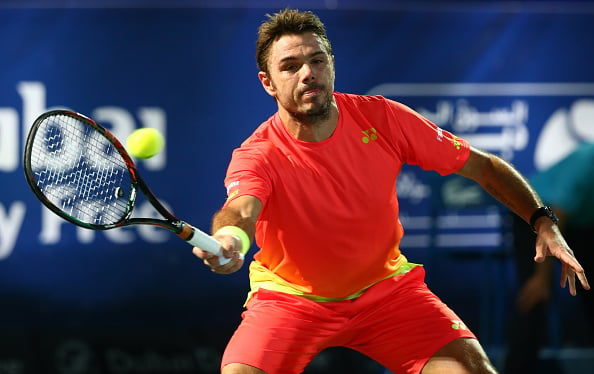 In the breaker, Wawrinka raced to a 3-0 lead, then stretching it to 4-1. After Baghdatis closed to 4-3, he nearly evened it in a crazy rally, but missed a running forehand wide. The Swiss immediately double faulted to put things back on serve. The Cypriot won three unanswered points to take the lead 6-5, but Wawrinka saved the set point with an unreturnable serve. On the next point, a lucky bounce would give the second seed a championship point, but he missed with a backhand wide.
The tiebreak was just getting started. Baghdatis missed a routine forehand into the net on set point at 8-7, that almost surely would have been a winner. Two points later, he missed another set point in a backhand exchange. Baghdatis kept pushing, bringing up a fourth set point. Some great attacking from Wawrinka would help him save a set point at 9-10. Wawrinka brought up a second championship point at 11-10, but Baghdatis saved it with an amazing forehand down the line. He saved another championship point at 12-13 with an unreturnable serve. Wawrinka then brought up a fourth championship point at 14-13 and finally clinched the title when Baghdatis missed a backhand wide. The 24-minute tiebreak ended at 15-13, which gave Wawrinka his second title of 2016.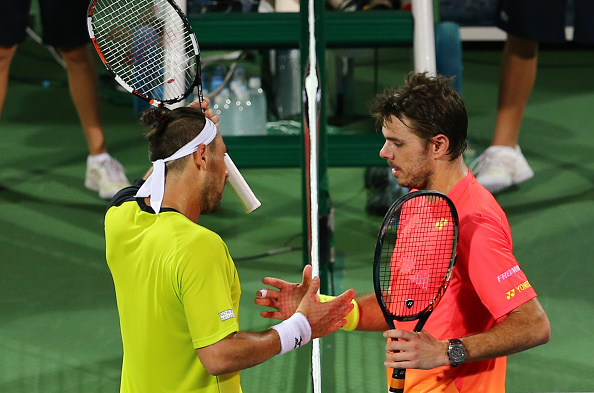 By the Numbers
The match took an hour and 54 minutes, almost a quarter of which was the final set tiebreak. Baghdatis actually hit more winners than Wawrinka, edging his Swiss opponent 18-16. He did have more unforced errors, 42 to 37. The two men's serve statistics were nearly identical, although Baghdatis led Wawrinka in both aces and double faults. All the break point opportunities came in the first set, with Wawrinka converting two of six opportunities, while Baghdatis converted one of two.
The title is Wawrinka's second of the season and 13th of his career. He has now won nine straight finals. The Swiss last lost a final in June 2013. He becomes the first Dubai champion not named Federer or Djokovic since 2008,