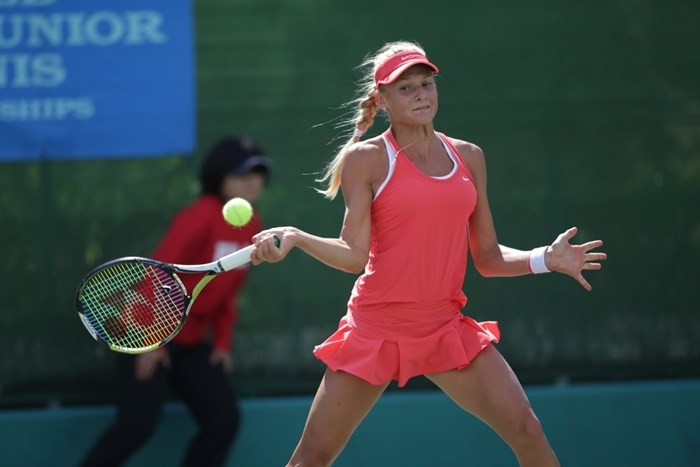 With 20 tournaments being played this past week, the ITF Pro Circuit had its fair share of surprises and upsets but above all, there was some incredible tennis being played by those looking to make a major breakthrough before competing on the WTA, where players are able to make even bigger strides in their respective professional careers.
Yastremska, Pivovarova Win $25K Titles; Kuzmova, Feuerstein Among $10K Champions
Speaking of the many surprises this week, 15-year-old Dayana Yastremska became the first player born after the year 2000 to win a $25,000 title, defeating Alizé Lim 6-4, 6-4 to capture her maiden ITF singles title in Campinas, Brazil. A current world number 19 in the ITF Junior Rankings, Yastremska had never really made any real strides at the professional level due to the age eligibility rules set by the ITF and the WTA prior to this week but remarkably, this was was just her first $25,000 tournament - the first of many, one would suppose.
Meanwhile, in the Australian city of Mildura, Russia's Anastasia Pivovarova finally made a winning return to the winner's circle this past Sunday, gutting out a gutsy 6-4, 4-6, 7-5 win to defeat seventh seed Barbora Stefkova and capture her eighth ITF singles title, which is just her second in the last two years. A player who has had to endure numerous injuries throughout her career, Pivovarova actually started to work in the President Administration of Russian Federation in 2012 and opened up a tennis club in Moscow not long thereafter, before doctors allowed her to return to professional competition. As one might expect, this makes the victory ever so sweeter for the 25-year-old Russian.
Other winners this week included Russia's Anastasia Gasnova, Slovakia's Viktoria Kuzmova and France's Claire Feuerstein, among others who were victorious at $10,000-level tournaments.
Kuznetsov, Kelly Among Male Champions This Week
On the men's side of the spectrum, Ukrainian-born American Alex Kuznetsov and Australian Dayne Kelly were the lone champions at the $25,000-level this week, with ten other men winning titles at the $10,000-level.
Kuznetsov, a 29-year-old born in the Ukrainian capital of Kiev, has had a sizeabele fall from grace in recent years, plummeting from a career high of 120 in the world to his current ranking of 450. However, his $25,000 title in the Canadian city of Gatineau will give him a great deal of confidence, as he was forced to grind through two three-setters en route to the final, where he defeated Tim Van Rijthoven 7-5, 6-3 to win his first title in nearly three years.
Meanwhile, on the other side of the world, Dayne Kelly came out on top of an all-Aussie final showdown, where he defeated compatriot Greg Jones 6-4, 6-2 to win his sixth professional singles title and his fourth at home Down Under. The Australian left-hander has yet to break into the top 300, but playing in the form that he enjoyed in Mildura, he could be a force to be reckoned with in 2016.
Other winners on the men's side this week included Belgium's Yannick Mertens, Serbia's Danilo Petrovic - who won both the singles and doubles competitions, and Canada's Steven Diez - who won titles in the European countries of Croatia, France and Spain.
A Look at Next Week's Tournaments
Next week, the ITF Pro Circuit will have 21 tournaments on offer for players who are looking to make that elusive breakthrough at the professional level, with tournaments ranging from Weston, Florida to the Chinese city of Nanjing to the Croatian city of Porec.
Come back next week to find out what happened at these tournaments and more for your weekly ITF roundup!