 In an interview with Il Tennis Italiano, Spanish superstar Garbine Muguruza discusses the possibility of playing mixed doubles with countryman Rafael Nadal. She also talks about her hopes of winning Grand Slam titles, specifically the French Open.
Muguruza Talks Mixed Doubles With Rafa
With the Olympics coming up this summer, many players make it a priority to get involved in as many events as possible. The top players do their best to try and play singles and at least one of the doubles events, whether it be men's/women's doubles or mixed doubles. Being from Spain, Muguruza has a few options should she play mixed. In women's doubles, her partner would be Carla Suarez Navarro, as the two have had success together making the French Open semifinals and the WTA Finals, making it to the final.
In mixed however, she has plenty of options with the likes of Fernando Verdasco, Marcel Granollers, Marc Lopez, David Ferrer, Roberto Bautista Agut, and more. However, what Spain and many other tennis fans want to see is a mixed doubles partnership with Rafael Nadal.
Here's what she said, "I know press spoke about it, but I do not know. One day they asked me if I would play mixed doubles with Rafa and I said no. I mean, wow, who would not want to play with him? I do, obviously, but It's not up to me. I think the Captain will take the decision he feels as most appropriate. For example I have never played mixed and nowadays I think it's a big risk. I mean, playing singles, doubles and mixed is maybe a little bit crazy, but we will see!'"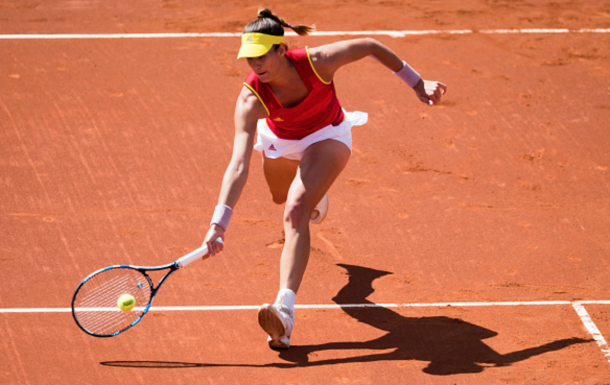 Muguruza Hopes to Win the French Open.. and more
The world number four made her mark in tennis with her big win over Serena Williams in the 2014 French Open. The Spaniard was unseeded for the tournament but crushed Williams in the second round. That was her first ever major quarterfinal.
Being from Spain where a majority of the courts are clay and where most players' surfaces are clay, Muguruza discusses her desire to win the French Open, "I always think to win tournaments I play, there is no situation where I do not see myself as the winner. Certain people thinks that's shocking, but I think that you have always to believe to win the title, otherwise it's hard to move on. In Spain everyone wants that a Spaniard wins Roland Garros and I say them 'Yes, yes!' and then Wimbledon as well, and I have to say also there "yes" (laughs)."