 After a great run at the French Open, Dominic Thiem is on the quest for his third title of the year, this time on grass at the Mercedes Cup. Now the world number seven has to face Mikhail Youzhny to reach the semifinals. This will be the first meeting between them and seems to be a good one.
Road to the Quarterfinals
The third seed, Dominic Thiem started the tournament with a bye in the first round. In the second round, he had to take on Sam Groth. The Australian has one of the most powerful serves on the tour, and that cause troubles for the Austrian who had to won the match in straight sets but was forced to play two tiebreaks.
However, Thiem has a complicated draw if he wins this match his next opponent most likely would be Roger Federer, but the Austrian already knows what's like to defeat the former world number as he did in Rome.
As for Youzhny, he beat the fifth seed, Feliciano Lopez in the first round 7-6, 6-3. In the second round, he also scored a straight-set win against Sergiy Stakhovsky with a similar score 6-3, 7-6. Now he will face his second seed in the tournament.
Currently, ranked at 76, Youzhny had a rough 2015 as he dropped out of the top 100, which was his worse since 2000. Early this year, Youzhny played some challengers and managed to get back on the top 100. He suffered a first-round loss at the French Open.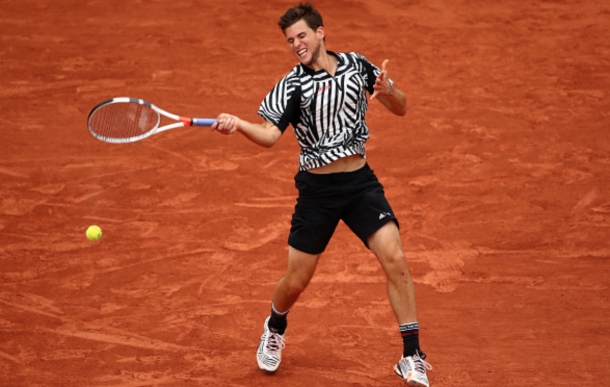 Match Analysis
The favorite is Dominic Thiem who is able to hit powerful groundstrokes and is one of the few young players to use a single-handed backhand. Just a week ago, the Austrian was still playing on clay at the French Open, switching from clay to grass is always a hard task and can be rough on the body which could make Thiem feel tired.
The Russian also produces powerful groundstrokes, but his main weakness is his forehand. However, he possesses one of the best slice backhands since it helps him to neutralize his opponents.
Another factor could be the mental strength. On court, Thiem is not the most emotional player and usually stays calm even if frustration strikes. The Russian is the opposite, he's best known for smashing his racquet several times. He cannot lose his focus and must remain calm if he wants to have a chance against the Austrian. On the positive side for the Russian, his best surface is on grass.
Prediction: Thiem in straight sets