 World number four Rafael Nadal will have loads of time on his hands to follow his beloved Spain's progress at this year's European Championships in France.
The former two-time Wimbledon champion will miss the chance to win a third title at SW19, due to an ongoing wrist injury which forced him to withdraw from the French Open after his second round victory, and if he continued to play on, the injury could have been aggravated and career threatening.
Nadal watched Spain's first group game in Group D in Ibiza, which culminated in a 1-0 win over Czech Republic courtesy of a late Gerard Pique header on Monday.
Spain are currently the two-time defending champions, and they are looking for a third consecutive triumph at the Euros after defeating Germany in 2008 and Italy in 2012.
The former world champions are desperate to have a good tournament following a shambolic World Cup campaign exiting in the group stages in 2014 taking place in Brazil.
The former world number one was interviewed by UEFA Euro 2016's Twitter account and the Spaniard's response about his favourite memory of the European Championships was, "(It's) the final against Germany. It's really the first big trophy I enjoyed with Spain, it was unforgettable."
The following question that Nadal was asked was to make a prediction of who will this year's tournament. The Spaniard said, "I don't know who will win. I have confidence in our team and I think our chances are good, but I am also convinced we will see a great performance from them. At the end of the day I love sports, I love football and I hope we get to watch wonderful matches".
Olympics hopeful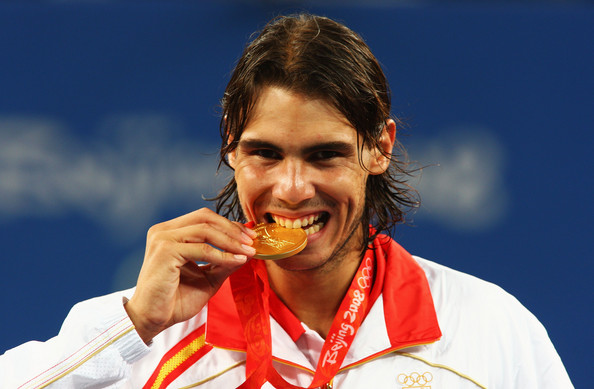 Nadal will be hopeful to be representing his country at the Rio Olympics in August after he failed to defend his title in 2012, due to suffering a knee injury at Wimbledon which ruled him out of action for eight months and caused him to miss the 2012 Olympics in London.
Tennis fans will be happy to see the former world number one back on a tennis court as soon as possible after Nadal suffered a terrible campaign in 2015 and he showed some vintage form on the clay court season claiming titles in Monte Carlo and Barcelona.
The Olympics mean a lot to Nadal and he will do everything in his power to return and claim another gold medal in his overflowing cabinet.