 World number 17 Roger Federer returned to Rod Laver Arena Monday night for his first official match in nearly six months at the 2017 Australian Open, and the 17-time Grand Slam champ defeated qualifier Jurgen Melzer 7-5, 3-6, 6-2, 6-2 in two hours and five minutes.
Following complications with his knee, the Swiss number two shut his 2016 season down after Wimbledon, opting to rest and recuperate properly. It appears as the rest has paid off, as Federer played a good match in round one.
Melzer did test the Swiss early, leaping out to a 4-2 advantage in the first set before Federer roared back to take the opening set. The Austrian did level the match in the second set, however, but Federer got into a rhythm in the third and fourth sets to seal the win, his 800th career hard court victory.
The start wasn't perfect, and the 35-year-old Swiss admitted after the match that some nerves crept into his game.
"I thought my serve was on and off in the beginning, which surprised me a little bit, because in practice I''s been going pretty well," Federer said. "I was feeling nervous once the match actually started. I was actually fine all day, warming up, in the warm-up five minutes with Jurgen. I felt fine. Then I hit four frames in a row. It was like, 'Whew, it's not as easy as I thought it was going to be.'"
"I'm happy I was made to work today," he continued. "I'm quite happy how I ended, which is most important … It was great to be out there. I really enjoyed myself, even though it wasn't so simple."
The 17-time Grand Slam champion will face another qualifier in the second round. In the battle of American qualifiers, Noah Rubin defeated Bjorn Fratangelo 6-7(4), 7-5, 3-6, 6-2, 6-2 in three hours and eight minutes to book his spot across the net from the Swiss Maestro on Wednesday in the second round.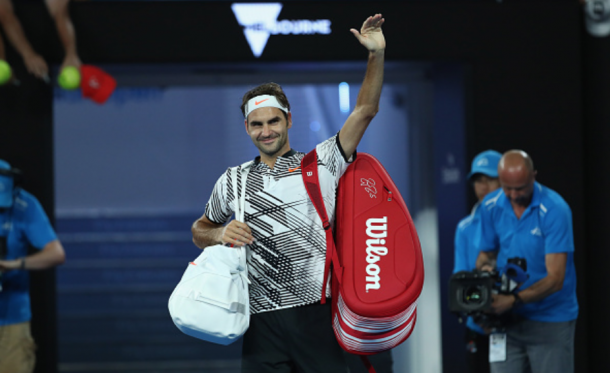 Federer pleased with his performance
The Fed-Express played a good match overall, yet at times, he did make some unusual unforced errors. The errors are expected from someone who hasn't had match play since July as Federer sheds the rust from his game. He was strong on serve, hitting 19 aces. His 46 winners were offset by 36 unforced errors, many coming earlier on, however.
Speaking on court after the match, Federer seemed relaxed and extremely happy just to be playing once again.
"It was a long road, but I've made it," Federer said on the court post-match. "I'm in the draw, and it's a beautiful thing. Any match is a good match, even if I'd lost today, because I'm back on the court."
Melzer, who is also 35 years old, goes way back with Federer, the Swiss told reporters. The former world number eight struggled with injury last year as well, only playing 5 tournaments after shoulder injury. Federer told reporters after the match that it was great to play an old friend to open his Australian Open campaign.
"I was expecting to play a young guy in the first round because there were a lot of young guys qualifying," Federer said. "To play Jurgen was cool. We know each other since we were 16. We used to play doubles together at the Orange Bowl back at Flamingo Park in Miami. We go way back."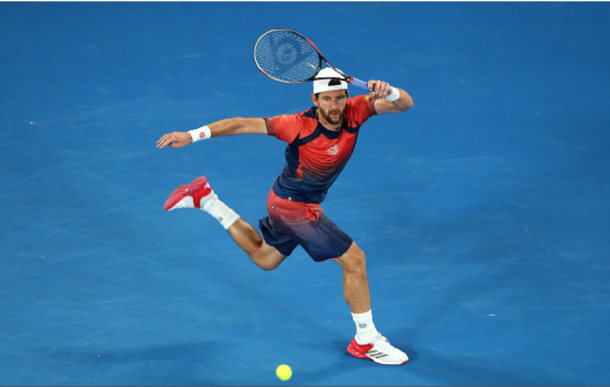 Federer advances to second round
The 17th seed will face yet another qualifier in the second round, however, this time, his opponent is much younger. Noah Rubin, the 20-year-old American, will face the test of his life on Wednesday against the former world number one. Rubin, the world number 200 from New York, has a career record of 2-7 on the ATP World Tour.
Federer admitted post-match that he doesn't know too much about his opponent, but he will have Tuesday to do more research.
"I know he's a baseliner," Federer said. "He makes a lot of shots. I guess it's not a bad thing for me. I know it's probably more on my racquet rather than playing a big server."