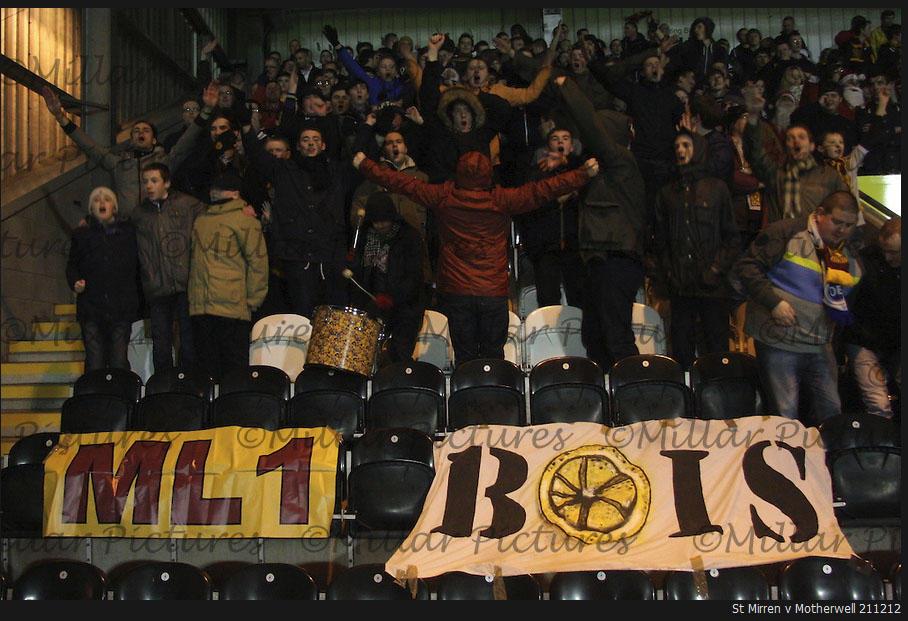 Ask Motherwell fans about the atmosphere at Fir Park these days and in general many will brag about how its improved vastly over the past few seasons. A group of very hard working lads have added colour and noise,creating an atmosphere at many matches something that had gradually became a declining occurrence.
Incredibly though, in times when clubs should be welcoming fans with open arms,there are still clubs who snub the added atmosphere of hundreds of people singing and chanting along in rhythm with the beat of a drum.
Only in Scotland could this be seen as a bad thing and one which should be discouraged. Fans young and old travel hours to attend away matches in other towns or cities,often spending large chunks of their weekly wage to support their team,and on occasion are left with the feeling of 'whats the point'. A recent occurrence of this happened at Hearts where tens of Motherwell fans missed the opening goal due to Hearts running out of match tickets,which act as a receipt when handing over cash at the turnstile. Before this however the club had already decided to object to the drum being present amongst the away support at the match,yet still felt the minimum of £20 for anyone over the age of 12 or £24 for an adult represented value for money for the whole matchday experience.
At a time when the Edinburgh clubs' financial woes are
common knowledge,
they incredibly managed to discourage fans from increasing their revenue from matchday. Not only those who decided to stay at home, due to the steep pricing structure, but those who attempted to enter the match felt so mistreated at the start of the game and being forced to miss the opening goal,felt that the club were not worthy of their hard earned disposable income.
I'd argue that no club in Scotland can currently afford to be discouraging fans to attend,yet that's what seems to be happening. When they cry for help from supporters in their times of need they should maybe spend time to reflect on whether they have actually done all they could to encourage the support that our game so badly needs.