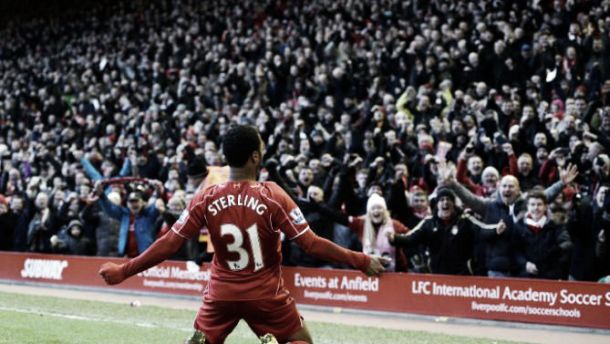 Raheem Sterling's short Liverpool career has already had some real up and down moments. From making his senior debut just aged 17 to a heated fallout with newly appointed manager Brendan Rodgers on the club's 2012 US tour. The pacey winger also became Liverpool's second-youngest scorer when he netted his first competitive goal against Reading in the Premier League. Liverpool's Young Player of the Year from last season is now in constant links with a new contract, and Rodgers will be desperate to tie down the young starlet.
In what was a very disappointing start to this years' Premier League campaign, Liverpool's only real shining light was England youngster Raheem Sterling. The winger played so many games in the first half of the season that his manager rewarded him with a two week holiday in his native Jamaica to give him a rest. Ever since returning from this short break there has been a large amount of talk about a new contract coming Raheem's way. Sterling has become an integral part of Brendan Rodgers' Liverpool side and is exactly the type of player that shines in a system so reliant on pace and creativity. Currently sitting on ten goals for the season, the winger has really found his feet at Liverpool and is constantly moving from strength to strength. However, showing all these great signs at such an early age is bound to attract interest from some of Europe's richest clubs. Selling Luis Suárez to La Liga giants Barcelona last season may indicate to other clubs that The Reds are willing to let their stars leave for the right price. Therefore, it is crucial that Liverpool sort out Sterling's contract issues and ensure that he commits his hugely promising future to the Anfield side.
All of this talk of a new contact could still be a bit premature. Sterling has a remaining two years on his current deal, so Liverpool shouldn't rush into offering their number 31 a contract if it isn't going to be the best deal possible for the club. Brendan Rodgers has already outlined that Liverpool "are certainly not a club that is going to give out way, way above what a player is worth at a certain time of his career." This would indicate that Liverpool are refusing to let agents get in the way of agreeing the best deal they can for Sterling and for the club.
At the end of the day, it is clear to everyone now just how crucial Raheem Sterling is to Liverpool's future. At some point, a new contract will need sorting out to ensure that Sterling as a key part of what Rodgers is planning to create. However there is no rush for this to be sorted out. Liverpool would most likely be best allowing Sterling to focus on helping the team in achieving their goals for this season, and leaving the contract talks for the summer.