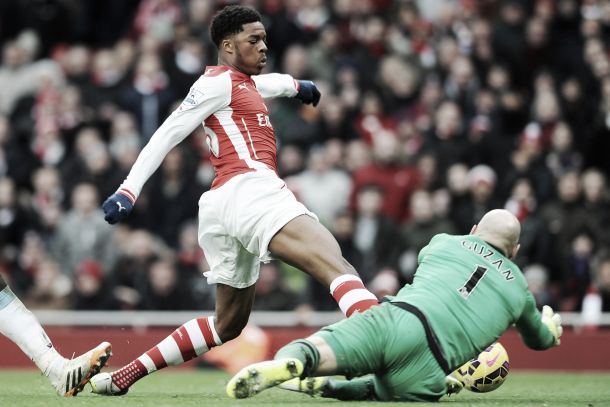 Chuba Akpom is set to leave Arsenal on loan for the remainder of the season. The England under-20 striker is highly rated by Arsene Wenger and Arsenal fans alike, and a move away from the Emirates on loan is what the fans have been calling out for.
Championship sides Nottingham Forest and Norwich are both reportedly highly interested in taking the striker on loan for the remainder of the season, but Bournemouth, Ipswich Town, Derby County, Wigan Athletic and Fulham are also reportedly interested in recruiting Akpom. This wouldn't be the first time Akpom has the left the Gunners on loan; last season the striker joined Brentford and Coventry respectively on short-term loans last season.
Akpom has made seven first time appearances for the Arsenal first team this season, all coming from the substitute bench, and although he is yet to score his first goal for the Gunners senior side, the Englishman has impressed so far. FC Twente and Borussia Dortmund were reportedly very interested in the striker in the January transfer window, but Akpom turned down the offers from the European sides, and signed a new four-and-a-half deal with the North London team.