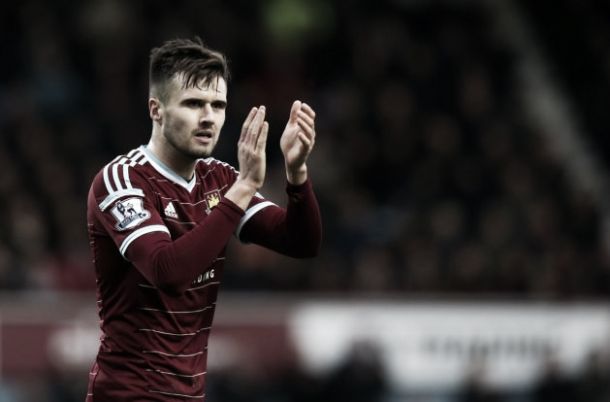 Carl Jenkinson has signed a new five-year deal with Arsenal, taking his current contract up until 2020 with an increased wage believed to be in the ballpark of £45,000 a week.
Whilst it is newsworthy that the North London club have tied down a promising and ever-improving English right-back on a long-term deal, it is in the East of the capital where the interest rises, as West Ham have, according to Sky Sports, all but completed another season-long loan for Jenkinson.
Best scenario for all involved
For all of the parties involved in this deal; Arsenal, West Ham United and Jenkinson, the deal makes perfect sense. Arsenal have, right now, an abundance of right-backs with Matthieu Debuchy and Hector Bellerin, who was thoroughly impressive in Arsenal's last campaign. Add Jenkinson to that list, and there will be one very unhappy right back out of the three of them. Debuchy's departure would potentially free up a spot for Jenkinson to battle for that starting berth, though.
Enter West Ham; they had the player on loan last season, where he was happy, played his first full season in the first team, and improved his game consistently. For Jenkinson, finally, he gets to stay at his boyhood club - whilst still living in London and going back to a club where he was made to feel welcome and enjoyed his previous loan spell.
West Ham pushing on
It has been excellent to witness West Ham's progression as a club this summer. Many pundits were scaremongering after Sam Allardyce's departure from the club, however, they now have themselves a charismatic manager in Slaven Bilic as well as finding themselves attracting a much higher calibre of players.
Dimitri Payet, Pedro Obiang, Angelo Ogbonna, Darren Randolph, Stephen Hendrie and now, add to that Carl Jenkinson and the Hammers are certainly looking like a side putting together a seriously impressive starting XI, as well as a squad with a depth of talent.
Why not sell?
For West Ham, the only downside to the deal is that they could well find themselves in the same situation they found themselves in this summer. Ideally, Jenkinson would have been signed on a permanent basis and on a lengthy contract at that.
The right-back slot will undoubtedly now be a worry for the club as the length of contract Jenkinson has signed indicates he believes he will get his chance at Arsenal.
The other factor is that the fee touted for Jenkinson's permanent signing was close to £8million. Whilst that isn't an outlandish fee for a club who have two established right-backs already, it did seem a bit 'greedy' to an extent that Arsenal weren't willing to sell him.
West Ham will feel aggrieved by the fact they couldn't finalise a permanent deal for the promising Englishamn, of course, however it does at least allow them an extra season of contemplation over their right-back predicament.
It also means it leaves money free for spending on players elsewhere in the squad where perhaps they feel they lack more talent. If that is indeed the case, it is another outrageously shrewd piece of business by the East London club.