 On ESPN FC, Stuart Robson, a commentator for the network, was asked about the partnership between Wayne Rooney and Zlatan Ibrahimovic. Both the Englishman and the Swede were goalscorers this past weekend for Manchester United against Bournemouth with the captain netting the eventual winner while the Swede added a third goal, scoring on his debut.
Robson on the partnership
"I can't see where they're gonna get runners in behind. Zlatan wants to come short, Rooney doesn't have the pace to run in behind. I think against the very best teams, it's gonna be the wide players who inject that bit of pace," Robson said when asked about the duo.
He continued by saying when the Swede comes shorter, Anthony Martial needs to make the diagonal runs in behind. The former Arsenal and West Ham midfielder did see them succeed this past weekend playing together against Bournemouth but against the better sides, he believes "they might struggle to score goals if those front two play together."
He added that Jesse Lingard (or whoever plays there, whether it be Juan Mata or Henrikh Mkhitaryan) could also be making diagonal runs from the right-hand side. Craig Burley replied that Marital has IQ in abundance but needs to be smart enough to time the diagonal runs.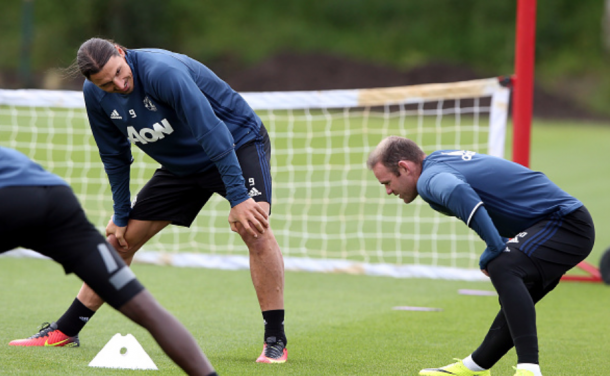 Steve Nicol discussed that last year, Martial played on the left, he's always hugging the touchline and never recalled him making diagonal runs in behind. Robson then hit back by saying that was how former manager Louis van Gaal wanted him to play. He wanted that wide player to stick as wide as they could.
Both Rooney and Ibrahimovic are expected to start for United on Friday in their home opener against Southampton. Jose Mourinho is expected to stick with the same formation and not make many changes to the squad with the exception of Paul Pogba coming into the side to make his first appearance after his World Record move.