Manchester United have been reasonably fortunate injury-wise over the international break, however a few big names could be missing from Jose Mourinho's match-day squad. Henrikh Mkhitaryan suffered a knock while playing for Armenia and was taken off as a precaution, Antonio Valencia is also a major doubt due to a late return from international duty along with Argentinian pair Sergio Romero and Marcos Rojo.
Another doubt for the game is young left-back Luke Shaw who was sent home from England training by manager Sam Allardyce as a pre-caution after the 21-year-old was complaining about ache on the leg he broke last year. Despite the few absences, Jose Mourinho has the majority of his squad to choose from which should certainly give fans a confidence boost.
The Defence
Goalkeeper - David De Gea: David De Gea hasn't really been properly tested so far in the Premier League, apart from Adam Smith's wonder strike for Bournemouth in the opening game of the season, because the United defence has been so organised and opposition hasn't been of the highest quality so tomorrows fixture is likely to be his first challenge in between the sticks.
When you have the likes of David Silva, Kevin De Bruyne and Raheem Sterling attacking your goal you need to have a reliable set of hands to save your time at the right moments and most football fans out there today probably couldn't think of anyone else better for that role than David De Gea. It's clear that Sergio Romero is just acting as backup which he seems relatively content with so you should expect the talented Spaniard to be filling the goalkeeper position week in week out for the Red Devils.
Right-Back - Matteo Darmian: Matteo Darmian hasn't featured in any of Jose Mourinho's three matchday squads so far in the league season mainly because Antonio Valencia has been flawless at right-back in recent times. The Ecuadorian winger converted to full-back under Louis van Gaal however never really got any momentum in the role due to poor crossing ability and a plain lack of confidence, however, he looks like a completely different player under Mourinho and is now a key member of the squad.
So if Valencia has been so great why haven't I included him into my starting line-up? Well, unfortunately for Jose Mourinho and Manchester United he is due back from international duty on the 9th September along with Sergio Romero and Marcos Rojo which is just one day before the derby is set to take place. Antonio Valencia could still make an appearance as he will be back on time however seen as though the match is an early kick off he'd have little preparation time anyway, players like Timothy Fosu-Mensah and Phil Jones are capable of playing at right-back and could easily step in as well.
Centre-Back - Eric Bailly: Out of the four signings Jose Mourinho completed this summer Eric Bailly was the one who no one knew about but four games into his Manchester United career and he's a fan favourite already. The 23-year-old Ivorian centre-back has won three out of four Man of the Match awards since joining the Reds after forming an excellent partnership with Daley Blind at the back and it's just very hard to see Jose drop him in a game where he's specifically wanting tall, powerful players.
Some are expecting Eric Bailly to make a mistake or two this season which is understandable seen as though he was only playing his first 7-a-side matches four years ago but while he is in such good form he's going to start on a regular basis. He's even keeping Chris Smalling on the bench who was arguably United's best defender last season so that sort of proves how convinced Mourinho is of Bailly's talent.
Centre-Back - Chris Smalling: This was a really tricky choice to make because of the form Daley Blind is currently but the height comment that Jose Mourinho made has really made me think about possible changes that could be made. Blind has been sensational alongside Eric Bailly this season and is definitely going to be in serious contention but the fact that he's under six foot could be a huge problem for the manager who wants to 'bully' the opposition in the air.
Daley Blind could even play at left-back tomorrow in the place of a recovering Luke Shaw however pictures emerged on social media a few days ago of Shaw training well so that looks to be off the cards. Smalling was fantastic for the Reds last year and his aerial presence and leadership qualities would prove crucial in such a big game like this one and it might even make Eric Bailly stronger as well.
Left-Back - Luke Shaw: Luke Shaw was a bit of a doubt at the start of the week after flying back to Manchester from England training with a leg problem however his recent social media activity suggests that he is fit and ready to go. This is a massive boost for United as the 21-year-old full-back has been a key part of Jose Mourinho's set-up so far at United and looks set to be for years to come, his defensive abilities along with his attacking threat truly makes him a nightmare to play against.
With Shaw and Anthony Martial on the left side of the field it'll be interesting to see if the young partnership can exploit City's main weakness which seems like it's the full-back areas and his pace will be vital if he's going up against the in-form Raheem Sterling or even Kevin De Bruyne. Jose Mourinho and the whole of the United fanbase will be praying that Luke Shaw is fit for the derby because Marcos Rojo looks to be the backup and has shown huge vulnerabilities in recent times.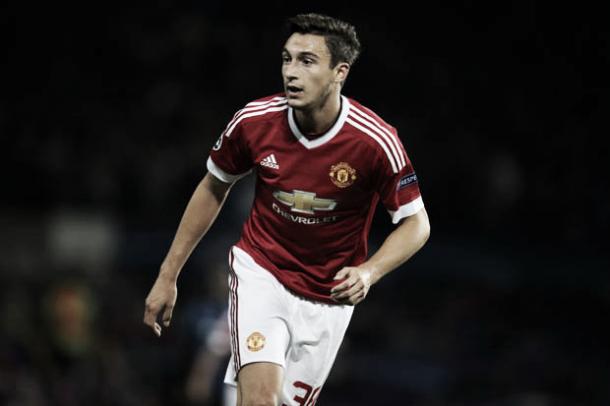 The Midfield
Centre-Midfield - Marouane Fellaini: After Jose Mourinho addressed BT Sport post-victory at Hull City and announced that Fellaini had a "bad" back problem it was widely suspected that the big Belgian would be on the sidelines for some time. However, Marouane Fellaini didn't drop out of international duty and actually started Belgium's second qualifying match against Cyprus so it seems like he's fully recovered.
This news will be music to Jose's ears as the Portugese has made Fellaini a key member of the spine of his team and performances alone have backed up his decision perfectly. United do have other good options in the midfield area with Herrera, Schneiderlin, Carrick and Schweinsteiger all waiting on the wings but Mourinho is likely to want to keep the starting XI as fixed as possible throughout the season, especially if the team is winning games like they are at the moment.
Centre-Midfield - Paul Pogba: Paul Pogba seems to be enjoying his second spell at United so far after two impressive Premier League showings. A lot of fans are likely to say that the 23-year-old Frenchman will start simply because he's the most expensive player in the world, however, if a footballer has the ability to control a game like Pogba does they're going to be a certain starter for their team.
The big midfielder has demonstrated a number of powerful runs and impressive passes since his return to England and has made averaged 3 interceptions per game, won 80% of his aerial duels and managed to retain an 86% pass accuracy. He is definitely going to be a crucial player in the spine of Jose Mourinho's team in years to come and I doubt the manager will want to change much to that spine, it's very unlikely that he'll lose his place tomorrow..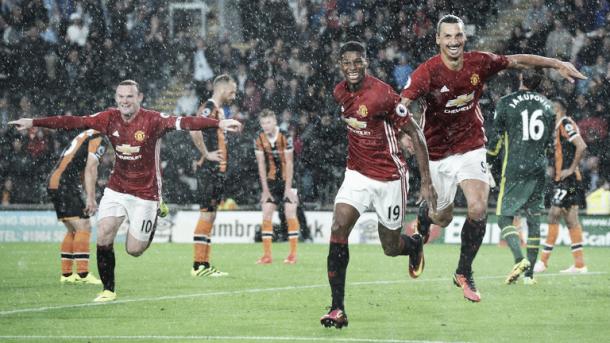 The Attack
Right-Midfielder - Marcus Rashford: The right-midfield position is one of the toughest to predict at the moment because of the sheer depth that United have at their disposal this season. With Mkhitaryan a major doubt the safest bet would be to say that Juan Mata will start for the fourth consecutive game and seen as though goals are being scored and games are being won it wouldn't be suprising if the Spaniard started tomorrow. However, after scoring the winner against Hull City in the last match and then following that up by scoring a hat-trick on his England under 21 debut in midweek, Marcus Rashford is the player a large number of home fans will want to see start on the wing.
Rashford is a striker, not a winger, but his pace and dribbling prowess hints that the 18-year-old will be more than capable of doing a job there and Mourinho has even hinted prior to the game that he will be looking the bully Manchester City in the air so that alone spells bad news for Mata. Jesse Lingard is another option but it's likely he'll start on the bench after only just recovering from a foot injury, leaving his condition 50%-50%.
Left-Midfielder - Anthony Martial: Anthony Martial proved almost everyone wrong last season when he burst onto the scene as a deadline day 'waste of money' and set the Premier League alight however things aren't going smoothly for the young French forward so far this season. Martial has started all three league games under Mourinho and then been substituted midway through all three after uninspiring performances, with this in mind another player might be given a chance tomorrow.
He helped France to a 3-1 victory against Italy by scoring his first international goal in the recent World Cup Qualifying matches so fans and the management at Manchester United will be praying that his confidence has been boosted and he can start discovering the form which earnt him top goalscorer at United last season. Players like Ashley Young and Memphis will be waiting to see if Mourinho does decide to change things about but considering Martial's height and that fact that he might just need a long run of games its unlikely Mourinho will make any drastic decisions about Martial's place, especially on such a big occasion like this.
Centre-Forward - Wayne Rooney: The captain's form has been subject to mass questioning among the United faithful for the past few seasons now and despite already bagging one goal and two assists along with six key passes in the first three league games it still seems like he is wanted out of the starting line-up by the majority of the clubs' fans.
Jose Mourinho is set to ignore those fans' wishes once again which some actually consider as reasonable seen as though United have won their first four games under Mourinho and Rooney has featured in every single one, why should the manager make drastic changes if he's winning? The Manchester derby record goalscorer (11) will be prepared to start tomorrow whether the fans like it or not.
Striker - Zlatan Ibrahimovic: Ibrahimovic is widely expected to lead the line once again for United tomorrow after finally having a chance to recharge his batteries over the international break seen as though the Swedish striker has played a part in the whole 90 minutes of each of The Reds' first three league games.
Hull City's superb defensive display suffocated the Manchester United front four and denied any creative freedom which was evidently frustrating for Zlatan however after a goal against Bournemouth and then a brace against Southampton he still holds a record of three goals in three league games and it's no secret that he'll be hungry to make it four in four at Old Trafford tomorrow.