After overseeing Manchester United's draw with Stoke City at Old Trafford, Jose Mourinho hailed his team's best performance of the season as he felt his team deserved to win 6-0.
Mourinho saw his side be held to a disappointing 1-1 draw after a late error from David de Gea allowed Joe Allen to cancel out Anthony Martial's 69th-minute opener.
Mourinho hails best performance of the season from his team
On a number of occasions during the game though, Stoke goalkeeper Lee Grant made a number of fantastic saves to keep his side in the game and because of this Mourinho praised his side's fluency and was baffled how his team didn't win the game.
Mourinho said the match with Stoke was "best United performance all season" despite the result as he felt it could have "been 3-0 or 4-0 at half-time" with the number of chances that the team missed.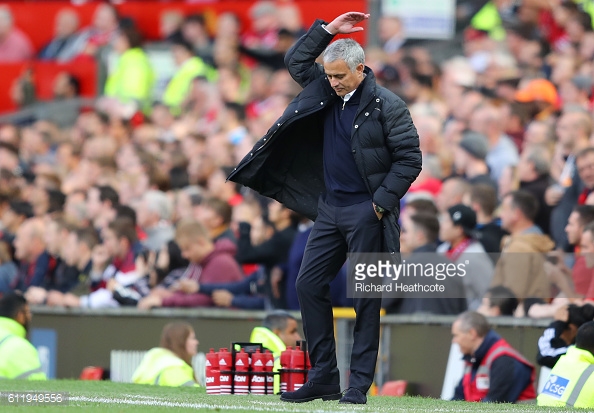 The United boss continued to say that he felt that it was "a much better performance than against Leicester," when the team won 4-1. The reason he felt it was the best performance was due to the fact the team created "six, seven, eight chances to win the game," but sometimes you don't get what you deserve in football.
Stoke got exactly what they came for, says Mourinho
In the end, though, the result was what mattered and with games coming up against Liverpool and Chelsea after the international break it really was a game that the team needed to win to keep the momentum going. Mourinho knows this and he said that Stoke got what they came for in the game.
Mourinho went on to say that for him it was a "great performance with a bad result," as at the end of the game the reaction of the "fans says absolutely everything," as they were in disbelief that the team couldn't get the win.
The boss says that "Stoke fought like they do in every game," which shows they shouldn't be where they are. Mourinho says that Stoke "came for a draw," which they got as they were "lucky but luck is part of football," and now the team must bounce back after the break.