 After last season gave so much promise for a first Champions League campaign in five years, it's all come and gone a little quickly for Tottenham Hotspur.
There was so much anticipation when the draw for the group stages was made in late August, pitting Tottenham against Bayer Leverkusen, CSKA Moscow and AS Monaco in a group that certainly could have been trickier.
Whilst there was disappointment that they wouldn't get to host games at White Hart Lane, the deal to stage home European fixtures at Wembley was seen as the obvious one, and with money spent on the likes of Vincent Janssen, Moussa Sissoko and Georges-Kevin Nkoudou in the summer, Spurs looked ready for a good European campaign.
A good campaign was the last thing they got. Home defeats to Monaco and Leverkusen were papered over by a win in Russia and draw in Germany, leaving Spurs needing at least a point against Monaco on matchday five to leave themselves in with a chance of qualification.
They didn't get that point, again falling to defeat, this time away from home. The 2-1 scoreline could have been wider if not for Hugo Lloris' intervention, but nevertheless, it wasn't enough, Spurs gone with a game to spare.
But where did it all go wrong?
Selection, subs, sidelined players
Shut your eyes around an hour before each Tottenham game last season, and nine times out of ten you'd have known the team that was about to be confirmed as selected. Rattling that off now, it'd be; Lloris, Walker, Alderweireld, Vertonghen, Rose, Dier, Dembele, Lamela, Alli, Eriksen, Kane.
That was the side that guided Spurs to a solid third place finish, above Manchester United, Manchester City, Chelsea and Liverpool. It's disappeared this season.
That has been in part due to injuries which left Spurs without the likes of Toby Alderweireld and Harry Kane at crucial stages of the group, but after a summer spend that deemed Vincent Janssen capable backup and there little need for another centre-back, who is to blame?
Pochettino seemed to get overrawed after a difficult start to the group, and still hasn't selected two identical sides for consecutive games this season. It's true that you have to play a little differently in Europe, but consistency throughout those games is still key, something shown by Leicester City.
Adding to the starting XI issues, and the injuries, are some poor substitutions. It seems reactionary, but the issue really came to fruition in the final group game. With Spurs lacking width against Monaco, Kyle Walker sat on the bench alongside Nkoudou. On came Janssen, the striker. On came Christian Eriksen, the central attacking midfielder. On came Sissoko, the bit part winger, in centre midfield.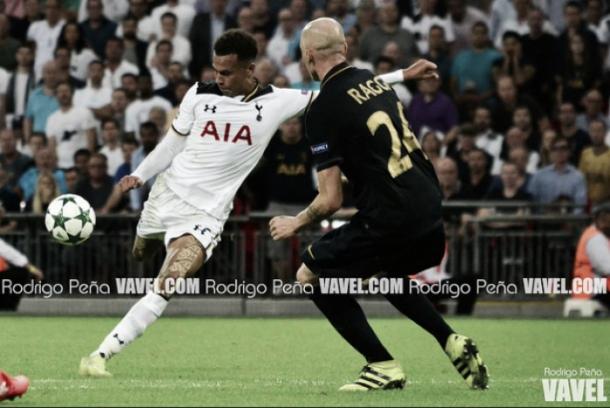 Wembley a distraction rather than an inspiration
However, it wasn't as if the players that were selected didn't have pedigree. But you wouldn't have believed it based on their perfomances.
Tottenham's bold, brave, front-footed tigers that chased Leicester so hard until the final weeks of last season turned into flat-footed shells.
It wasn't that Spurs went on the defensive, qualities that they're noted for. It wasn't that they went on the attack too much, with the likes of Vertonghen and Alderweireld left isolated. It was that their games were all much of a muchness, if you'll pardon the questionable English.
Spurs didn't look to play on the front foot, understandable. But neither did they look to use their defensive skill, often lacking direction, even when they were chasing games, something which became a habit at Wembley.
With CSKA Moscow still to come, the record in London speaks for itself, with two defeats from two. What was the problem though? Spurs packed the ground with record attendances, so it wasn't the support, even if the compact noise of White Hart Lane was a little missing.
The National Stadium was anything but inspiring, Tottenham not taking charge in either game there. In the opener against Monaco, two early goals did the damage, and Tottenham again failed to capitalise on their momentum when Alderweireld added another.
They looked scared in Wembley game number two, and when Kevin Kampl broke free to score Leverkusen's winner, there was a feeling of inevitability, rather than surprise.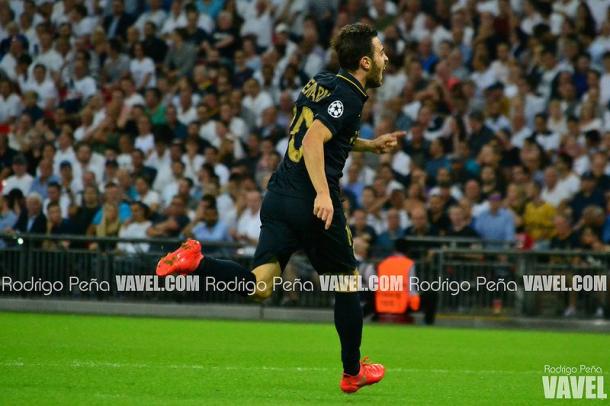 A lack of focus on Europe, perhaps?
Unless you're a Bayern Munich, Real Madrid, Manchester City or Barcelona, playing in Europe is often about opportunity cost. Are you willing to sacrifice some league points to play your strongest team in midweek, and create memories?
Leicester have recognised that this season. Riyad Mahrez and Jamie Vardy have often been rested in the Premier League to accomodate European glory, and it's worked, with Leicester confirmed as group winners with a game to spare.
Of course, it's had an impact on their league form. A drop off after the title was expected, but perhaps not to the extent that after 12 games they're narrowly above the drop zone. However, they've now got three clear months not worrying about Europe to pull their league position up into the mid-table place that many fans expected and wished for at the start of the season.
Tottenham do of course have different objectives to Leicester. They have a bigger squad, and league finishes over recent years offer an idea that they'd easily finish above the Foxes this time around.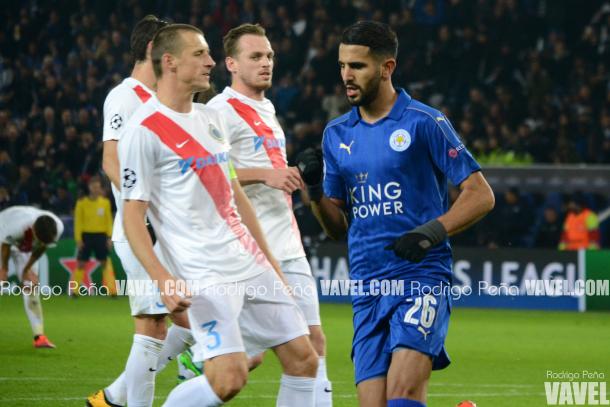 However, with United, City, Arsenal, Chelsea and Liverpool all improving ahead of the season - with the latter two not playing in Europe at all, were Spurs ever serious title candidates? Perhaps, but not in the eyes of many.
With this in mind, a realistic league ambition would have been to retain a top four place. To qualify for the Champions League again, so they could play in the Champions League. But wait - they already were?
Given Spurs' years of not appearing in the competition, some might have suggested that by this point, they might have been better off being a little further away from fourth (they're three points off currently), and having secured a passage to the knockout stages.
The club motto is that the game is about glory, but you wouldn't know it. They worked to hard to get back into the competition, but once it came along, it was duly wasted.
With some of those aforementioned Premier League clubs firing on all cylinders, you have to wonder how long it will take for Tottenham to get another go at Europe's premier club competition.
When it finally comes along, one might recommend that they indeed go for glory.