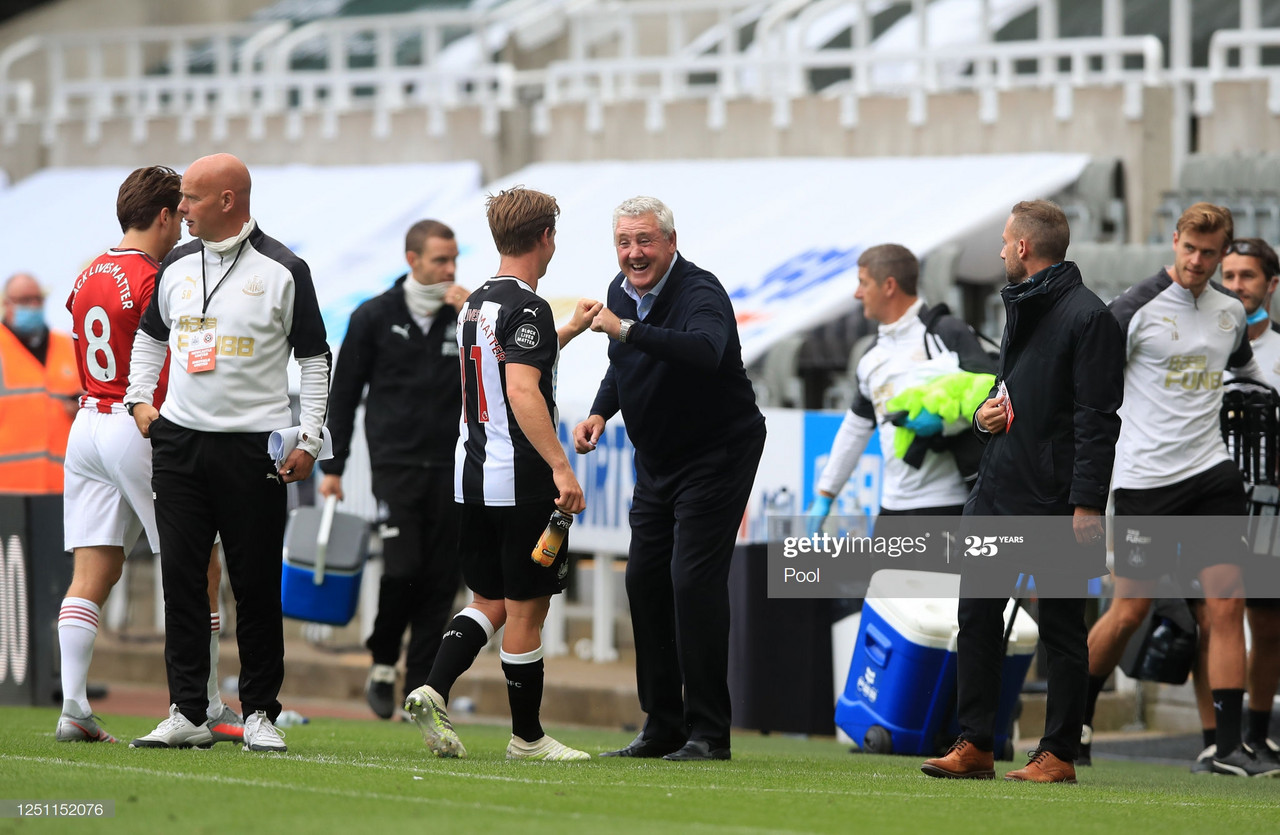 Both Steve Bruce and Allan Saint-Maximin were rightly delighted with Newcastle United's 3-0 win over Sheffield United in their first Premier League game back after lockdown.
It had been 106 days since the Magpies last kicked a Premier League ball in anger, but their return to action could not have gone any better as they cruised to victory against a below-par Blades side.
Manager Bruce began his post-match interview with NUFC TV by praising his side for gaining two straight top-flight victories, even if there was three months between them.
"Back-to-back victories in the Premier League is very difficult," Bruce said.
"I'm pleased for everyone concerned and things couldn't have gone any better for us, even if the big moments in the game went out way.
"But we played well against a very good team in Sheffield United and we've beaten them twice. I'm very pleased with everybody."
The visitors were reduced to ten men shortly after the start of the second half and the Magpies boss believes that it was key that his team scored as early as possible.
This they did and this allowed for a comfortable second 45 minutes where Newcastle played what was arguably some of their best football of the season.
"In the Premier League little mistakes make a difference and this was the case for Sheffield United," the Newcastle manager explained.
"I'm pleased we switched Allan (Saint-Maximin) and Matt Ritchie over at half-time as that worked a treat in the second half.
"It was our day and I'm pleased to see Allan smash it into the back of the net early on."
Bruce went on to sing his praises for the French winger as he put in what many would feel was a man of the match performance from the former Nice man.
It looked like Saint-Maximin had never been away with his skill and pace causing constant problems from Sheffield United's backline.
"Everyone knows that he's a threat," said Bruce.
"Even though no supporters were at the game you still know when he gets the ball because the excitement builds.
"He's a clever and powerful player but he's got a lot to learn still. We're delighted with his improvement since arriving though."
Saint-Maximin was also on post-match duties following his inspirational performance on Sunday.
ASM, as he is known for short to Newcastle fans, revealed just how pleased he was to be back in action and on the scoresheet to help his side to three points which moved them further clear of the relegation zone.
As much as scoring was a bonus for Saint-Maximin his main priority was to ensure that his side claimed all three points in their first game back.
"I'm really happy and the most important thing for me is to win," the attacker explained.
"If I can score and help my team it's really good but it was a team win against a really good side who are in a good position.
"To win this game 3-0 is really good and it's great for our confidence."
Saint-Maximin started the goalscoring for the Magpies and once his goal went in there looked to be no way back for the Blades.
However the ball did find it's way to the Frenchman somewhat fortuitously after a slip from Enda Stevens but the Newcastle man knew that his reactions were key.
"I had to react quickly to score," Saint-Maximin recalled.
"I said before lockdown that I wanted to improve my finishing and that's what I focussed on.
"In that situation I have to be ready so I'm really happy to have been able to score this difficult goal."
The goalscorer was also aware of just how important the timing of his strike was, coming so soon after the opponents were reduced to ten men following John Egan's second yellow card.
But the Newcastle man was simply just targeting the win from kick-off with him wanting to look up the table in the final weeks of the season.
"It's really important to keep going," said Saint-Maximin.
"We know that if we win some games we can start to look forwards and that's what we are doing.
"We are now on 38 points and play our next game against Aston Villa and if we win this game we're on 41 points and this would be great for everyone."