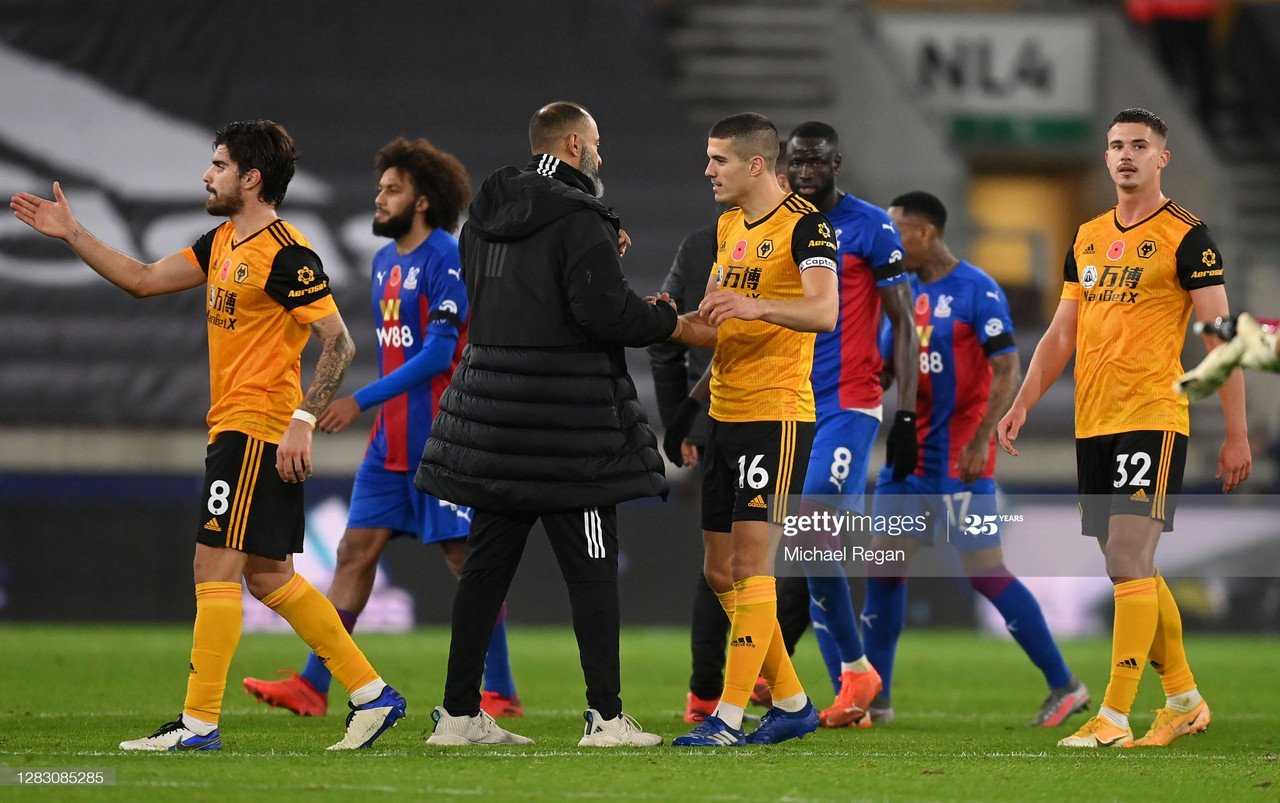 Wolves drew level on points at the top of the Premier League following a 2-0 win against Crystal Palace on Friday night at Molineux.
Two first-half goals from debutant Rayan Ait-Nouri and Daniel Podence ensured Wolves' fourth win of the season, while Luka Milivojevic was sent off late on for the visitors.
Nuno spoke to wolves.co.uk after the game to discuss first-half goals, Ait-Nouri and more.
Wolves enjoyed a rare quick start against Palace, with Ait-Nouri and Podence's goals coming before the half-hour mark. This was something Nuno asked for in his pre-match press conference, and was pleased it came to fruition.
"We started really well. It proves no game is the same. The best spells of the game can happen at the beginning, the middle, the end, the idea is to try and do it because we played against a very good team.
"We started better than Palace, the end of the first-half Palace started creating problems, we had issues there. In the second-half I think we started slow. We allowed Palace to have the ball and were not comfortable. The moment we adjusted, we started playing better and had good chances to score again.
"We created and unbalanced Palace. We had a good team in front of us, but were able to start strong and unbalance Crystal Palace, and at the same time stay organised."
The Wolves boss also asked for goals to be spread around the team before Friday's game, and was happy to see Ait-Nouri and Podence pick up their first goals of the campaign.
"This is what we need. We need a lot of things to improve and we need goals all over the team, it's important. For Rayan, I'm really pleased for him because it's the first game, so what better start can he have.
"For Daniel, it was a big step because he'd had big chances in previous games. Some of those were good strikes and good saves from the goalkeepers, but he was anxious to score. He's scored today and it's a big step."
On Ait-Nouri's dream debut
Nuno handed 19-year-old Rayan Ait-Nouri his first Wolves appearance since signing from Angers earlier this month, and the France U21 international didn't disappoint as he marked his debut with a goal and the man-of-the-match award.
"He played good. He has a lot of things to improve on the defensive aspect, the shape of the team, but he played good. Football is like this, sometimes you go in the game, your first game, and your first goal. I'm really happy for him.
"He has talent and he's been working two weeks now, insisting on the defensive aspect of his game is the first step for us. He still has better decision making to do, getting used to contact and physicality of the Premier League."
As usual, Nuno insisted that there were many areas in which his side could improve, and said they still needed to adapt to life without a raucous Molineux crowd behind them.
"At the beginning of the second-half we were not able to control Crystal Palace. They were always having lines of the ball. The moment Moutinho went on the pitch, I think we controlled the middle of the park and were able to press better. It's things we have to improve."
"We have to realise that playing without fans changes everything. The perception is different and sometimes I think we can go in danger that there's no pressure, like a training or friendly game, because it's silent and we don't have the edge. So, in these moments of play, with the pandemic, focus on the action is the first thing you should do."
On a strong start to the campaign
Friday's win ensured that Wolves are enjoying their best top flight start for 41 years, and drew level at the Premier League summit with Everton and Liverpool following the game.
Nuno insisted the embryonic table was irrelevant, and that Wolves' good performance against Palace must continue into future games.
"That's the idea, to sustain, and it's very hard. We're going have the next test to evaluate again, but every game in the Premier League is very tough.
"It's all about the performances. Trying to sustain consistency. The table is not important, it's the work and being able to deal with these situations of playing without fans. The pandemic requires a lot of focus, it becomes stressful, we don't have the edge of Molineux."