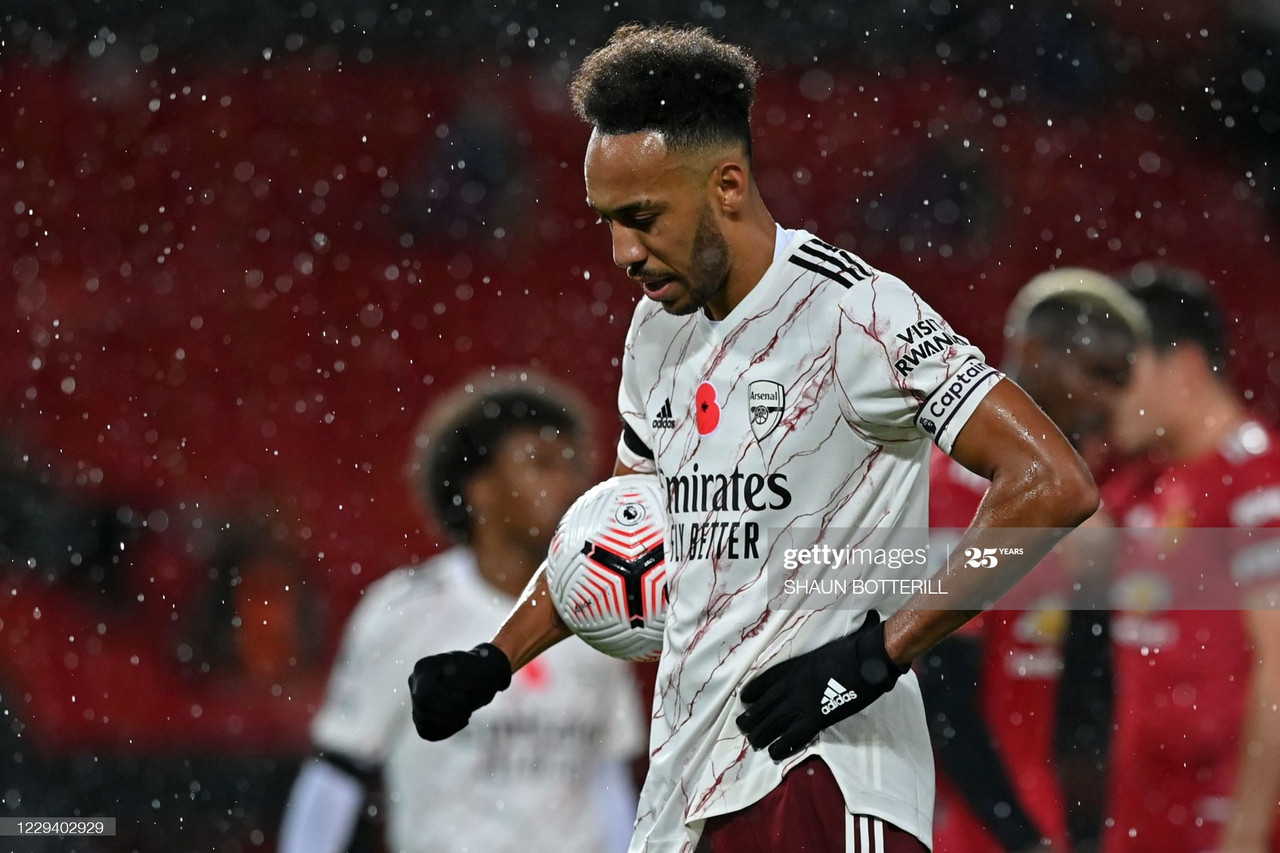 The Gabonese striker signed a 3-year extension this off-season and even though there were some questions about giving a 3-year extension.
His usual goal-scoring form has dropped off so far this season. Despite this, his experience and ability will previal.
Most of the Arsenal fan base was extremely happy about resigning the team's arguably best player and captain. So what has gone wrong?
Minor setback or major decay?
First, we have to take a look at the facts and stats. 'Auba' played eight games this season so far and only scored twice with one assist under his belt.
What we have to notice about the Gabonese is that he is one of the best in getting quality chances throughout his career but usually he isn't a precise finisher.
This is why it is important for him to get into those positions in big quantity. According to Understat, his 141 league goals came from 141.81 xG which shows the balanced performance he puts out every year.
This year he has an awful 1.35 xG with 8 matches played, so he even overperformed with the goals he scored.
The lack of goals this season is standing out for several reasons but the biggest one is this: There is no one else to bring in the volume of goals.
Last year Auba scored a ridiculous 39% of the team's goals which was the second-largest volume behind Danny Ings and it was directly translated into 20 points during the league season. So what changed?
Lacazette's fall from grace
While Mikel Arteta's system prefers a forward in the middle who can play with his back towards the goal, Alexandre Lacazette can not fulfill this role anymore.
His physical presence is non-existent, his defensive and pressing work rate has dropped. Why is that a huge problem for Aubameyang?
While Lacazette was doing well in his role, they were one of the best duos in the league during their two full seasons together being top 5 in total goals scored.
While it's a strong belief amongst Arsenal fans that Aubameyang is wasted on the left-wing, he played roughly with the same efficiency there as in the middle.
The problem is that he can't get to the goal going from there anymore, while he has a huge workload put on them defensively. As a 31-year-old forward, this is not the way to maximize his potential.
The biggest concern
As we stated above Aubameyang's best attribute was that he was able to get quality chances in big volume. But last year his attempted shots inside the 6-yard area and in total were the lowest of his career.
This a continuing trend into this season but why wasn't this noticeable last year? Because the Gabonese for the first time in his career was an extremely effective finisher (+6,2xG)
The solution(?)
It is clear that Aubameyang's qualities are wasted on the wing under the current conditions, while the team desperately needs to convert the few chances they produce.
The obvious reaction would be to put him in the middle of the offense and a quick high work rate player onto the left (Bukayo Saka, Gabriel Martinelli, Ainsley Maitland-Niles, Reiss Nelson).
While it sounds good on paper to bring in a creative midfielder in the January transfer window this might not be an immediate solution.
Mikel Arteta has to recognise the system's problem and change accordingly. This won't be solved with one player let it be Houssem Aouar or Dominik Szoboszlai.