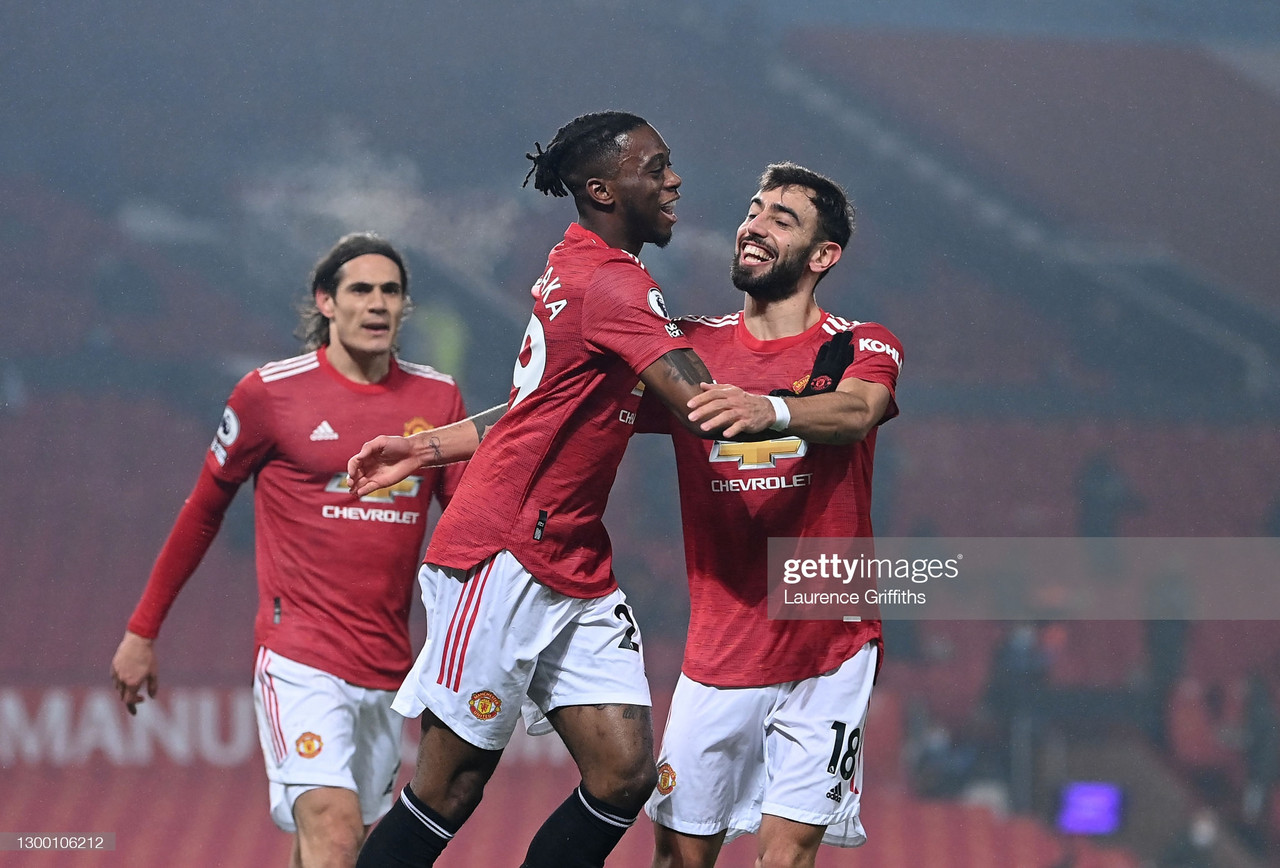 While it is somewhat difficult to assess a match tactically when a player is sent off in the first minute of a match, Manchester United still had clear approaches which were entirely successful against Southampton.
Exploiting the wide areas
Ole Gunnar Solskjaer's men had an easy job in their build-up since Southampton had to alter into a 4-4-1 defensive shape following the red card. This allowed both Man United centre-backs, Harry Maguire and Victor Lindelof, to advance into the opposition half regularly - as they were only being half-pressed by one forward, Che Adams - and almost act as the playmakers in the team. Maguire made 38 successful final third passes and Lindelof made 27 according to StatsZone.
This had a direct impact on how Southampton acted in their defensive shape. Since Maguire, particularly, was penetrating in the left half-space and finding players between-the-lines with firm passes, it encouraged Ralph Hasenhuttl's men to try and be compact, which left space in wide areas for United to exploit.
The Reds scored nine goals and four of those were crosses from wide areas, three of the opening four were crosses. Here we can see the space in the wide areas which United were gifted in the build-up to their fourth of the evening.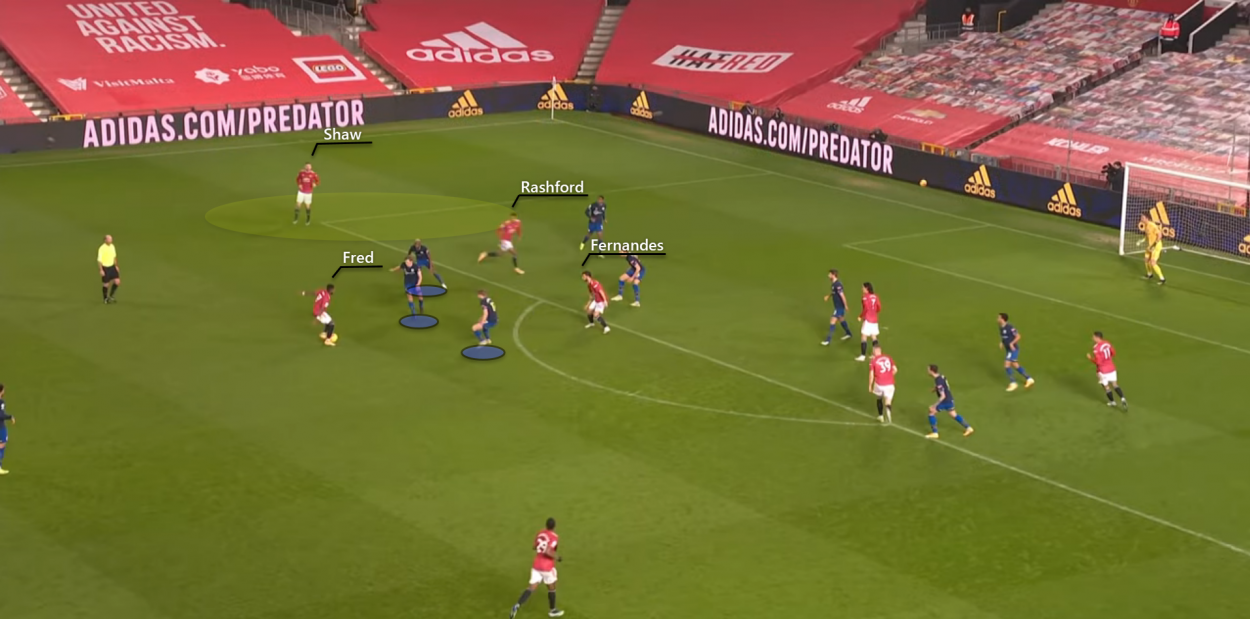 As Marcus Rashford plays the pass infield to Fred, he also makes a run to try and receive between-the-lines, Bruno Fernandes is also positioned in a space between-the-lines. This causes The Saint's right-back and right-midfielder to tuck inside to try and stop the ball being played into those dangerous spaces that Fernandes and Rashford are going into. This leaves a large space for Fred to pass to Luke Shaw, and he then had time and space to pick his head up and find Edinson Cavani with a wonderful cross.
Because there was less threat on the transition from a depleted, 10-men Southampton side, The Red Devils were able to commit many men into the box and this helped when we were either crossing or just trying to find spaces in and around the box since Southampton are not a defensively sound side as it is, let alone when their own box is being overloaded.
When a team is down to ten-men, overloads are always going to be key and they were for United in how they crossed. United used both a positional overload, as well as a numerical overload to score their first goal.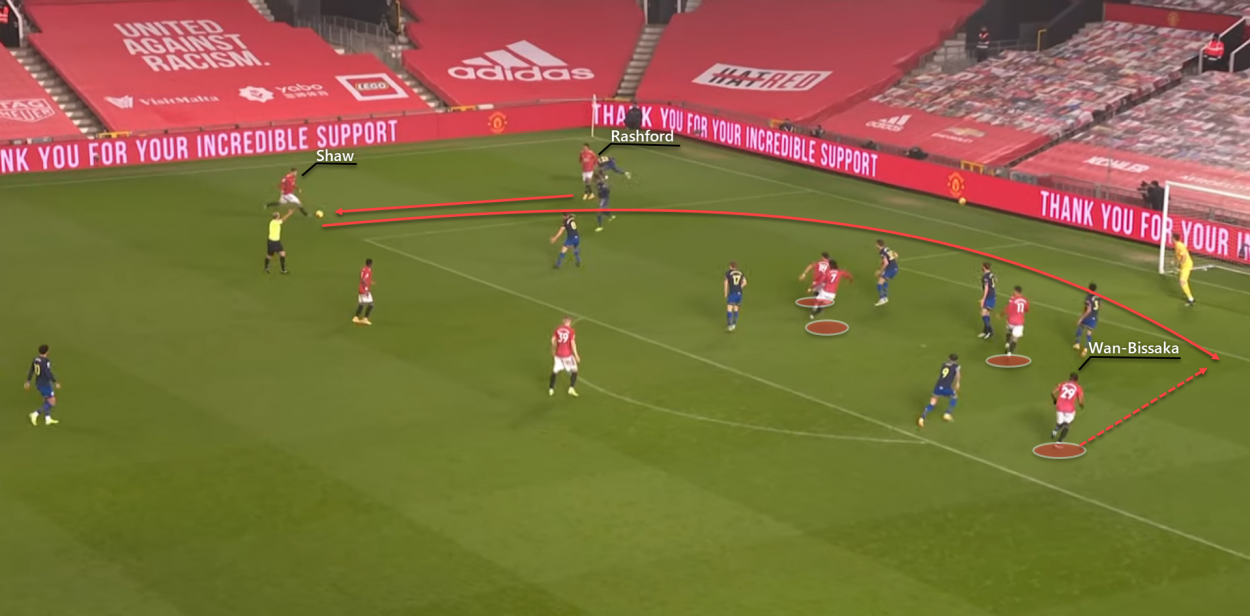 We can see that Southampton's right-midfielder wanted to double up on Rashford when the winger broke down the left-wing but left a simple passing lane back to a free Shaw open, this meant that although it was a 2v2 on the wing, United had the positional overload as Rashford could simply take out both Southampton players with a pass to his left-back. Then, United have three men; Fernandes, Cavani and Mason Greenwood against the three defenders in the box; this causes Ryan Bertrand to follow Greenwood inside and therefore gives Aaron Wan-Bissaka the space to attack at the back post and score, the right-back attacked on the right-flank brilliantly throughout the match. It's quite simple when you have a numerical advantage on the pitch but United did well to be clinical from these situations nevertheless.
Suffocating Southampton in the latter stages
In the second period, Southampton actually started the half well and scored a goal, although it was disallowed for a marginal offside afterwards. Yet, they improved in their defensive shape and was defending better.
But as the second half went on, United were suffocating The Saints, recovering the ball if Southampton won it back and then attack after attack. This led to Southampton dropping deeper and deeper which allowed players such as Fernandes and Greenwood to take advantage of the space around the edge of the box.
For both Anthony Martial's first and Daniel James' goals, Fernandes and Greenwood found themselves with space around the edge of the box and they were able to use their great quality to find their men inside the area with lofted passes. This kind of pass has been a noticeable quality of Greenwood's and it was great to see him utilise it again in this game.
Conclusion
In all, we cannot take away much tactical information from this match since it was an outlier. Southampton had a poor side out anyway and then were depleted after an early sending off and United's quality in front of goal in the first half.
However, United still had to put in a good performance and they certainly did. They were great in the wide areas and used their numerical advantages perfectly in the match, as well as applying solid pressure on the Southampton defence, not even stopping when 8-0 up.
It was an important three points to get after missing out on a victory in the last two Premier League fixtures and United are now looking forward to a battle against Everton on Saturday evening.