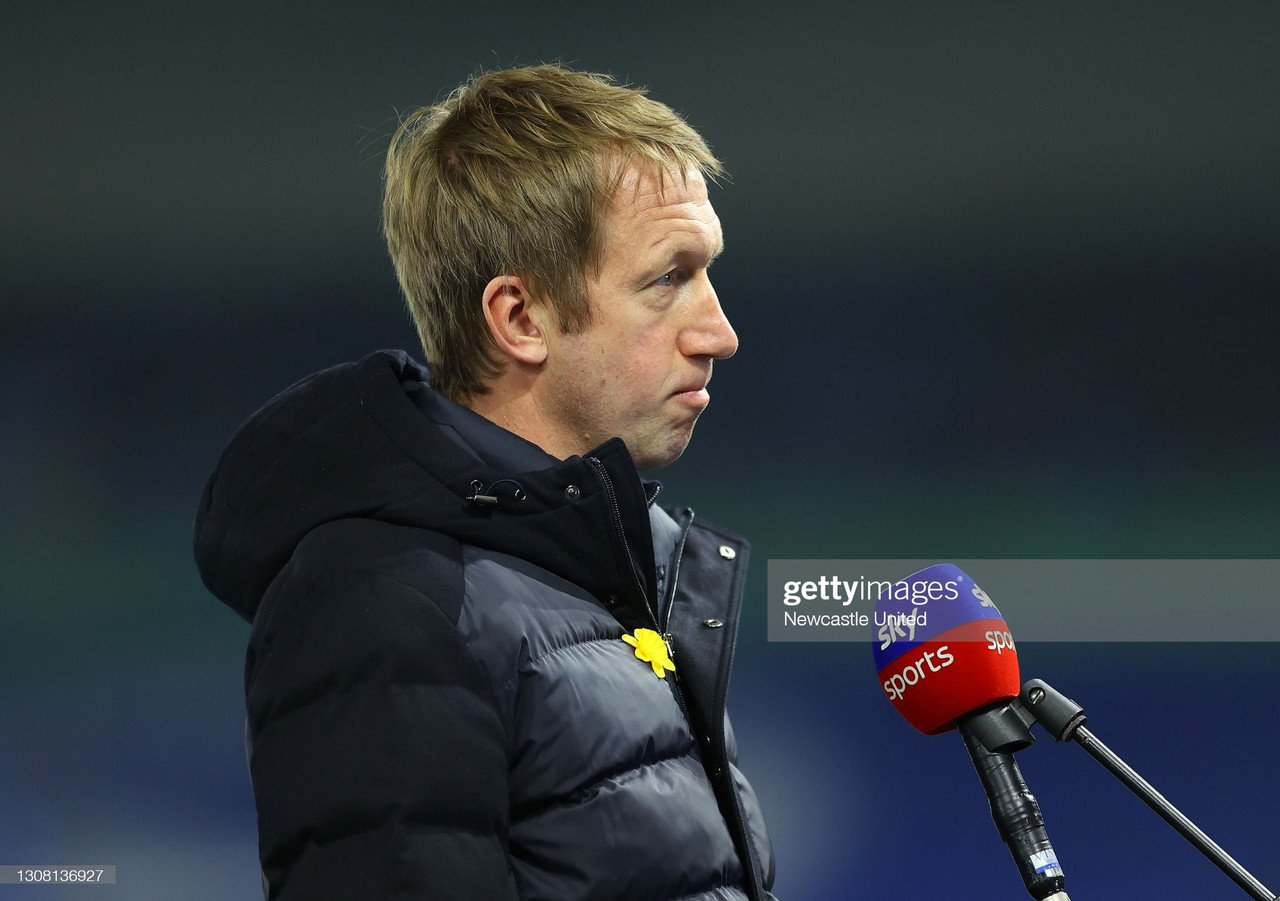 Graham Potter spoke to the media ahead of Brighton & Hove Albion's Premier League fixture at home to Everton on Monday night.
Team News
Potter revealed that both Adam Webster and Dan Burn have returned to training, whilst Aaron Connolly is nearing a return himself.
"Both Adam Webster and Dan Burn trained this morning (Thursday), so that's really positive," said the Seagulls boss. "We will see how they respond and take it as it goes.
"Aaron Connolly will maybe get involved towards the end of the week, we are waiting for the pain to go in his foot but there's a chance. We will see.
"The last two/three matches we've been working with three fit defenders, so it is credit to the players who have managed to get through that period and adjust without any issues. Both of them (Webster and Burn) returning adds options, it adds a depth to the team."
Potter was also asked about Florian Andone, who after a long time out has returned to training and looks set to return to competitive action this week.
"He's been out for a long time," he added. "He has had a major problem with his knee. He has worked hard and is due to get game time with the under-23's.
"We need to allow him to make the next steps to regain match fitness. Having been out for near on 9 months, the aim now is to get him up to speed and who knows."
Defeat last time out
Having lost at Manchester United last weekend, Brighton's focus is returning to winning ways having won against Southampton and Newcastle prior to defeat at Old Trafford.
"The defeat didn't undo anything, only highlighted where we're at," explained Potter. "Whilst we were okay, we weren't as good as we can be and that's what we need to focus on and learn from that. We need to make sure that we try and get the maximum level we can out of ourselves.
"We just focus on getting the next win and the next opportunity is Everton. We will try and get as many points as we can. We face a team fighting at the top end of the table, it'll be a tough one but we will be looking to respond."
Everton
As Potter mentioned, the Seagulls will be looking to return to winning ways against an Everton side with European ambitions. Whilst the Toffees are winless in their last four in all competitions, the Brighton boss is expecting a tough match.
"Everton are a club who have invested over a period of time," he said. "They have a top manager, some really talented individual players and they're flexible in how they play. We expect a difficult match, it's as simple as that.
"We have to be consistent with how we work, and worry about the things that you can control. You need to understand what's at stake, we know it's never going to be easy and we need to do our best and keep pushing to try and improve. We have to focus on the things we can do to get the result."
Jakub Moder
One positive for the Seagulls has been the form of 22-year old Polish international Jakub Moder. The January signing from Lech Poznan has taken his time to find his feet in England, but having scored against England for his country in the international break and starting the last two Premier League games he is earning a few admirers.
"Jakub has settled in," Potter said. "He came to us on the back of a break in his domestic season. It's taken time to adapt to a new club, a new league, a new country. He's had to be a bit patient but he's done it in a good way, and he's contributed well."
Swansea's stance
Potter's press conference came hours after his former club Swansea City announced a social media blackout for a week. They have chosen that stance in wake of the battle against abuse and discrimination of all forms on social media.
"It's a good club with good people, whatever they decide is up to them but I support their decision," said Potter about his former club. "It's there club and they've made the decision based on them and their players, but congratulations to them for making a stand.
"It's up to each club to make a decision on what's right for them in the current situation. We will keep assessing the situation and seeing what we can do about it as it's certainly not right."
Danny Welbeck
Danny Welbeck's contract expires at the end of the season, and Potter is hopeful he will see his stay on the south coast extended into next year.
"Danny's been really, really good for us," the Albion boss said. "It was frustrating to lose him in the middle part of the season, but regardless of that he's been fantastic around the group.
"If you look at his goals when he's been on the pitch his return has been really positive. Come the end of the season, we will sit down with him and find the right solution for everybody but really happy with him."