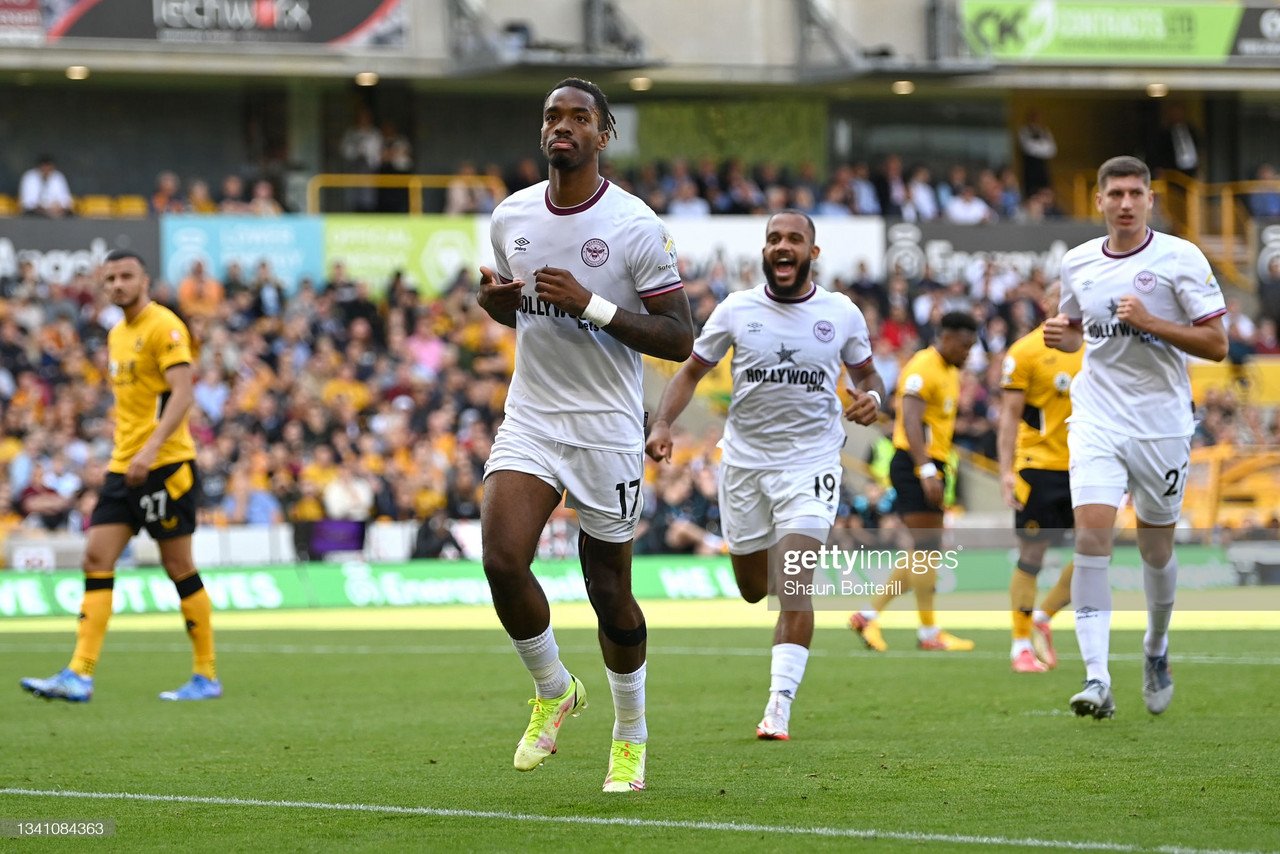 Wolverhampton Wanderers were overwhelmed by Brentford's tenacity and intensity as they were condemned to a hindering home defeat in the Premier League.
Ivan Toney reaffirmed his belief in his ability as a prominent talisman in the division with a dominating first-half performance which produced a goal and assist apiece.
Brentford's Shandon Baptiste ignited fleeting hope for the home side after rashly receiving a second yellow to receive an early retreat with little more than 25 minutes left to play.
It was Wolves that started on the front foot and attempted to overpower their opponent with new head coach Bruno Lage's offensive, high-pressure approach.
After dispatching of Watford last time out, Wolves will have been galvanised by their first victory of the season in the league but failed to replicate such offensive fluidity against Brentford - resolute and clinical in their endeavour.
Story of the match
The match was compelling from the beginning, the respective outfits were robust, but it was simply the slick finishing play and an in-form talisman.
Wolves started proceedings by dictating possession and implementing their newfound pressurising approach under Lage; but could not find a decisive touch to aid their positive early work.
Swiftly, Brentford displayed their attacking prowess through their focal point, Toney, to silence the previously deafening Wolves faithful.
Despite Baptiste's red card in the second half, Brentford emphatically earned their first victory away from home in the Premier League with their resounding performance in the midlands.
The match highlighted the issues facing Lage as he struggles to initiate a clinical edge to compliment the offensive approach - Wolves have just two goals across five games thus far, and talisman Raul Jimenez is yet to hit the mark.
Key takeaways
Brentford here to stay
Thomas Frank has constructed a cohesive team that fight together when attacking and defending. After going a man down the Bees stood firmly rebuffed the persistent Wolves advance to claim a third clean sheet in five games.
Brentford continue their impressive start and move up to eighth in the league after five fixtures, albeit before the forthcoming matches across the match week in the division.
A bitter setback
After clinching their first win of the season last week Wolves were offered a glimpse of better fortunes to come under Lage's tutelage.
Despite narrowly losing all three, the squad had impressed with positive performances across their first matches of the campaign against tough opposition.
Saturday's defeat was an unwelcome setback and leaves Wolves devoid of points at home so far under Lage.
Next time out
Brentford host Liverpool next Saturday (17:30 GMT), whilst Wolves will look earn a consecutive victory on the road at St. Marys (14:00), against Southampton.