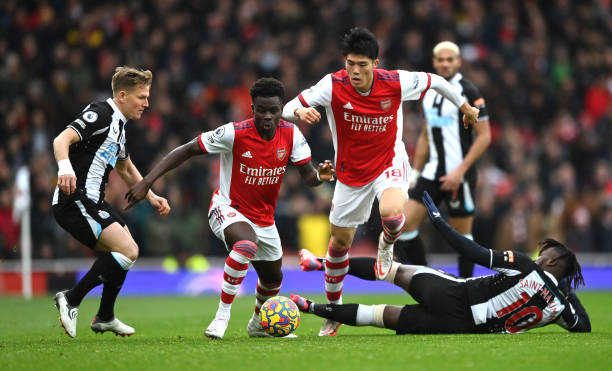 A sobering defeat at Anfield had to be rectified with a win at home against a Newcastle in distress.
The task at hand for the Gunners was to conquer a 5-man Newcastle defence, usually in a low block, to climb three points closer to the top four.
Scoring goals, open play goals, especially, aren't Arsenal's strength, however. According to WhoScored, only five (seven including counter attacks) of Arsenal's 13 goals had come from open plays ahead of Newcastle's visit.
But their 2-0 win added two open play goals to the tally and highlighted what has been missing in attack too often under Mikel Arteta.
Let's take a closer look at how Arsenal unlocked their attacking potential. Getting back to winning ways will be paramount this weekend.
The 2-3-4-1 set up
Firstly, in possession Arsenal set up in a 2-3-4-1 formation with Takehiro Tomiyasu effectively playing as a midfielder.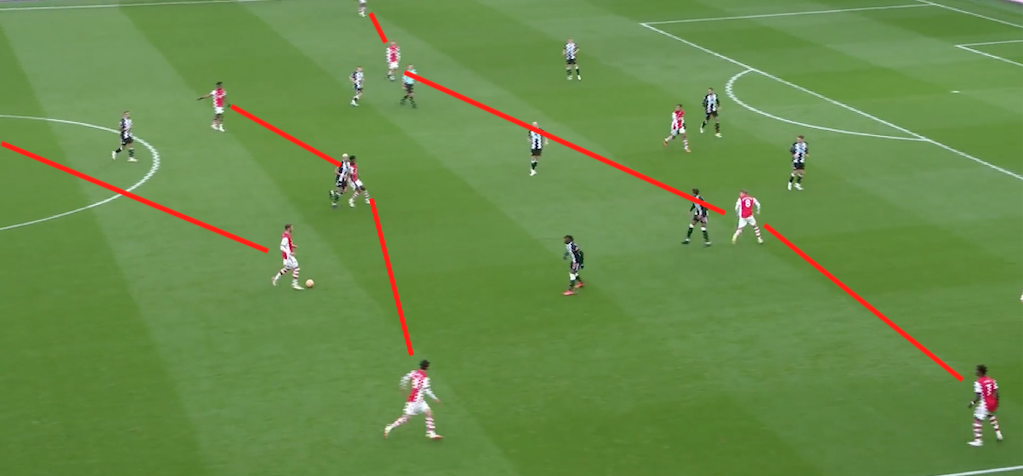 ​
The system creates constant width which consequently opens space for players to move into, especially in central areas, while wide players are always free to receive the ball.
Mikel Arteta has formulated several variations of this. One player is not cemented to one position. For example, sometimes Bukayo Saka will play more centrally, in the half space, and Martin Ødegaard or Tomiyasu will stay wide. And vice versa on the other flank with Nuno Tavares and Emile Smith Rowe. But these positions should always be occupied: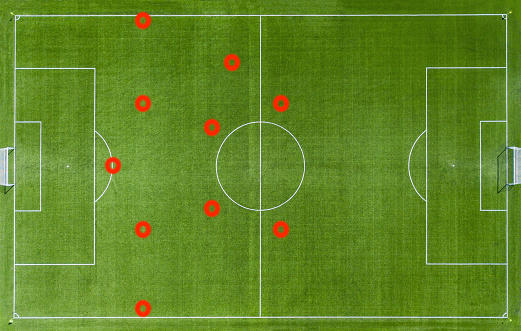 It makes Arsenal more dynamic in possession. There's constant movement in between positions which can disorganise the opposition. Ben White and the central midfielders are always looking for through balls over the top, too.
This is the basic idea of how Arsenal attack, the recipe for getting to the final third. Once they're there, it's mostly up to the players how they find goal. That's the problem the Gunners have, and still, struggle with.
But Pierre-Emerick Aubameyang's chance in the 40th minute and Saka's goal in the second half showed one way how Arsenal can solve this predicament and score open play goals.
That extra run
Creating overloads (man advantages) is a great way to generate chances. But against a low block like Newcastle's, the best you'll get are one-on-ones.
That's what Saka achieved when he drifted from his right flank over to the left.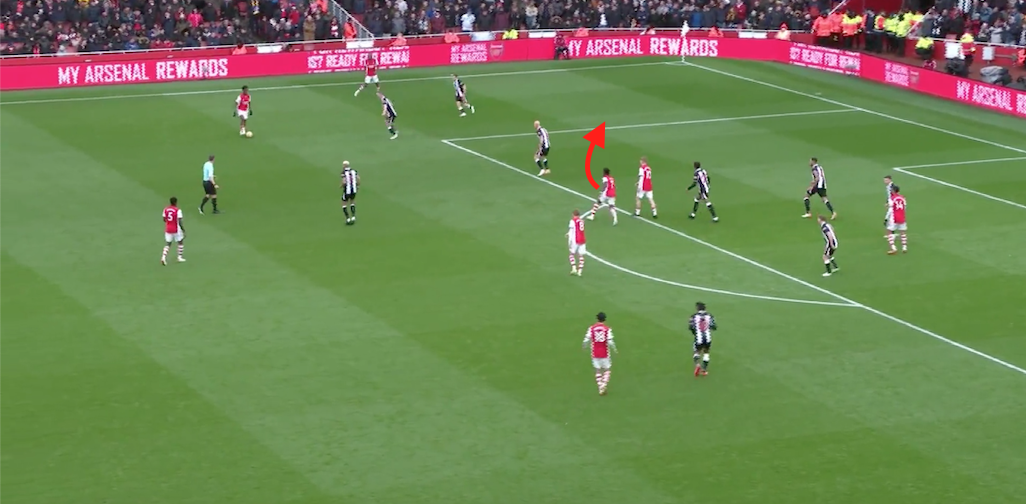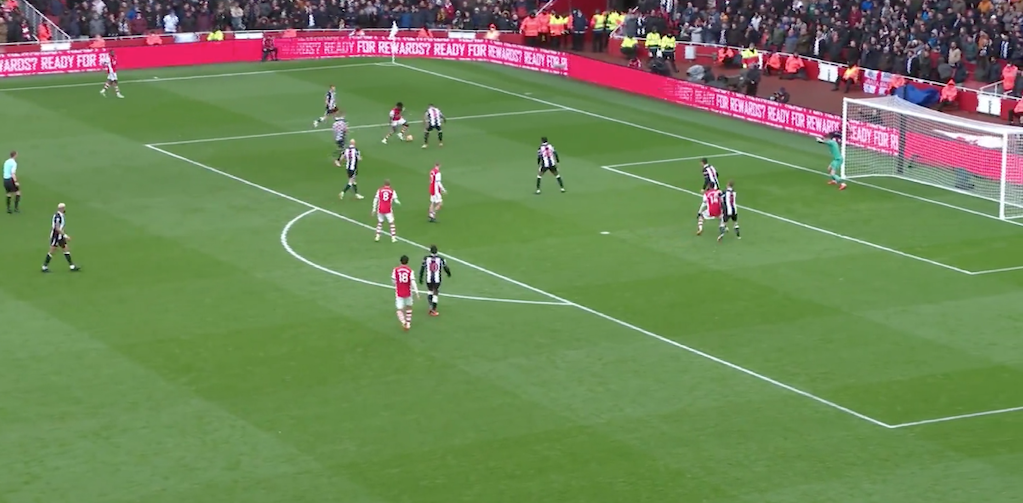 A clever run that sparked a bit of chaos and some great dribbling by Saka created a chance Smith Rowe could have – and Aubameyang certainly should have – scored on.
A better example was the build-up to Arsenal's tie-breaking goal: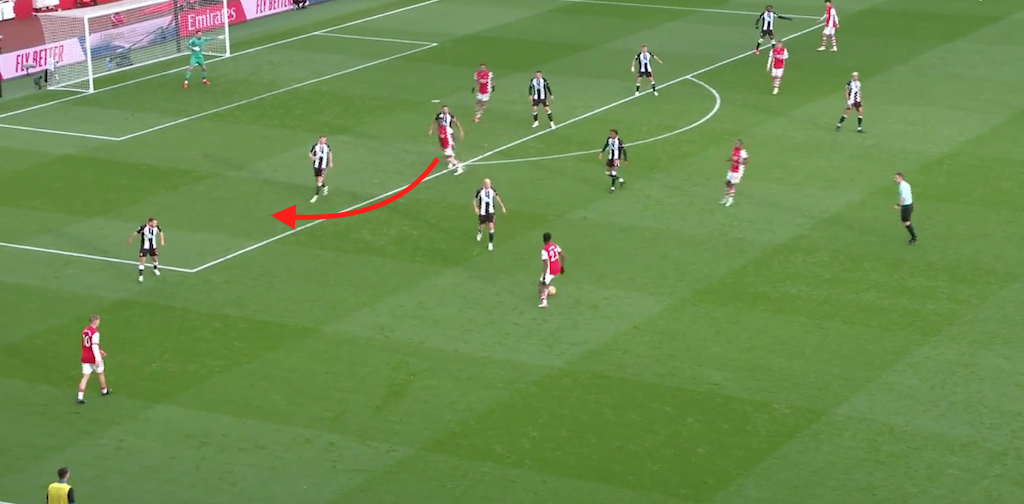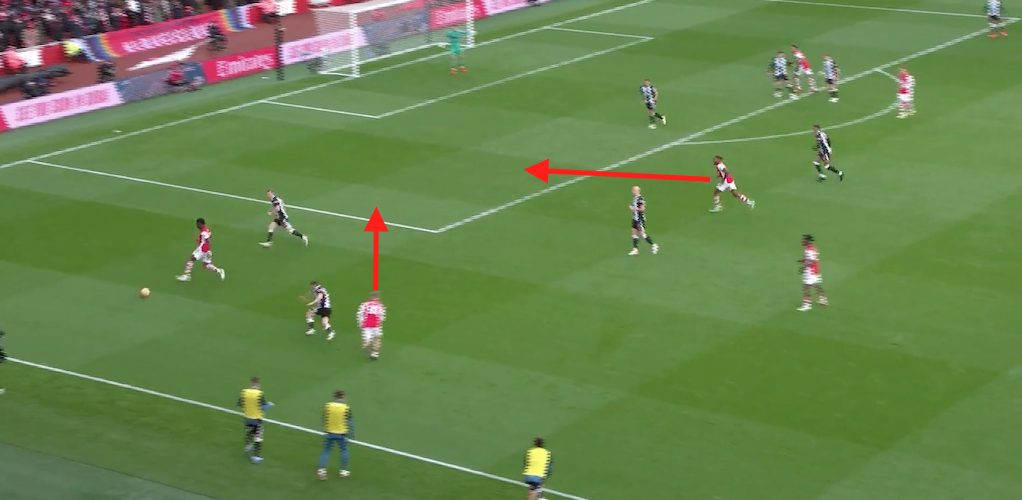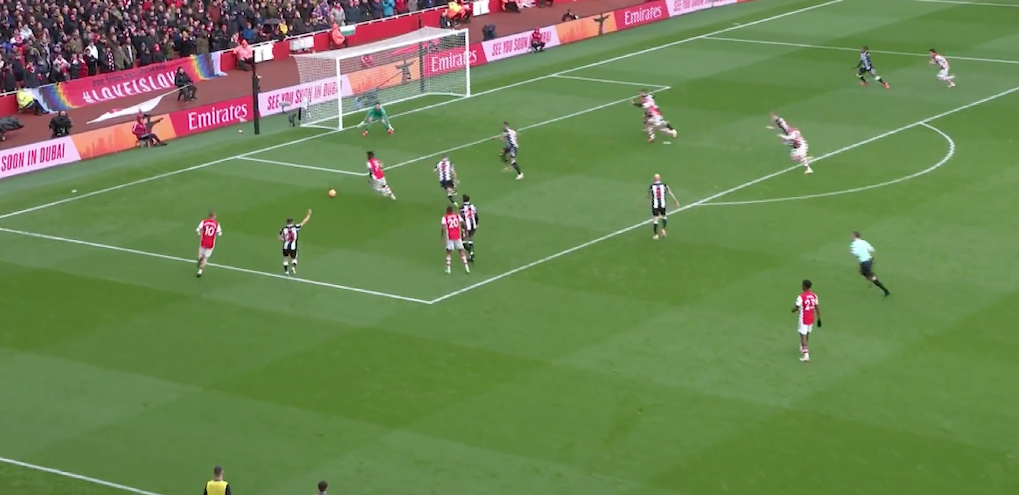 Again Saka makes the same run. Newcastle were split open and, through quick play between Saka, "The Smith" and Tavares, the former was played through on goal and scored. It looked easy.
But it's not. Creating open play chances takes trial and error, simultaneous runs while not leaving the team vulnerable, a spark of individual brilliance, improvisation, confidence to try line-breaking passes with urgency. It's a system only fit for top players.
"We need some spark in the final third"
Like Arteta described Saka's goal himself after the game:
"It was great. That's what you need, some creativity, some spark in that final third against a really low block. Once that happened, obviously the spaces were different and we scored the second one."
Unlike the first half, Arsenal played the second half with more urgency. It highlighted how Arteta's system is fairly ineffective unless the ball travels quickly in the final third.
The Gunners reaped the rewards in the second half as they harvested their second highest xG in a league game this season against Newcastle (2.85), according to FotMob.
Chance creation and scoring are what Arsenal have been struggling with most under Arteta. Against Newcastle we saw glimpses of how it's supposed to work. A little spark, some urgency, is needed.