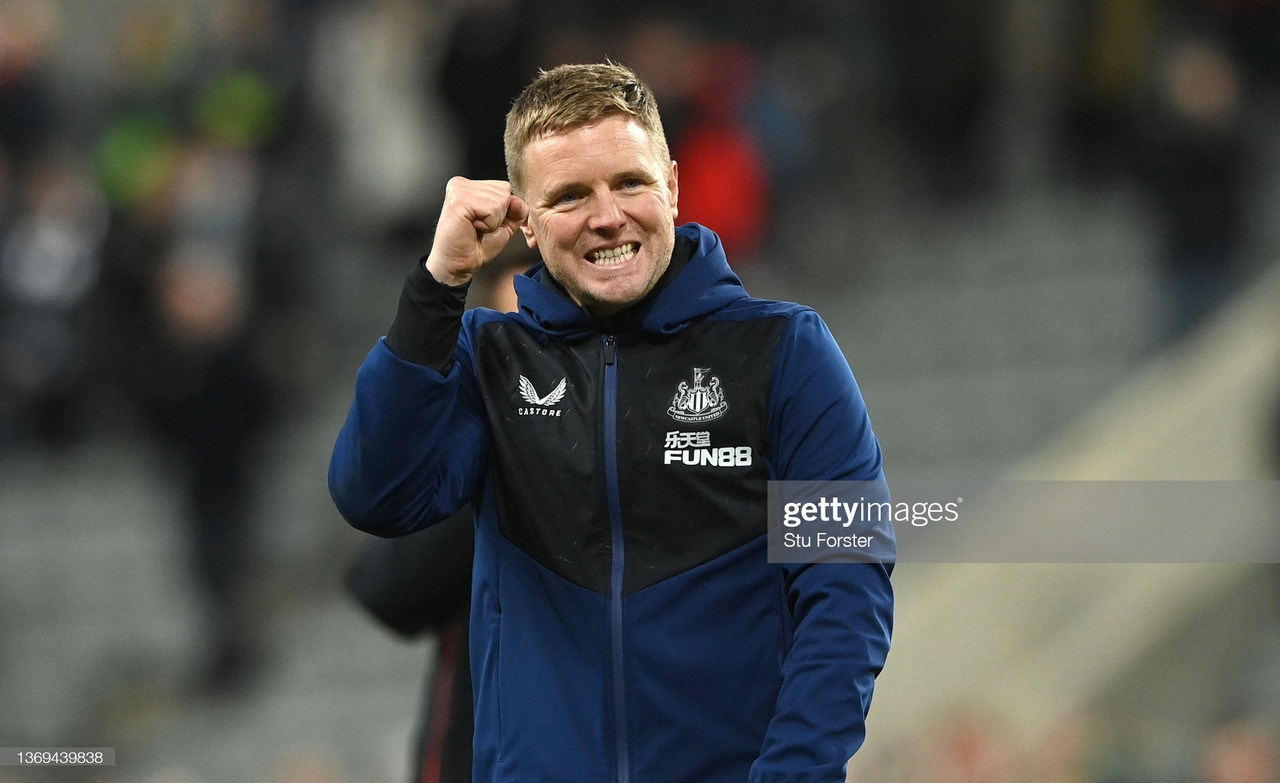 Newcastle United boss Eddie Howe waxed lyrical about Kieran Trippier's performance in The Magpies three-one victory over fellow strugglers Everton at St James' Park.
The England full-back scored a trademark free-kick from 30-yards out to all but seal the victory which moved them out of the relegation zone as a result.
On Trippier's showing, Howe said: "Kieran, I thought was first class.
"It's not just his performance on the pitch, but also the way he conducts himself and leads the group.
"His voice in the changing room, he is so respected already, and then he's producing levels of performance like that."
On the performance as a whole
With securing all three points tonight, for the first time this season Newcastle sealed back-to-back Premier Leaguevictories.
Howe was clearly delighted with what he saw, but knows his team can do better.
"I think there were some very good elements to the performance," he said.
"I still think we've got a lot of work to do, but the most important thing from us at this moment in time is that we're seeing the commitment from the players."
Saint-Maximin at his 'magical best'
Allan Saint-Maximin was at his brilliant best tonight, causing Toffees full-back Seamus Coleman all sorts of problems throughout the evening.
The Frenchman played a big part in the win tonight, and just like he did for Trippier, Howe heaped the praise on the 24-year-old.
He said: "Allan was his magical best tonight.
"He's such a difficult player to play against when he's in that mood.
"I was really pleased with his individual performance."
Trippier to be assessed after coming off injured
From a Newcastle perspective, the only negative from tonight was that Trippier had to be replaced late in the game after picking up a calf injury.
When asked about whether he could give an update about the injury, Howe said: "Kieran I think has a slight calf issue.
"It would be a devastating blow if we were to lose him.
"We'll have to assess him and see how he is."
On Bruno's cameo
A sold out crowd flocked into St James' Park in anticipation of seeing £35.5 million-man Bruno Guimaraes start the game tonight after joining the club from Lyon.
However, after Howe hinted in his pre-match press conference on Monday that he may need to slowly bed him into Premier League action, he Brazilian was named among the substitutes.
Guimaraes did get on for the final few minutes of the game and Howe was impressed with what he saw.
"Bruno has a massive part to play," he said.
"You can see from his cameo today that he is full of confidence and is going to be a top player for us.
"But even this period of adjustment for Bruno is a good thing where he can watch and learn.
"There is so much you have to pick up when you come to a new team.
"So I don't think it's a bad thing for him, this period of adjustment. But he's going to be an outstanding talent for us."
Drastically changing the team is 'dangerous'
The win over Leeds United last month left Howe in a predicament of whether to keep the same squad that reigned victorious at Elland Road, or bring the three new signings straight into the fold tonight.
In the end, The Toon head coach made a bold call bringing just Matt Targett into the starting lineup, leaving Guimaraes and Dan Burn on the bench.
Howe said on his team selection: "In my opinion, to change the team and leave players that don't deserve to be left out is a dangerous thing to do.
"Also, new players coming in have to earn their place. I was really pleased with the performance at Leeds.
"I felt Sean Longstaff was very unfortunate not to start the game today for what he gave in that match.
"I understand everyone is excited to see the new signings and I'm the same, I'm no different, I want to give them their opportunity but I've always got to do what's right for the team.
"I felt this was the right team for the game. Who knows what that looks like for Aston Villa."