The picture of Liverpool FC youngster Jordon Ibe wearing a West Ham United shirt had been doing the rounds last month.
Therefore, of course, there was always going to be rumours, especially with it being a time for transfers. Harmless rumours, but underneath the acknowledgment that Ibe had been discontent at Anfield over the past few months and the signing of Sadio Mane possibly meaning Ibe wouldn't make it to the end of the summer still on Merseyside.
But this isn't the first time that Ibe has been linked with a move away from Anfield since Liverpool ended their campaign with that soul destroying defeat in the Europa League final. A final which saw Jordon Ibe fail to even make the 18-man matchday squad.
Links were made with Watford initially as they were supposedly trying to prise another of the club's young players away after Jerome Sinclair made the £4 million move after agreeing a contract with Watford.
Then as Liverpool's interest in Southampton star Sadio Mane gathered pace, a potential swap deal involving Ibe was a rumoured option before Liverpool eventually signed the Senegalese international for £30 million. Now, Ibe is on the verge of a £15 million move to AFC Bournemouth.
What happened to Jordon Ibe last season?
It probably didn't help that he was one of the shining lights as the Reds fell way below expectations in Brendan Rodgers' final full season in charge. Brought back after a successful loan spell at Derby County in the Championship, he was thrust into first-team action straight away and did impressed.
Maybe that raised expectation level was too much. The trap every single club falls into when a new youngster breaks into the first-team and has a couple of decent games.
The lad becomes the next big thing immediately. He is expected to be the finished article virtually straight away. In reality, the player is only beginning their development and dips in form are to be expected... except they aren't accepted.
Raheem Sterling's departure added to the expectation. Many had been talking up Ibe about how he could become better than Sterling. However, Sterling's departure from the club at such an early age meant Ibe was given the reigns much quicker than he would have expected.
After a promising pre-season, a poor start to the season after being given a big chance when named in the starting eleven for the trip to Stoke City on the first day of the season saw him drop down to the bench.
The introduction of Jürgen Klopp gave Ibe another boost and his form picked up with a memorable goal in the Europa League against Rubin Kazan, followed by a big Klopp hug, as well as the crucial away goal in the League Cup semi final first leg against Stoke City.
"Ibey" was improving again but as players returned from injury and began to improve their own form, such as Adam Lallana, Roberto Firmino and Divock Origi, Ibe saw his own first-team chances lessen as he fell down the pecking order.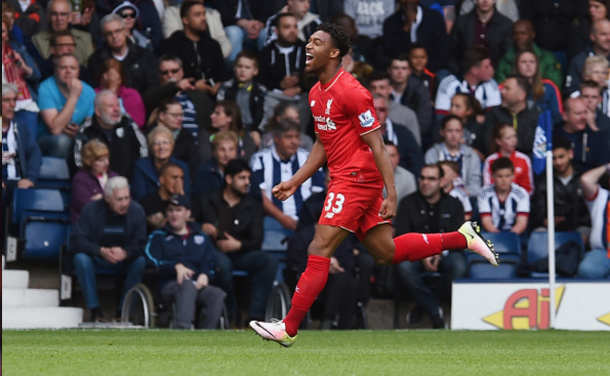 Then, towards the back end of the season, Sheyi Ojo made the step up to the first-team and produced a number of impressive displays by contributing with a number of assists.
Before he knew it, Ojo began forcing his way ahead of Ibe in the pecking order. With Sadio Mane also coming through the door this summer, Ibe is falling further and further down the pecking order and that's seemingly why a move is on the cards.
The end of his Liverpool career?
Breaking news on Thursday has declared that Liverpool have accepted a bid for Ibe from Bournemouth for £15 million, which means that it looks very likely the youngster's career on Merseyside has come to an end before it even fully started.
Personally, with Ibe still very young and Klopp being a major believer in developing young talent, I wouldn't have been looking to sell him and feel a loan move was a much better option for both the player and Liverpool.
That said, at such a high transfer fee and aafter a disappointing campaign last term, you can see why this deal has been accepted by Liverpool. Under the right guidance, he can become brilliant but clearly Klopp does not see him in his plans for the near future.
Ibe's own attitude has probably walked him towards the exit door with him becoming a disgruntled figure over the last few months as his first-team chances diminished and his on the pitch performances left a lot to be desired as well.
He also removed Liverpool FC-related content from all of his social media accounts, generating more speculation of his growing discontent.
12 months ago, Ibe returned early to Melwood to begin training for the new season, working with club legend Kenny Dalglish. This season, an Instagram post summed up how his feeling have changed: "Few days till I'm back and ready for whatever..." A complete contrast to his attitude 12 months prior.
His body language suggested he was a player who didn't want to be playing in a Liverpool shirt as he laboured around the pitch looking disinterested. His confidence seemed drained and he struggled to do anything with any real conviction. He also proved an easy man to dispossess for the opposition, as he failed to take care of the ball in when on it.
£15 million appears to be a good price especially for a 20-year-old who struggled last season, but I think in the correct environment that Ibe could easily become a superb player because he has all the attributes and untapped potential.
Under Eddie Howe, Ibe could well develop some consistency in his game and show more than just glimpses of what he produced last season. However, the fact that Liverpool have included both a buy-back clause and sell-on clauses in the deal, just like with Sergi Canos' looming departure, is an excellent decision.
If Ibe begins to show his potential and with him being so young, it could be a clause Liverpool could use to their advantage in the future whilst sell-on clauses will also benefit the club financially as well, should they be unable to bring Ibe back to Anfield.
Ibe's Liverpool career looks to be much shorter than many expected, and it's not been quite as successful as many might have hoped, but I for one will be keeping a keen eye on his progress.