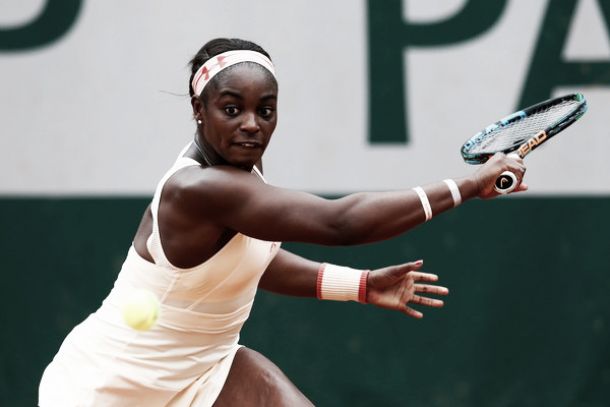 Sloane Stephens progressed to the third round of this year's French Open tournament with a 6-2, 6-4 victory over the only British female left in the competition, Heather Watson. The youngsters had an intriguing duel from the first minute, but the American prevailed, showing flashes of brilliance as well as her sheer power and agility to return shots that Heather had no answer to.
The first set had a feel of smash-and-grab to it. Heather, wearing strapping across her right arm, was unable to really get into the game early on, and Sloane was extremely quick out of the blocks, taking a three-game lead after just eleven minutes. Although Watson got a few games under her name, she lost the first set before she knew it, as Sloane took advantage of a weak start on the Brit's part, who made too many unforced errors and was comprehensively beaten in their fast-paced rallies.
Their rankings between them understated the quality, as well as the potential that the two ladies have. Sloane was ranked 40th in the world going into the competition, and having beaten Venus Williams in the first round, it was obvious that she was not messing around, she wanted to establish herself as a big competitor for years to come - what better way to do that than in a Grand Slam? Heather on the other hand, had undeniable talent, but her injuries hindered development, meaning she'd had to start slowly and gradually work her way up again.
It was clear to see who was the more comfortable on clay, as Sloane managed to see out the first set in just 28 minutes. Her power play was the American's biggest asset, as well as the fact she didn't make half the unforced errors that Watson did. Watson's first serve was effective, but she struggled to win enough points during the rallies, being dominated by a more aggressive figure, who looked hungry to win and win in style too. Heather did her utmost to get back into the encounter, and to her credit, she did that. A few neat returns and subtle serves pushed the face of the rallies into her favour slightly, and she managed to pull back a two-game deficit and make it more interesting at four-three down. However, Stephens continued to power her way through the points with relative ease and she secured a well-deserved victory as she had two match-points and was victorious through a fault from her opponent's forehand, sealing it in an hour and ten minutes.
Heather was clearly struggling with an arm injury, and put up a valiant effort, but unfortunately for her, unforced errors came too frequently and that was expertly capitalized on, by a powerful opponent with nothing to lose.
STAT: In their fifth encounter, Sloane has finally beaten Heather Watson, for the first time.
Post-match comments:
"I think it was more me today, I think I was giving away a lot of free points, I made a lot of unforced errors. Obviously she played well and did what she needed to do. She hit some really heavy balls which pushed me back in the beginning and kind of made me think but I think I was just very inconsistent today. I've had this [strapping] with my arm for a week and a bit now, but it wasn't the reason I lost. I felt fine - I had it all taped up and I took some painkillers before the match. It was just me really. I was just pretty sluggish and slow out there. Finally after like a set and a bit I finally got into it, but at that point it was kind of a little bit too late." Watson after her disappointing defeat
quotes' source: Sky Sports