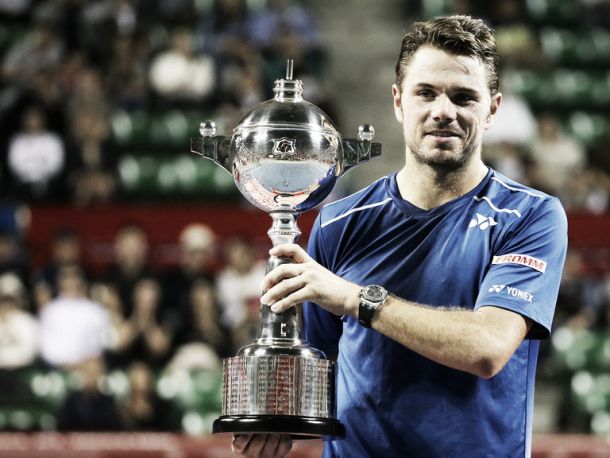 Stanislas Wawrinka wasted little time in capturing his fourth title of the year and to cement his place amongst the tennis elite as he easily romped to the Tokyo Open title. Playing his good friend Benoit Paire of France, Wawrinka secured a 6-2 6-4 victory in little over an hour as he proved too good for his enigmatic opponent.
Wawrinka caps off a terrific week
The number one seeded Swiss provided a masterclass in powerful, offenisve tennis as Paire struggled to cope with Wawrinka's game. The final was evocative of the tennis played throughout the week by Wawrinka, as he romped to the final to the loss of only one set.
In his 20th tour level final appearance and fifth of the year, Wawrinka was easily able to manipulate the movement of Paire as he continually opened up gaps and exploited these with his powerful play.
With the weather having battered the Japanesse capital, the match was played under a closed roof and the quicker court appeared to benefit Wawrinka and hinder Paire. Paire, who now moves to a 1-3 record in ATP finals, will be bitterly disappointed to have gone down in such an easy manner.
That is not to say that there wasn't some terrific tennis on show from both players throughout the match, as both produced elite level tennis. Paire's best moment came in the fifth game as he broke Wawrinka after a ten point tussle.
But his joy would prove short lived, as his repeated failure to hold his own service games would prove his undoing. After romping to the first set, the second would prove far more challenging for Wawrinka but he eventually secured the desisive break when 5-4 up and secure the title.
Wawrinka now heads to join up with the rest of the tennis hierarchy in Shanghai, where Novak Djokovic, Andy Murray and Roger Federer will all be vying for the penultimate masters title of the year.